Growing with Purpose Podcast: "Can Leaders Change?" with Anisa Telwar Kaicker
On this episode of the Growing with Purpose podcast, host Paul Spiegelman talks with Anisa Telwar Kaicker, CEO and Founder of Anisa International, a global leader in cosmetic brush design and manufacturing.

Anisa started her company in 1992 at a time when men held most leadership positions in the cosmetics industry. In fact, Anisa International is the only female-owned brush manufacturer in the world. For fifteen years, Anisa worked hard to prove herself and hold her own in a male-dominated industry — and that meant taking a tough approach to leadership. But as the company took off, Anisa realized that she had built something worth growing, and she couldn't do it alone.
In this episode, hear how Anisa learned to become a more authentic, purpose-driven leader after years of traditional leadership. Plus, take a look inside Anisa International's award-winning culture and how she's transforming the brush manufacturing industry. Tune in to Anisa's story below: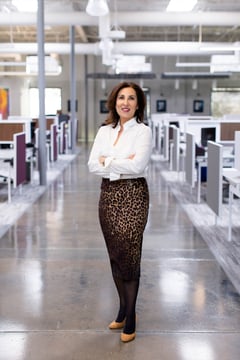 Show Notes:
[3:55] A Family Business with a Tough Boss
[7:55] Asking for an Opportunity, Not a Salary
[12:40] Learning to Be a Vulnerable Leader
[18:00] Winning the Forbes Small Giants Award
[20:17] Making Ethical Solutions Work
[24:25] Building Culture Across International Borders
[27:15] Will the Company Outgrow Me?
[30:08] Patience, Resilience, and Taking Feedback

Book that Influenced Anisa's Leadership:
The Power of Positive Thinking by Dr. Norman Vincent Peale