Purpose and Visioning: Highlights and lessons learned from the Small Giants Journey.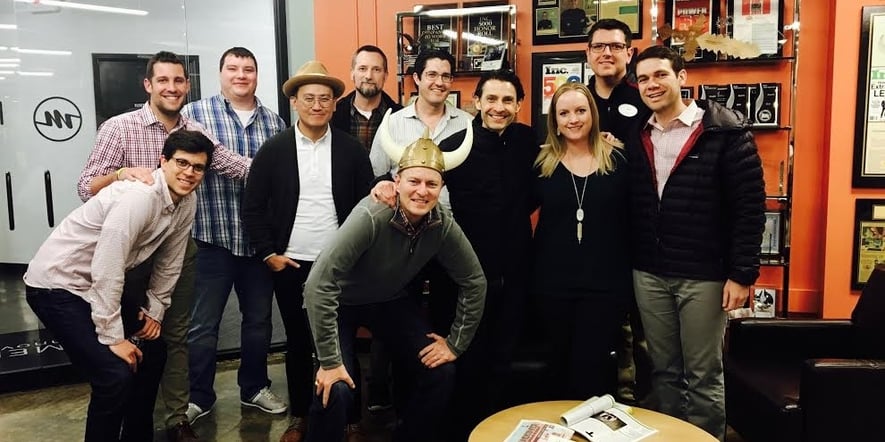 Earlier this year, we celebrated the launch of our inaugural Small Giants Journey, a 3-year, transformative experience for leaders of values-driven organizations. Journeyers (the name we coined for Journey participants) learn alongside an intimate cohort of like-minded leaders. The program works to strengthen a leader's practice of the six qualities of a Small Giant, institutionalizing strategies for growing their organizations with purpose, and resulting in a Small Giant designation for their company.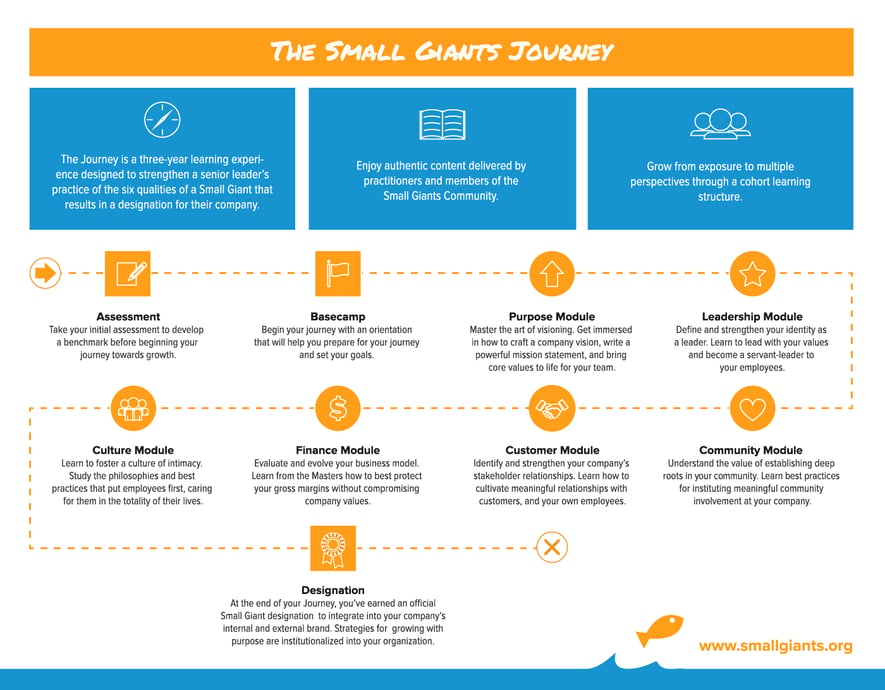 Our inaugural cohort — 11 leaders from 7 companies — completed their orientation and Purpose and Visioning excursion in Ann Arbor, Michigan on March 28th - 30th, 2017, the first of six modules in the Journey curriculum. Next, they'll travel to Chicago September 25 - 27th for an excursion centered around leadership, with periodic homework assignments and group check-ins along the way. Registration is now open to join our second cohort of Journeyers, which will kick off October 17 - 19th, 2017 in Ann Arbor.
So, what exactly happens during a Small Giants Journey excursion? Let's go behind-the-scenes of Module 1: Purpose and Visioning in Ann Arbor, exploring the highlights and lessons learned from the Journeyers' three action-packed days of growing with purpose.
Day 1: Team Building Orientation with Diana Wong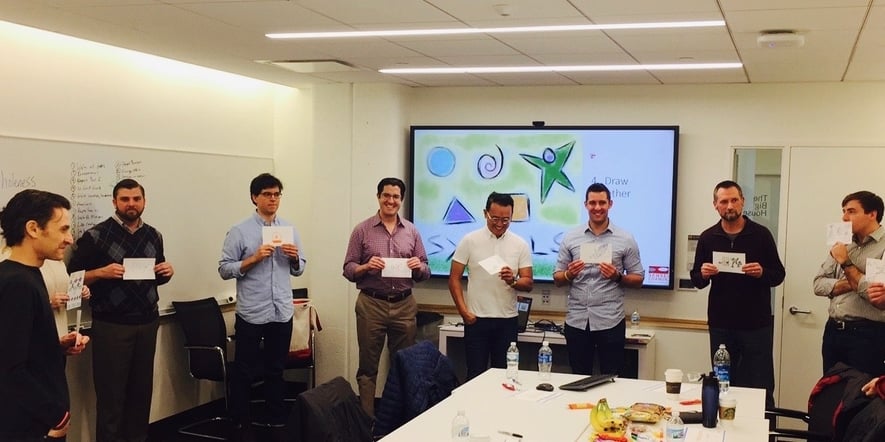 "Openness is required for growth." - Journeyer Doug Kueker, Vivayic
Flying into Ann Arbor, Michigan from around the country, Journeyers checked into the Graduate Hotel and settled in before gathering for an afternoon of team building and orientation facilitated by Diana Wong, expert in organizational performance and leadership development. Diana led the group through a series of exercises designed to introduce Journeyers to one another as both leaders and individuals, building a culture of vulnerability, trust, and honesty within the cohort.
In one exercise, Journeyers were each tasked with preparing five powerpoint slides depicting their top five values using only photos, and then were asked to share a personal story with the group relating to each value and photo. In another, they were challenged to draw a picture depicting their leadership style using only shapes that symbolized different aspects of leadership. Then, Journeyers were paired up and asked to interpret each other's drawings, with no talking or confirmation allowed from the other participant. In a final activity, each Journeyer clipped a piece of cardstock paper to their back and everyone wrote on one another's papers, sharing what they appreciate about that person.
Dedicating the first day of the Journey to team building was important in a few ways. As Journeyer Hai Nguyen put it, "I was surprised that some people saw things in me that I didn't see in myself. There is something like imposter syndrome that you can feel in a new group. It felt good to know that I'm adding value to the group." These exercises allowed the team to rapidly build relationships, get to know one another on a deeper level, and set a healthy foundation for the three years of learning and growth ahead.
Day 2: Visioning with Zingtrain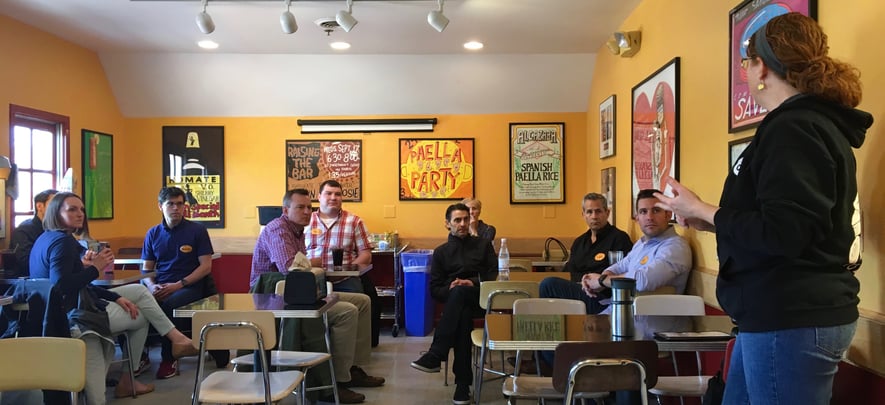 "Visioning is the what, not the how." - Maggie Bayless, Zingtrain
On Day 2, the group gathered at Zingtrain for breakfast before diving into a daylong Visioning workshop with Maggie Bayless and Ann Lofgren. Zingtrain describes the purpose of the workshop as, "helping participants achieve greatness on their own terms, seeing possibilities and opportunities through the prism of their unique visions of success." As a kick-off to the Purpose and Visioning module, the workshop is an important opportunity for Journeyers to understand how to create and sustain a vision, draft or update their own company vision, and understand next steps for bringing it back to their teams.
Zingtrain defines a vision as what success looks like at a particular point in time. Throughout the workshop, Journeyers learned what a vision is not (it's neither a mission statement nor a strategic plan!) and how to construct the four crucial elements of an effective vision: inspiring, strategically sound, documented, and communicated.
As Journeyers were guided through the process of conceptualizing, drafting, and reviewing their personal visions, Maggie and Ann encouraged them to take their vision to the next level by turning up the "want!" dial and identifying the aspects of their visions that evoked excitement and energy, fleshing out their visions by adding details that speak to their passions. Journeyers worked together in pairs to share their visions and provide feedback, sharing where they heard the most passion and where they wanted to hear more.
Finally, the workshop concluded with training on how to roll out a company vision and how to keep it alive and vital: teaching, strategic planning, measuring, raising the "GNP" (Gentle Never-Ending Pressure), and finding joy. Before heading out for an evening of dinner and drinks, the cohort gathered for a debrief and action planning around what they had learned, ensuring accountability. "When you write a vision, it feels achievable," shared Journeyer Michael Shearn. "My action item is to keep the momentum up around this. I'd like feedback from our cohort and to create a repository of visions for the group."
Day 3: Purpose and Visioning in Action with Menlo Innovations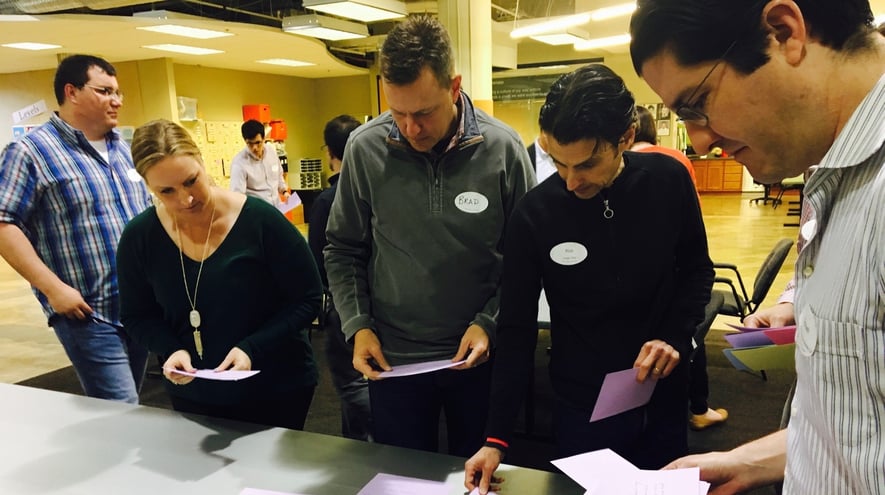 "The work of our hands, hearts, and mind should delight people." - Rich Sheridan, CEO of Menlo Innovations
Day 3 took us to Menlo Innovations to deepen our understanding of visioning, values, and purpose and how they play out in day-to-day operations. A company that builds and designs software, Menlo is known for doing things differently. Menlo is also one of Forbes' America's Best Small Giants 2017, an annual list designed to celebrate companies that are finding success in putting people before profit. It's all driven by their company mission to end human suffering in the world as it relates to technology. At Menlo, our Journeyers gathered for a tour and all-day workshop, hearing directly from CEO Richard Sheridan on how they've organized their business around their vision, values, and purpose.
As Richard explains, they start everything with the why. From their profit-sharing program to the vital behaviors that help them deliver on their mission (always speak up and help one another), Journeyers saw the impacts of a living, vital vision in real-time and learned how Menlo uses that vision as a North Star, guiding business decisions and creating a culture of joy.
The final activity of the excursion brought the cohort together for a Visioning exercise around the Small Giants Journey. Journeyers were challenged to envision what they want out of the Journey experience, and answer thought-provoking questions about what they and their companies would look like after completing the Journey experience.
Journeyer Doug Kueker put words to a shared sentiment as the trip came to a close, sharing, "It makes me very excited about what's to come. If this is the starting place, it's exciting to think about the relationships that will be developed here." As for the success of our first Small Giants Journey excursion, we'll let Journeyer Seth Derner sum it up: "In a word, awesome. As a company, we felt that visioning was part of our flat side. It feels like we are walking out of this with methodology, examples, tools, and time to practice it. This is everything we hoped for. I have a much richer understanding of how to do visioning and I'm very excited."


---
Check out the Small Giants Leadership Academy for the next generation of purpose-driven leadership training.

---