When to Double Down On Culture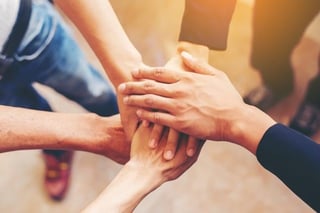 I'm a culture evangelist. Some might say that I "got religion" not so much because I chose it, but because I came to experience over time the impact that it had on my life and my business. I simply took the lessons from my parents (always be kind; treat people with respect; never burn a bridge) and applied them to business. I really didn't know any different.
But at some point early on, I saw the light. I witnessed how a values-driven approach to business wasn't just the right thing to do, it created better results. If we prioritized people over financials and even customers, they would work harder for us. If we created a vision they connected with, showed them they were valued, cared about them individually and taught them the path to growth, they would fall on a sword for us in tougher times. If we had their trust, they would delight our customers.
I also came to realize that the ROI on culture was not just better financial results (though we got that too). It was even more selfish than that. It was the warm feeling I got inside every time I knew that I had impacted someone's life for the better. And after over 30 years of doing this work both in my small company and a large public company setting, being a leader who has hopefully touched people's lives, families and careers for the better will be a legacy I'm far more proud of than the size of my financial nest egg.
The best part about it is that it is not one or the other. You can do well and do good all at the same time. As a matter of fact, I think that's our responsibility as leaders. Our obligation.
At my former company BerylHealth, we used culture as our driving strategy, and were able to charge a premium price and sell not what we did, but who we are. We won many awards as an employer of choice, had low employee attrition and were far more profitable than our competitors. When I sold the company to Stericycle, however, we were faced with a challenge – would the culture survive now that we were part of a large, public company?
Over the last four years, I have had the opportunity to act as chief culture officer of Stericycle, a company with over 25,000 employees in 18 countries who does 40-50 acquisitions per year. Could we scale culture in a company this big? Could we change the existing culture if the company was already successful? Could leaders be taught to change the way they lead?
My biggest takeaway from all of these years of experience is that culture is only as good as how it withstands challenge, how it weathers the storm, how it survives and IF it survives when the going gets tough.
There are many potential obstacles to a thriving and surviving company culture. Here's just a few:
Changes in leadership: culture starts at the top, and if the CEO does not buy in and support the effort, it will most certainly fail over time
Changing business priorities: if efforts to improve the bottom line change the company focus or strategy, the commitment to people may wane
Outside forces: for large and public companies, the rigor and necessity of quarterly financials may dilute the importance of culture
Mergers and acquisitions: competing cultures can easily drive down the company overall
Lack of process: culture is a business process like every other – if not documented, it will disappear
Cost reduction: when we cut costs, we have a habit of getting rid of the things our employees value the most, like recognition programs, training and development
The good news is that all of these challenges can be dealt with and/or avoided. First, the leadership must remain steadfast in its commitment. When challenges arise, if the CEO is continuing to deliver the same types of messages about culture, about values and about employee engagement as a strategy, employees will have confidence and trust.
Second, there must be consistency both vertically and horizontally in the organization. That means that no matter where you sit in the organization (top to front line) or in what department or location, you can feel this commitment, not just from the senior leader, but from the middle managers and supervisors who are on the ground every day with their teams.
Third, there needs to be a system of accountability for performance management that spans the company – performance that transcends hitting numbers but includes being a respected leader who engages and motivates his or her team. This means that we need transparent systems in place to identify those that don't belong, don't fit, or don't buy in. And then we have to get rid of them.
Lastly, our core values need to be institutionalized in our business. Not as the plaque on the wall, but how we hire, how we fire, how we tell stories, how we recognize good work and how we make decisions every day. As they say, the only constant in business is change, but if our core values stay the same and we use them every day, we will weather every challenge.
That's why I'm so passionate about having this pulpit. Because it's not easy, and it's about choices. If we make the choice to lead with values, to live with compassion and to teach others that you can do good and do well, that you can make money while impacting people's lives, we can change the way business is done for the better.
---
Want to learn more about building a business based on purpose, vision, and values?
Download our eBook
for a full guide!