#SGCSummit2016: Reflections, lessons, and plans for 2017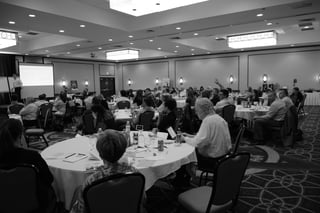 What do you get when you cross leadership, values, and Denver, Colorado? The Small Giants Community Summit 2016. From June 12 - 14, 125 values-driven leaders from around the country (and even across the pond!) descended on Denver for a conference that stands out from the crowd. What makes the Small Giants Summit so special? The conference is designed to bring the six qualities of a Small Giant to life through networking with purpose, meaningful storytelling, interactive think tanks, and much more (check out this year's photo gallery!).
#SGCSummit2016 was a whirlwind of good conversation, great ideas, and even better people — and we want to bask in the glow of our awesome Small Giants Community just a little longer. Read all about key themes and takeaway points, hear conference feedback from fellow Small Giants, and get a sneak peek at what to expect in Detroit at #SGCSummit2017. Spoiler alert: it's going to be great.
Can't wait until 2017 to get your next Small Giants fix? Don't forget to register for our upcoming Passport event in Boston this October — space is limited!
What is a Small Giant?
Seems like a no-brainer, right? Throughout #SGCSummit2016, Small Giants took to the stage as part of the "My Company Story" series, adding complexity to the Small Giants journey by sharing their own stories. We even heard from a few of the companies named one of Forbes' Best Small Companies in America, bringing together leaders from SEI Services, Afterburner, and Big Ass Fans for a lively discussion with Forbes Senior Editor Loren Feldman. Ron Alvesteffer, Jim "Murph" Murphy, and Carey Smith discussed their unique cultures and practices that make them award-winning Small Giants, and engaged in a Q&A that allowed for some honest, challenging dialogue around the ideals we hold close. Pro tip: the nomination form to enter your business or a company you love for the 2017 Forbes' Best Small Companies in America list is now live.
One of the most covered topics of the Summit was the intertwining of culture and profit, illuminating how one requires the other in order for a small business to truly become great. Kathy Steele, CEO and Founder of Red Caffeine Marketing + Technology shared that her company didn't experience meaningful growth until she embraced the Small Giants and Great Game philosophies, prioritizing culture and choosing to be great instead of big. Later Monday afternoon, Bo Burlingham and Kyle Smith, CEO of Reell Precision, explored the counterpart of great culture: a great business plan. Bo picked up Kyle's story where it left off in the Small Giants book, unpacking how eroding gross margins put Reell's great culture at risk. The moral of the story? As Kyle put it:"If you don't have a sustainable, profitable business plan, you can't do all of these wonderful things for your culture."
Learn from your journey.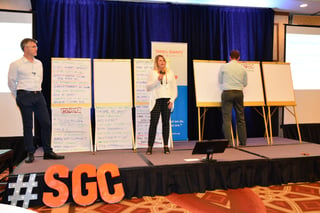 Small Giants are a unique breed of leaders. By definition, we're leaders who know we
are, what we want out of business, and why. The hard part? Getting a firm grip around the "how" of building that great business. That's where the Small Giants Summit comes in. Through purposeful storytelling and real-time problem-solving, we spent the week tackling some of thetoughest challenges facing members of our community and tapping into the Small Giants brain trust. On Tuesday, Chris Hutchinson of Fort Collins' Trebuchet Group facilitated a highly-interactive, strategic problem-solving think tank that harnessed the power of the group to solve complex business problems facing two members of our community. Small Giants Brian Van Anne and Elizabeth Busch walked away with concrete strategies and solutions, and we'll be publishing a follow-up piece on their progress in three months here on the blog.
Having access to a values-driven think tank is one of the many privileges of the Small Giants
Community — but more often than not, learning from your journey happens out in the real world, over a long period of time, and it can be a painful process. There's a lot of value in that journey, and even more value when we share those lessons with others. Take Spencer Williams, Founder and President of West Paw Design, who faced his hardest lesson in West Paw's 16th year of business. When the company started losing money, Spencer turned the company around and corrected course by engaging employees in company financials, implementing transparent productivity measurement systems, and using MiniGames to drive profit. Spencer's story riveted the crowd because it's a crisis so many leaders can relate to. He was authentic, vulnerable, and willing to stay on stage to field questions from the Community and help them learn from his experience.
Community counts.
Ryan McCarty (Founder of Culture of Good, LLC) ignited the spark first thing Monday morning, and the Community kept the momentum strong throughout the Summit. As Small Giants, community is one of our six pillars. But embracing our community comes with a unique set of challenges. As business leaders, our days are fast-paced and service in our communities often falls down our list of priorities. On Tuesday, we challenged leaders to work in small groups to evaluate where their companies are in their Small Giants journey and how they can improve. Nearly every table reported community involvement as their lowest score. This creates a unique opportunity for the Small Giants Community: now that we've identified the need, we can mine resources for community involvement and tap Small Giants who excel in their communities for inspiration.
Consider our opening speaker, Ryan McCarty. His philosophy is built around community: "I find my calling when my greatest passion collides with my greatest contribution to make the world better." Culture of Good outlines an operating system called the Virtuous Circle of Success, and it calls for an integration of employee experience, customer experience, and community experience in order to achieve true success.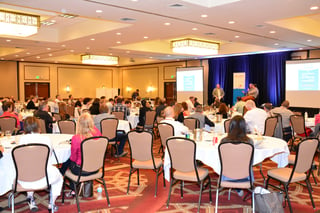 Where Ryan kicked off the Summit, Tom Walter brought it home. As the closing keynote
speaker, Tom represents another, equally important aspect of community engagement: the Small Giants Community. When Amber Johnson introduced Tom Walter to the Summit stage, she first asked the crowd to do something for her: stand if you're at #SGCSummit2016 because Tom mentored you, hired you, or introduced you to the Small Giants Community.
Nearly everyone in the room stood up.
That's because Tom's sense of community is a strong one — as a self-proclaimed serial entrepreneur, Tom shared how his journey as Founder & Chief Culture Officer of Tasty Catering turned him from a command-and-control CEO to a people-first, community-centric leader. Today, Tasty Catering is building an altruistic purpose for both their employees and the community around them.
And the survey says...
Our greatest insights for planning future SGC events come from all of you — you're a bright bunch and your feedback is invaluable. The Summit is all about elevating the community and creating an event that challenges, supports, and drives you. We want to thank everyone that took the time to contribute meaningful feedback to our survey for #SGCSummit2016, and we're excited to share what we'll be bringing to the drawing board while planning the 2017 Summit in Detroit.
No construction zones. Guilty as charged! We were as disappointed as you were that this year's venue fell short of expectations. You reported wanting a hotel with top-notch accommodations, a more central location, and food that's as great as the people consuming it. Consider it done!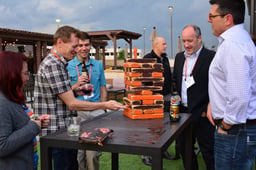 More face time. You all really like each other. Many members expressed an interest in more free time built-in to the agenda, more opportunities for break-out sessions to digest speaker and company stories, and lots of opportunities to seek out other Small Giants for meaningful, one-to-one conversations.
Give us a break. More specifically: breaks between scheduled events for coffee, bathroom runs, and check-ins with your work back home. It was a jam-packed three days, and breaks could provide some much-needed breathing room.
More problems. We've all got problems — many attendees reported a desire to pitch them to fellow Small Giants for solutions and brainstorming. Whether we leverage breakout sessions, mentor/mentee pairings, or more group think tanks, the Community is looking for more opportunities for collaborative, focused problem-solving.
Newbie love. We had over 50 new faces at #SGCSummit2016, and we couldn't be happier to welcome them to the Community. SGC newbies loved our buddy system, but they'd jump at the chance for more structured meet & greets, networking, and a quick 101 on all things Small Giants.
Keep it social. You loved the hashtag, keeping up with Summit reactions on Twitter, and the introduction of our new Small Giants app — if you didn't search #SGCSummit2016 on Twitter or download our new app, don't miss out! Some of our best content and member testimonials happen on social media. Moving forward, attendees are looking for a smoother user experience on the app (we're working on it!) and more structured opportunities to post thoughts and opinions on social media for real-time conversation.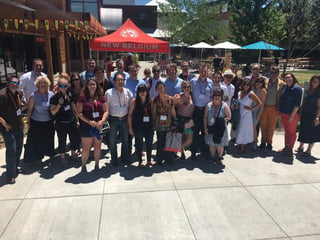 More mojo. For those that attended Wednesday's Bonus Day of Mojo, they had nothing but love for the experience. A mini-Passport with Trebuchet Group, our community-minded lunch with FoCo Cafe, and a highly energetic (shout-out to our guide!) tour of New Belgium Brewing, our Day of Mojo was a hit. Everybody loves mojo, and our survey shows that you'd love to see more of it integrated into the conference experience. In the future, we'll look for excursion opportunities local to the conference to keep the mojo flowing all Summit long.
Everybody loves Bo. What's not to love? Long after Bo Burlingham's roast Tuesday evening, Small Giants are still celebrating Bo's 30 years of contributions to the entrepreneur's story. Everyone enjoyed the evening of jokes, jabs, and gratitude to the father of the Small Giants philosophy.
#SGCSummit2017
We're already counting down the days to May 16th, 2017. We're pulling out all the stops for #SGCSummit2017 in Detroit. What we lacked this year in venue ambience, we're making up for tenfold in the Motor City. We're taking a cue from the Comeback City and focusing the 2017 Summit around a key theme: Reinvent. Expect a spirit of renewal around our storytelling, workshops, and city explorations — it's all about learning to thrive instead of survive.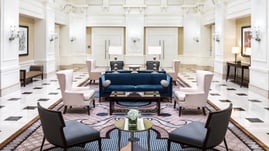 Our hotel, the historic 1924 Book Cadillac, is an iconic landmark located in the heart of downtown Detroit. That means you'll be steps away from the Detroit Riverwalk, restaurants, bars, city landmarks (don't miss a photo with the Joe Louis fist!), and more. They say you have to experience Detroit to understand what makes it so extraordinary — we're going to experience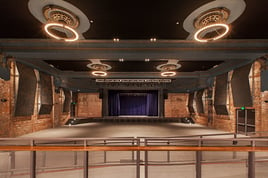 it. In fact, we have plans underway with the Detroit Experience Factory to get the group out into the city, spending time with values-driven companies, and experiencing the city's rebirth from the inside. Conference events will take place in Detroit's recently-restored, historic Garden Theater, located in the thriving Midtown neighborhood. That's your sneak preview for now — stay tuned for more details on content, registration, and surprise announcements!
Did we miss anything? What was the highlight of the Summit for you? What are you most excited for next year? Let us know in the comments below, and as always, drop us a line at hello@smallgiants.org with ideas, feedback, and to get involved!
Ready to learn more about purpose-driven leadership? Sign up to receive weekly leadership articles and resources from the Small Giants Community.