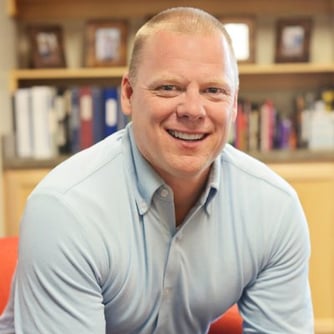 Have you met Ron Alvesteffer? Perhaps you were moved by his story at #SGCSummit2016.
Maybe you read about the inspiring company culture Service Express Inc. (SEI) has cultivated on Forbes' Best Small Companies in America list this year. However you've heard about Ron, and SEI, we bet you're excited to learn even more. We sat down with SEI's President & CEO to discuss the company's Vision to "work with employees to help them achieve their personal, professional and financial goals." Pour yourself a cup of coffee and settle in for a conversation with one of the leaders of America's Best Small Companies.
We've heard you were planning to be a history teacher, now you're CEO of a tech company. How did that happen?
It's true! I have a teaching degree – and I don't particularly like technology. After college, I pursued a career in sales instead of teaching. I joined SEI in 1997 – 19 years ago – as Sales Manager for the company. I was the 15th employee, and the first manager, hired by the founding owners and we were under $3 million in revenue at the time. While building my team and driving revenue, I realized that my passion lay in the people. That probably comes from my background in teaching. One day, I heard this Zig Ziglar quote that changed everything: "You can have everything in life you want, if you will just help other people get what they want."
Nineteen years later, SEI's company culture is a living testament to that quote. Explain the philosophy behind SEI's employee engagement program.
When I was named President in 2002, my executive team and I set our sights on our people. We decided that we needed to surround ourselves with the right people – people who would share our passion – and we believed that their impact and achievements should be acknowledged and rewarded. Our Vision is the key differentiator for SEI, outside of the exceptional service that we actually provide. Of course our work is important – but nothing is more important than our people. It's a belief system that resides in me and resonates with our people. Our business is service-oriented, so we're only as good as the people selling and providing our services, and those supporting the sales and service teams. We need to have the best people. So we created our Vision: "to work with our employees to help them achieve their personal, professional and financial goals."
You've described SEI's approach as "employees first." What does that vision look like on a day-to-day basis?
The first step for our leadership team is simply to ask our people what they want to achieve. If we want to help them, we have to ask them! I want our employees to feel the same way that I do – I want them to be able to recite their hire date and be able to say, "That's the day that my life changed."
When reviewing their goals, we cover their personal, professional and financial goals. Professionally, we ask both the what and the why, along with asking how a particular goal fits into their daily lives. We believe that the idea of a work-life balance is a myth; it should be an integration, not a balance. So, we focus on how their goals will fit into and improve their life.
We also train our leadership team on how to have Vision talks and how to guide their teams through the goal-setting process. Sometimes, the concept sounds great to new hires during interviews, but they don't always know what their goals are when the time comes. We plan for formal Vision talks twice a year and we offer an in-depth goal-setting course through our internal company-wide training. Available to all employees, this course helps employees individualize goals and frame them in a way to make accomplishing them possible and measurable.
Under your leadership, SEI has averaged double-digit annual revenue growth, expanded into eleven states, and opened twenty-five new regional offices. How did you scale your vision-goals system?
As we grew, we had to face the challenge of scaling this really special thing we had. We created a template for our goals and visioning process. Now, everyone in the company fills out those templates and we store each and every employee goal on the company intranet. For confidentiality, only the employee's direct manager, the employee themself, and I have access to their Vision goals. That's how we scaled it and how we track it today.
Year-to-date, SEI employees have achieved over 600 Vision goals. How do you support such a range of employee goals?
We've seen so many incredible accomplishments, large and small. From buying a first home to paying for a child's wedding to relocating to a new city, they run the gamut. We believe for a Vision goal to succeed, it requires an ongoing conversation. While managers meet with direct reports for Vision talks twice a year, they also maintain a close relationship with each employee all year long, checking in and following through with support to help them achieve their goals.
We provide resources, we look for opportunities to support them, and we help with time management. We want our employees to take advantage of the fact that we're working for them. In return, we see that our team takes great care of our clients.
In your own words, what does employee engagement really mean?
It's not the company pizza party, or allowing dogs in the workplace. If that's all you're doing to boost employee happiness, then you could very well be masking a deeper issue. True employee engagement is two-fold. First off, people need to see how they impact the company and know that what they do matters. Secondly, they should be recognized and rewarded for what they do.
At SEI, we want our employees to achieve their personal, professional, and financial goals because of the company they work for, not despite it. We want to create an environment that helps our employees accomplish their goals through support, education, and opportunities. That other stuff – dogs and pizza – it's fun, and it can be the cherry on top of a good culture. But for us, it begins with treating our people well.
Any words of wisdom for aspiring Small Giants looking to improve employee engagement?
We've scaled our goal-setting system to over 300 people on our intranet – but we had to begin somewhere. Forget that I now have our system on the intranet, forget that we scaled it to 300 people. Start with your team; start with the president or the owner; start with a small group – just start it! Create an Excel template for goal-setting and start. That's how we began! Just start by having the conversation about where you want to go. I'll be honest, it does take time. We've got a big system now, but in the beginning I had to reiterate and remind people during every meeting. I was really adamant and it took a while – but keep with it until you start to get the ground game going. Keep sharing success stories with your employees. Stick with it, and the magic will start to happen.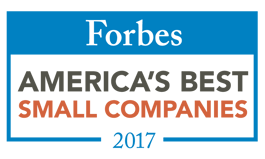 Ron's story is one of many to come out of Forbes' Best Small Companies in America, 2016. Nominations for 2017's Forbes America's Best Small Companies are now open - and we're looking for the next generation of great companies to join the Small Giants hall of fame. If you (or a company you love!) are great at what you do, have a stellar employee culture, and prioritize greatness over growth, then it's time to tell your story. Simply fill out the nomination form and share your mojo with the world.