Growing with Purpose Podcast: "Turn Your Fear Into Fuel" with Elizabeth Colón
Since she was a child, Elizabeth Colón has been the voice of the voiceless.
Today on the Growing with Purpose podcast, host Paul Spiegelman talks with Elizabeth Colón, President & CEO of Metaphrasis, a comprehensive interpreting and translation company. Elizabeth grew up in a Spanish-speaking home with five siblings, two of whom had hearing issues. From an early age, Elizabeth was tasked with adult responsibilities, like translating medical information for her parents and speaking up for her siblings. Today, Elizabeth has transformed her early challenges into a business dedicated to providing high-quality translation services that incorporate the culture and context necessary to provide meaningful communication across languages.
In this episode, hear how Elizabeth inspires those without hope to shift their mindset and make a change — and how other leaders can, too. Tune into Elizabeth's story below: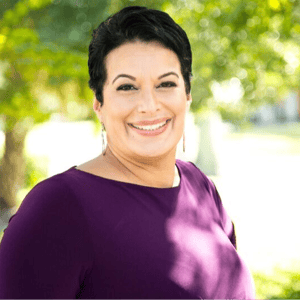 Show Notes
[1:48] Stepping into an Adult Role at the Age of 9
[8:00] The Importance of Culture in Communication
[10:28] How to Build a Diverse Workforce
[13:00] Early Lessons on Respect and Integrity
[17:13] Learning to Smile as a McDonald's Employee
[19:53] Hanging Up Your Suit and Opening Up
[24:31] The Facade of Perfection
[29:03] Starting a Business with $500