#SGCJourney Leadership Module: Highlights & Lessons Learned
If you know the Small Giants Community, you know that the Small Giants Journey is our flagship offering. The #SGCJourney is comprised of a dedicated group of purpose-driven founders, CEOs, and next-generation leaders invested in mastering the six qualities and becoming a certified Small Giant.
Our inaugural cohort of Journeyers — 11 leaders from 7 companies — traveled to Chicago September 25th - 27th, 2017 to kick-off their Leadership excursion, the second of six modules in the Journey curriculum. Together, they spent three action-packed days strengthening their identities as leaders, learning to lead with their values, and learning how to practice servant leadership.
Hop on board and follow along with Cohort 1 for a virtual recap of the #SGCJourney: Leadership experience, with highlights and lessons learned from their most recent excursion.
Day 1: Team Building with Corey Blake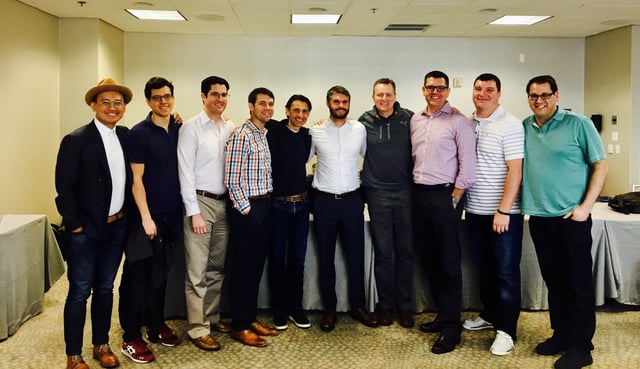 "We don't always have time to think about where the company is heading. It's nice to have the headspace to do that."
- Journeyer Doug Kueker, Vivayic
After arriving and settling in at the Westin Chicago Northwest, the group gathered for an afternoon of team building with Corey Blake. Every module kicks off with a unique team-building exercise to support the coming days of learning. During March's Purpose module, Journeyers built a foundation of trust through team-building exercises facilitated by Diana Wong. With new relationships forming, Corey Blake challenged the group to reveal their true selves and trust one another through truth, connection, and stories. Rooted in the Vulnerability is Sexy game, Corey facilitated a challenging, deeply impactful session that deepened the culture of vulnerability, trust, and honesty within the cohort.
In one exercise, Journeyers shared their purpose in life and in business, and the life experiences that helped that purpose take shape. Through three levels of game questions, Corey guided the group to go deeper into their stories as individuals and leaders, sharing not only their successes but also their failures and what is hard for them. By taking risks and sharing their authentic selves with one another, the cohort walked away from the session with new depths of trust and relationships free of judgment and fear.
Journeyer Hai Nguyen puts it best: "This exercise made me feel safer with the people in this group, which I really appreciate. That was something that wasn't expected. You hear about team-building exercises and they feel surface level — but I felt these exercises brought me much closer to the group."
Day 2: Leadership Workshops with Nick Sarillo + Ron Alvesteffer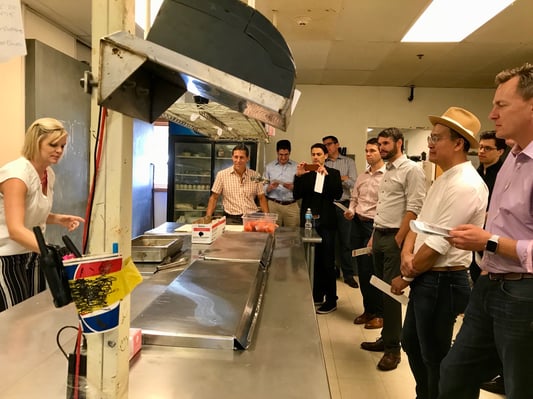 "We are a culture of growth. We are a company that was built to grow. Culture doesn't have to be one or the other. Your culture can drive your growth. Year over year, we're growing as a company."
- Ron Alvesteffer, President of Service Express, Inc.
Day 2 begins with enjoying breakfast together at the hotel, before shuttling to Nick's Pizza & Pub for a Leadership workshop with Nick Sarillo. Through an experiential and interactive session, Nick walked Journeyers through Trust-and-Track Leadership, Nick's culture and leadership tool that has helped him build one of the largest independent pizza restaurants in the country.
As Nick explained, the seven steps to Trust-and-Track Leadership begins with clear values and vision, but also requires training, coaching, and development programs, feedback processes, and fiscal inclusion to truly be successful. Nick believes that if you put systems in place to help people be their best, there's a real opportunity for growth. "If you focus on helping others grow, instead of merely policing them, they'll be around to help you grow, too."
After indulging in Nick's famous pizza for lunch, Nick passed the baton to Ron Alvesteffer, President of Service Express, Inc. SEI is not only a 2016 Forbes Small Giant, but also a purpose-driven company that is seeing year-over-year growth, closing in on $100 million in revenue this year. SEI has a unique, performance-based culture that attracts and keeps the right people. The company's vision is to work with employees to help them achieve their personal, professional, and financial goals.
Ron took Journeyers behind the curtain of the SEI Way by having them complete SEI's employee visioning and goals worksheets, then transitioning to SEI's thorough and highly-effective performance management systems. At SEI, there is an ROI (Responsibilities, Objectives, Indicators) created for every position in the company — whether it's marketing, finance, or engineering. Ron facilitated group discussion around how leaders could implement similar systems, and worked with the group to begin developing scorecards and ROIs for their own companies. For Ron, it all comes down to how leaders create systems and processes that support their people. "We're going to win by identifying the right people for the right culture, and they're going to do their best work. That's how we're going to keep them."
Day 3: Leadership Workshop with Tom Walter + Rich Panico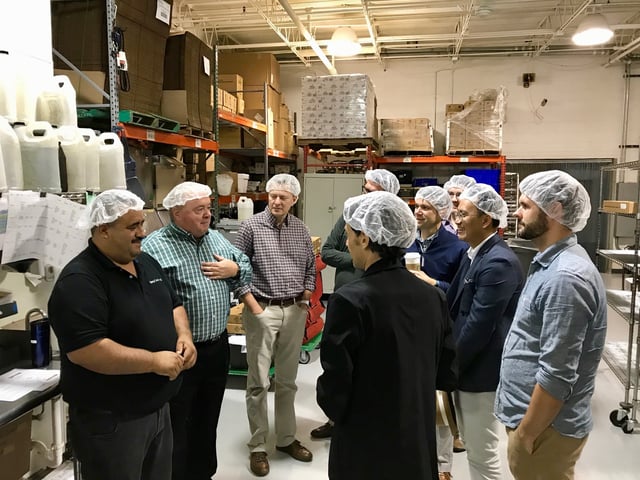 "People shouldn't be managed, they should be led. Systems should be managed, not people."
- Tom Walter, Chief Culture Officer and Co-Founder of Tasty Catering
After a group breakfast, we headed to Tasty Catering for a morning workshop with Tom Walter, serial entrepreneur and Chief Culture Officer of Tasty Catering. Tom's approach to leadership is defined not only by the success of his company, but by the sheer number of great leaders that have emerged from Tom's example. For his session, Tom took a show-and-tell approach to share the inner workings of Tasty Catering and how a culture of collaborative leadership has come to shape the daily behaviors of everyone in the company. At Tasty, core values provide a platform for employees to practice individual leadership and teamwork.
After concluding the session with lunch at Tasty Catering, we shuttled to Integrated Project Management (IPM) for a final Leadership workshop with founder and president Rich Panico. Rich shared with Journeyers how IPM has woven its fundamental values into the fabric of the company through leadership behaviors and strategic planning.
Even as the company undergoes geographic expansion, Leadership works to duplicate the DNA of IPM's culture to protect the heart of the company. Rich engaged in a transparent and open dialogue with Journeyers about how servant leadership shows up in various functions of the company: recruiting and onboarding, employee relations, customer service, community involvement, and the return on culture.
After three immersive days learning from the best, our Journeyers walked away with new ideas, actionable takeaways, and strengthened relationships with like-minded leaders. As Cohort 1's Leadership module came to a close, Journeyer Rob Dube shared a feeling that resonated with the group as we parted ways: "All these years ago, I got myself into business, and if you would have asked me then, I would have never said anything about an experience like this. It's hard to put into words. No matter how many times I do something like this, I'm blown away."


---
Learn more about how your next generation of leaders can learn how to lead like Small Giants and institutionalize purpose-driven practices in your business with the Small Giants Leadership Academy.

---