Worried About Hiring? Stop Asking If They're the Right Person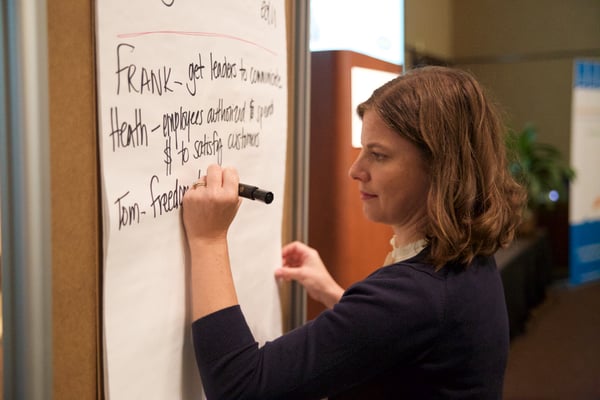 We're big believers in the "Right Person, Right Seat" philosophy. Finding someone who fits your culture and fits the position well is a vitally important in hiring. However, one key challenge I've recently faced with managing a small team is constantly second guessing… "is this the right person? Did I make the right decision?"
Last year was a crazy year for our firm. We saw the departure of one of our two co-founders, transitions within a wide variety of key positions, and our sales numbers were flung so far north and south each month we had constant heartburn. I'm not a fan of roller coasters and 2015 did nothing to make me like them more.
With all the stress of constant changes and flinging from one direction to the other, my anxiety started getting the best of me when it came to some key people on our team. Did we make the right call? Are they really who we need? Should we make a change?
Realistically, none of the people I had anxiety about had been here long enough to see whether they were a great fit or not in their current role. They had barely gotten through training, much less had time to own the role we charged them with.
Hire For Culture, Manage For Success
We hire for culture fit first. It doesn't matter how great the skill set – if they don't fit our culture, they don't fit in one of our seats. Period. No debate. That's just the way it is. What's funny, though, is this wasn't the thing I was concerned about. The people causing the most anxiety were great fits for our team and our culture. They may have been a little shaky on the skills and direction side, but that's why they have a manager (me). That's my job. To make sure they have the tools in their toolbox to do a great job.
---
The world of small business is full of ups and downs. Every person you manage will have great months and have terrible months. In the good months, challenge them. In the bad months, lift them up. That's what a great manager does. Manage to the extremes. When someone is flying, help put some gravity boots on their feet. When they seem to have concrete shoes, give them some wings.
Manage Good Fit Employees Through Rough Patches
There are times when you might just have a bad fit. Other times, the role itself changes to where that person is no longer a good fit for the role. We've had both before and only came to realize it over time. That's one thing. But when the person is a good fit and simply going through a rough patch, acknowledge that and help manage them to the result you want them to achieve.
It's hard to find people who match your culture spot-on. When you find them, it's so well worth it to manage them well and guide them toward being the best person for the seat you can find.
Want to learn more about building a Small Giants culture?
Download our eBook
for strategies and best practices!