Highlights from the 2019 Small Giants Community Summit



How often do you get to spend three days surrounded by 250 purpose-driven leaders? Every year, we invite purpose-driven founders, CEOs, and next-generation leaders to gather for intentional relationship building, learning, and sharing. It's a special feeling to be in the room with like-minded and like-hearted leaders, and this year's 10th annual Small Giants Community Summit brought with it that feeling and so many others.
We shared laughter, inspiring stories, best practices, and even a few tears. We're still basking in the Summit afterglow. We can't stop thinking about these highlights:
The True Connections
Year after year, Summit attendees tell us that one of the most valuable aspects of the Summit is the people. The personal connections attendees make with leaders from all walks of life and industries last a lifetime, and many of those connections positively impact the trajectory of their businesses and leadership.
Here are a few ways we cultivate connections throughout the Summit (and we're doing even more next year!):
Opportunities to Connect
From the social events to snack and beer breaks to your assigned tables, we build in plenty of time for connecting and building relationships all Summit long. You might have noticed you had a lot in common with your tablemates, and that was no accident. We know you're here to make meaningful connections and learn from other leaders — we strategically curated table assignments throughout the Summit to introduce you to new faces based on company size, hobbies, and industries.
Excited to be joining 270 other Small Giants in Detroit at the #sgcsummit2019. Looking forward to connecting with old friends, making some new ones, and growing the values-based business… https://t.co/7YuHNQSS7K

— Christopher Arnold (@briiodotcom) April 30, 2019
Evening Social Events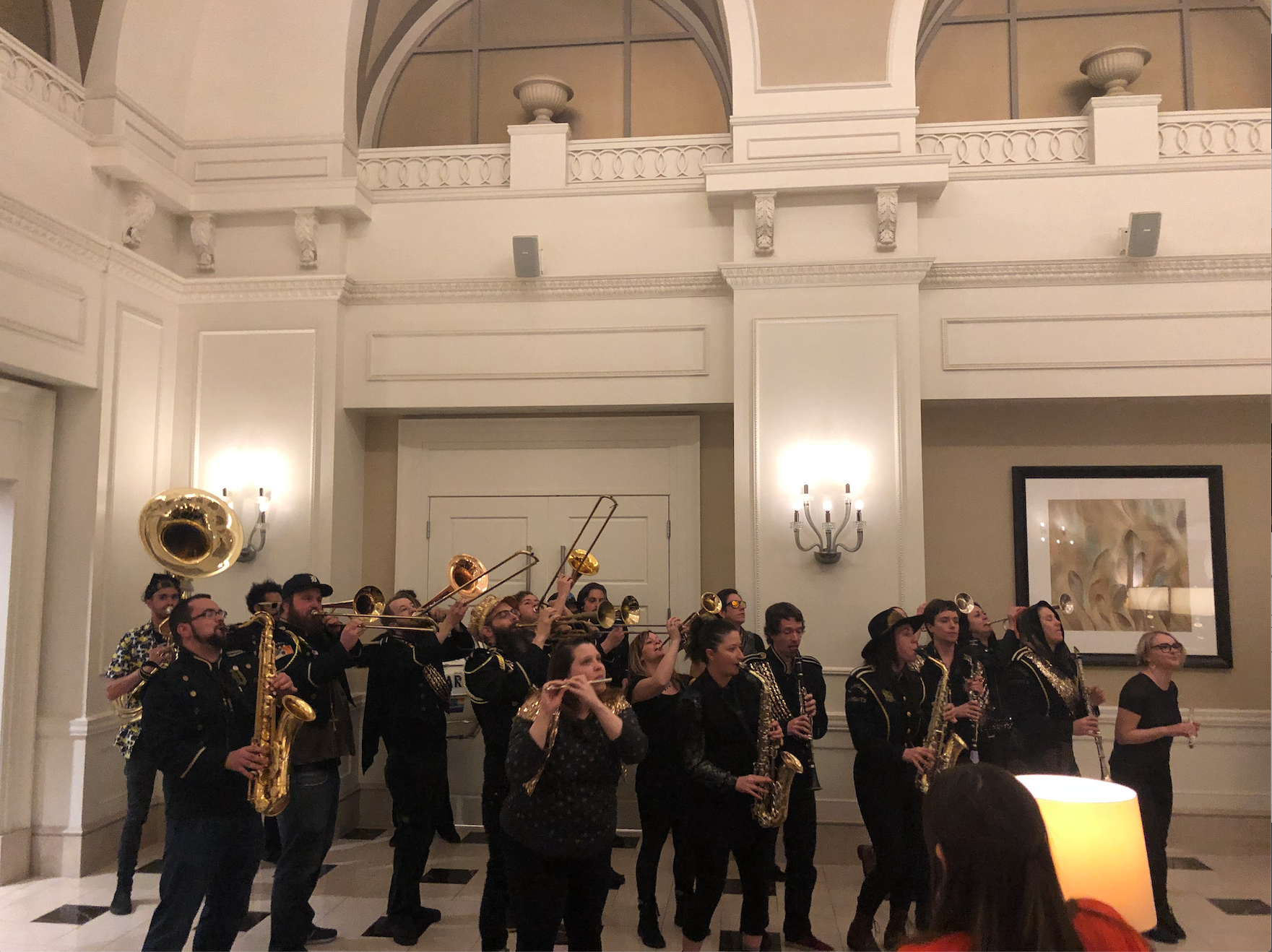 The fun started Tuesday evening, when we invited all Summit attendees to join us for an opening reception to mix, mingle, and set the tone for the days to come. And nothing says courage like having
the Detroit Party Marching Band
crash the party — this NOLA-inspired street band got every leader in the room on their feet, dancing and clapping along.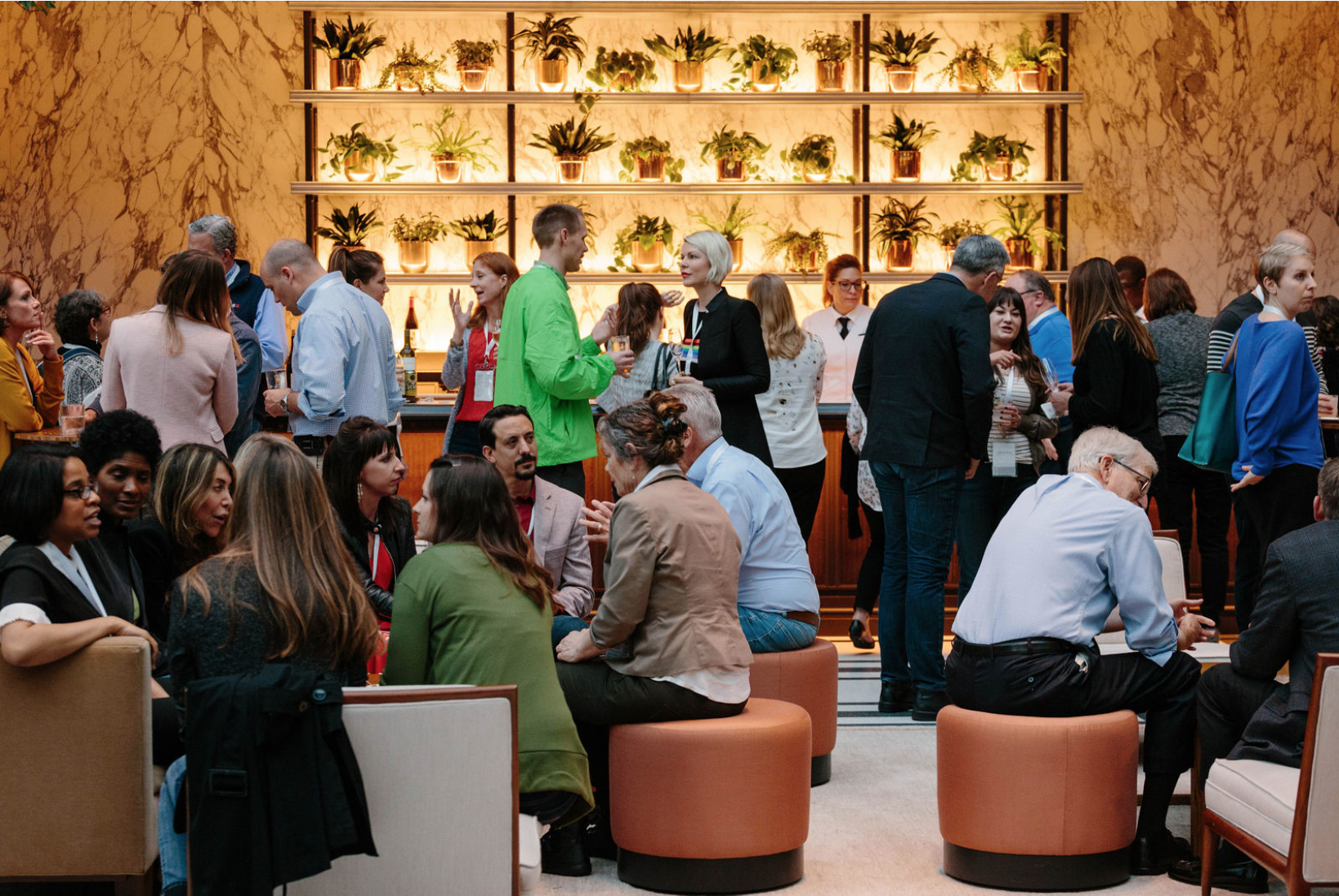 After a jam-packed first day on Wednesday, attendees gathered at
the Shinola Hotel's Birdy Room conservatory
to eat, drink, and unwind together. The bright and airy space served as an intimate setting for leaders to chat with friends new and old and dive deeper into topics we explored during the program. Bonus points for Shinola's awesome mini tacos and signature Small Giants cocktail.
On Thursday evening, we closed out the Summit with the Forbes Small Giants celebration. Held at
the historic Fisher Building
(considered Detroit's largest art object!), our leaders filled its mosaic-adorned halls with happy chatter and a buzz of anticipation as we waited to find out who would be named
Forbes Small Giants 2019
. Bo Burlingham, our co-founder and author of
the Small Giants book
, and Fred Allen, Leadership Editor at Forbes, unveiled this year's 25 best small companies in America, which makes 100 total recipients since we started the list several years ago.
The Courage and Vulnerability
It takes courage and vulnerability to lead differently. And in a room full of purpose-driven leaders, everyone has their own story of courage to share. On and off stage, this year's Summit centered around celebrating those stories and sharing the systems and best practices to take it even further. Here are highlights from a few fan favorites this year.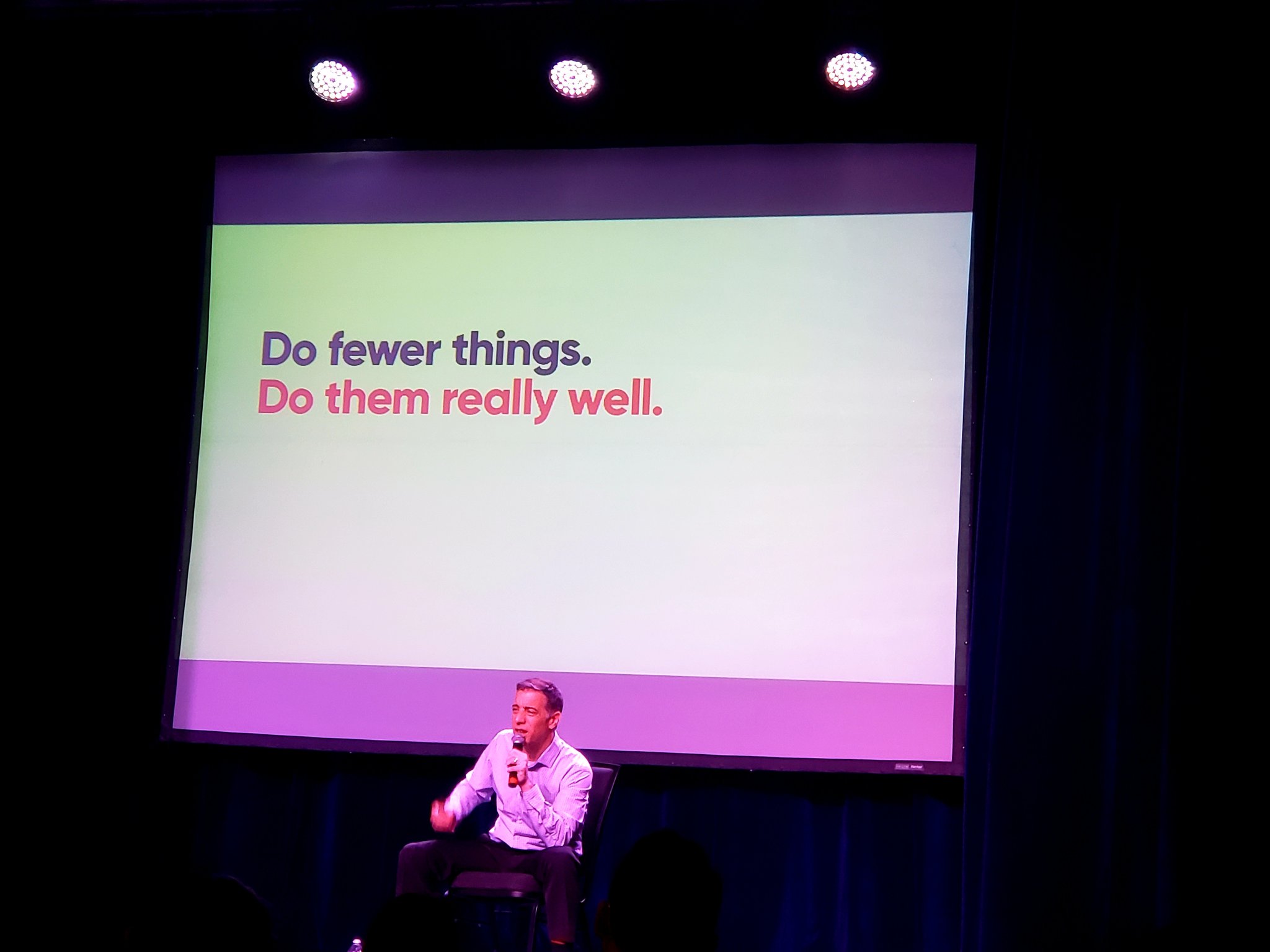 (photo from Kim Prior on Twitter)
There wasn't a dry eye in the house when Jim Hume took to the Summit stage to share his powerful personal story for the first time. Jim's story is all about how his unexpected diagnosis of multiple sclerosis transformed how he viewed his marketing agency, Phire Group, and his own leadership. On a walk in the woods with his wife and three young children, Jim's legs suddenly stopped working. Seven years later, he has a new perspective on life and business, and he's urging other leaders to learn from his journey and prioritize people and purpose over profit.
@jimhume dude. thank you. your story is incredible and your vulnerability and courage to share today is an inspiration. #SGCSummit2019

— Ryan Koral (@ryankoral) May 2, 2019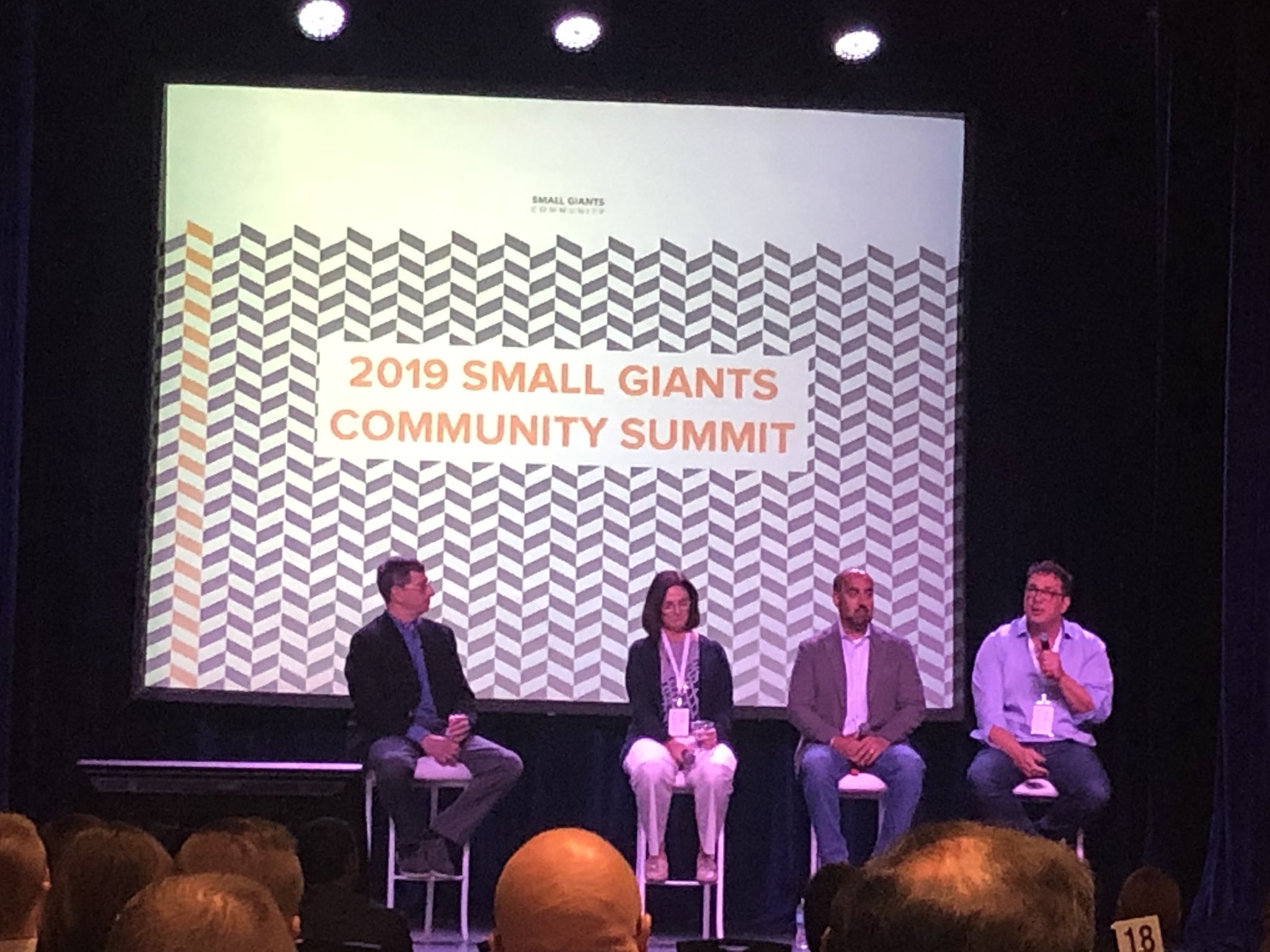 (photo from
Edoc Service on Twitter
)
Like we said earlier, there's no courage without vulnerability — and Steve Palmer was a living testament to that when he shared his story during the Forbes Small Giants panel. Steve is the founder of
Indigo Road Restaurant Group
, which includes 20 restaurants and 960 employees. Steve is also 17 years sober, and as he shared with Summit attendees, he takes the restaurant industry's substance abuse problem personally. Inspired in part by the loss of his friend and longtime chef who died by suicide, Steve shared how he's using his business to help his employees have better, healthier lives. Not only that, he's also created an industrywide path to sobriety through
Ben's Friends
, a network of support groups for industry workers.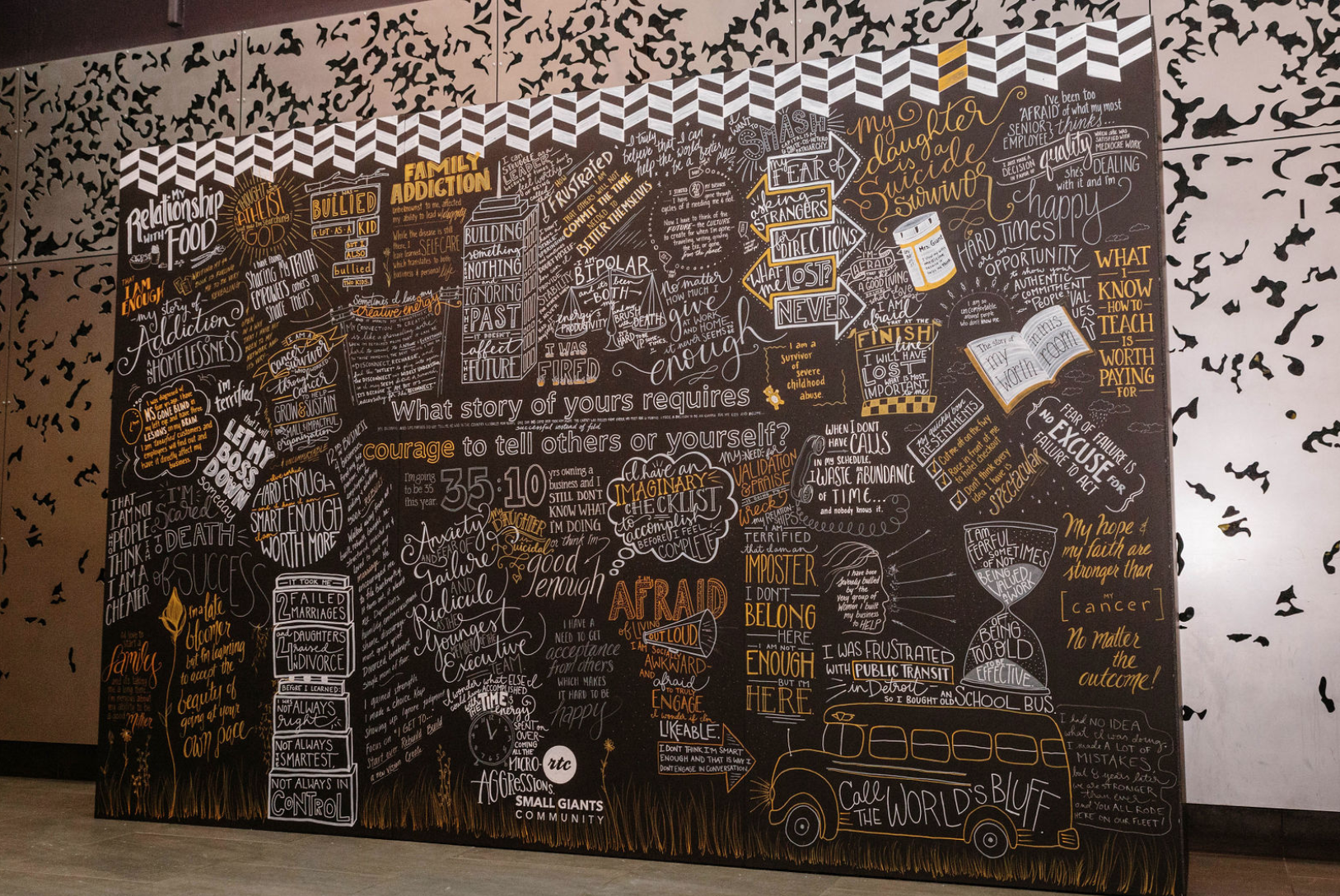 Off stage, #SGCSummit2019 attendees were participating in their own acts of courage. All Summit long, attendees anonymously shared their stories of vulnerability and courage, and we all watched as artists from
Roundtable Companies
turned some of our deepest secrets into works of art. The RTC-sponsored art wall became a focal point of the Summit, inspiring attendees to gather together and reflect on the range of stories and secrets we all carry with us.
We loved bringing all these courageous stories to life at #SGCSummit2019! pic.twitter.com/g8VWoW8D4s

— RoundTableCompanies (@RTCompanies) May 2, 2019

The Practical Lessons
Rounding out the inspiring stories and budding friendships, this year's Summit was also packed with practical lessons. We wanted attendees to walk away with not only new relationships, but also the best practices and systems to put new ideas into action right away. Here are a few of the most buzzed about lessons learned:
Claire Lew, CEO of
Know Your Team
, is known for her practical, people-driven advice for leaders. During Claire's interactive workshop on
giving and receiving feedback
, we learned the importance of avoiding sh*t sandwiches and how to deliver feedback from a place of care. To bring it all together, Claire challenged attendees to work together at their tables to create a plan for how we would deliver a piece of feedback we've been dreading.
A challenge from @clairejlew: Think of a time you had to (or will have to!) give tough feedback. 🤔

Reflect on how you can deliver this feedback better: coming from a place of care, observation, fallibility, and curiosity. What do you need to do differently? #SGCSummit2019 pic.twitter.com/JBKrOx9fTC

— Small Giants Community (@smallgiantsbuzz) May 1, 2019
A highlight of #SGCSummit2019 was Thursday's live think tank, where we invited one courageous entrepreneur to share their business challenge on the Summit stage. Facilitated by Chris Hutchinson of
Trebuchet Group
, we crowd-sourced ideas, systems, and strategies to help solve the leader's challenge. Along the way, Chris shared helpful tips for asking unbiased questions, listening more effectively, and uncovering the real root of a problem (hint: it's often not the presenting problem!).