The 2020 Small Giants Giants Gift Guide



It's gift-giving season, and there's never been a better time to support Small Giants businesses. It was a challenging year to be a small business owner, but the purpose-driven leaders in the Small Giants Community are resilient.
Despite the difficulties they faced, they remained committed to putting people before profit and making decisions in the best interest of their people, communities, and the planet.
When you support Small Giants companies, you're using your dollar to promote good business practices. Not only that, Small Giants companies are behind some amazing products that make great gifts you can feel good about.
Here's a quick roundup of some of 2020's best gifts from Small Giants companies. (Psst! Did you support a Small Giants company this holiday season? Tweet us a picture on social media and let us know!)
---
Food and Drink

McCrea's Candies
The Caramels Advent Calendar features 12 of McCrea's delicious, handcrafted caramels against a charming backdrop of woodland creatures and a bustling holiday shopping scene painted by a New Hampshire artist.
Kingston Family Vineyards
Send a sip (or several sips) of summer with The Kingston Trio, a young, vibrant and refreshing trio of wines from one of Chile's top vineyards.
Kiolbassa Smoked Meats
For the meat lovers in your life, you can trust Kiolbassa, a family business that has hand-crafted sausage since 1949. The Kiolbassa Classic: Six Slow-Crafted Sausage includes six 13-ounce packs of Kiolbassa's legendary slow-crafted sausage and your choice of flavors.
Lush Yummies Pie Co.
You can't beat a family recipe. Detroit-based chef and entrepreneur Jennifer Lyle's pies are world-famous and are inspired by her family's fourth-generation lemon "butta" recipe. You can order the award-winning Lemon Butta Pie online.
Good Cakes and Bakes
There are so many good cakes and bakes to choose from at this Detroit-based, community-minded bakery. We recommend the Layer Cake of the Month, but why stop there?
Askinosie Chocolate
Bean-to-bar chocolate on a mission. Askinosie's Chocolate Tasting kit contains everything you need to host your own virtual tasting party or have fun learning to taste chocolate like a professional. The kit contains four of its most popular chocolate bars, a tasting placemat and a flavor wheel.
Michigan Fields
The freshness of Michigan, delivered to your doorstep. Gift someone a break from their weekly grocery trips with a Michigan-grown grocery delivery subscription.
Zingerman's Mail Order
Enjoy treats from most famous delicatessen in the country at home with the Zingerman's Meat and Cheese Gift.
Olive Seed
Holistic wellness products to promote the natural good life, Olive Seed is a Detroit-based wellness company offering handcrafted herbal honeys, loose teas, olive oil, vinegars, and beauty products.
---
Kids and Family

Spikeball
Some say that if volleyball and foursquare had a baby, it'd be named Spikeball. Give the kid in your life (or kid at heart!) a Spikeball 3-ball set to get them started on this addictive, fun game.

Barefoot Books
Even if you're far away from some of your favorite nieces and nephews this season, you can gift them joy from a distance. The Barefoot Book Box Subscription delivers award-winning books and activities for children ages 0-9 years every month.
West Paw
West Paw crafts American-made pet gifts, from durable dog toys made in the USA to single-ingredient healthy treats your dog will love.


---
Home

Heath Ceramics
Since 1948, this California-based business has been thoughtfully crafting American-made goods for your home. There are endless beautiful items to choose from — our favorite this season is the Lavender and Cedarwood Candle in Wave Cup.
UncommonGoods
UncommonGoods offers remarkable designs by independent makers, and they do it with a positive impact on both people and planet. Browse their holiday gift guides for unique ideas to delight your family and friends, like this Personalized Gold LP Clock.
Motawi Tileworks
If you don't already know Motawi Tileworks, do yourself a favor and check out this Ann-Arbor based distinctive ceramics maker. The Snowscape polychrome tile makes a beautiful gift to celebrate the season.
Flowers for Dreams
If you live in the Great Lakes region, Flowers for Dreams is your new go-to for delivering locally-crafted flowers, plants, and goods to your loved ones. Bonus: every delivery benefits a local charity. Flowers for Dreams' Monthly flower delivery subscription is our go-to gift this year!
---
Home Office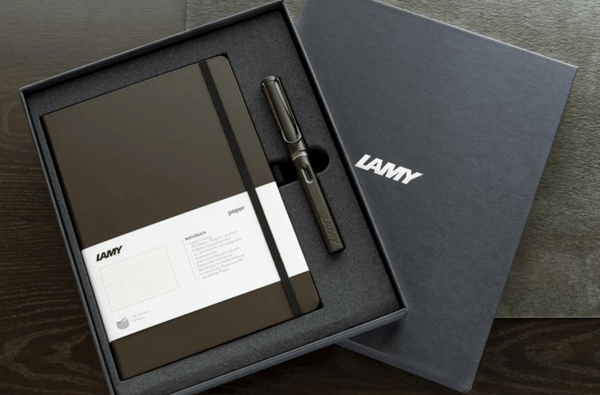 Headsets.com
Know someone who's had a long year of working from home? Give them this Noise-cancelling USB Headset to grant them a priceless gift: the sound of silence.
Goulet Pens
Goulet Pens is a company for pen enthusiasts, and they're on a mission to prove business can be personal. Gift the wordsmith in your life a pen and notebook set they'll love, like the LAMY Safari Notebook and Fountain Pen Gift Set.
---
Personal Care

Badger Balm
For parents-to-be and new parents, quality care products are top priority. Badger Balm's Baby Care Gift Tote is packed with all of the organic baby care gifts new parents will need to have handy.
Arsenal of Clean
In a year like 2020, give the people what they really want: more sanitizer. The Detroit Bus Company is behind the new Detroit-made sanitizers and cleaning supplies company, Arsenal of Clean. Every cleaning product you buy gifts one to a family in need.
Life's Abundance
Clean living products for you and your four-legged friend. Life's Abundance offers an array of environmentally-conscious gifts for you and your pets — including gift baskets of treats and toys they'll love.