A Meeting Of The Minds: Highlights From A Small Giants Community Passport Event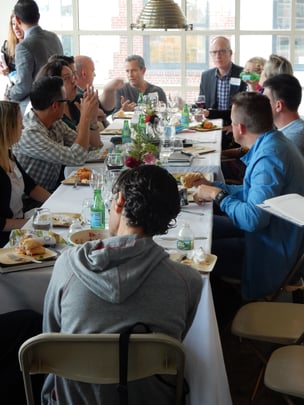 On October 16 - 18, 2016, values-driven leaders from around the country gathered in Boston for
an intimate, inspiring, and action-packed experience. Like all Small Giants Community events, our Passport event is designed to provoke meaningful networking, honest conversation, and immersive experiences with like-minded leaders and companies. For our Boston gathering, 22 leaders (including your SGC team!) took Boston by storm to visit Life Is Good, MiniLuxe, and Cue Ball, each day bookended with lively conversation, Boston adventures, and knowledge sharing inspired by each unique experience.
Sound familiar? If you've ever attended a Small Giants Community event, you know that we strive for our gatherings to be more than just a networking event. We set the stage for in-depth, transparent conversation, behind-the-scenes access to inspiring companies, and real, actionable lessons you can immediately put to good use at your business. Curious to hear more about what went down at this latest Small Giants event? Read all about it.
Values-driven leaders from all walks of life.
What's a values-driven leader look like? The answer is complicated - and that's just how we like it. Some Small Giants leaders are CEOs and founders who have been with the Community since the beginning. Some are currently learning the ropes in middle management positions, many others are rising leaders. Others still are recent converts to this way of doing business, having intentionally walked away from command-and-control, more traditional leadership positions to pursue people-first, values-centric endeavors instead.
Our Boston Passport was no exception: from long-time Community members Brad Herrmann and Hai Nguyen (Call-Em-All) and Rob Dube (imageOne) to small business owner Nawal Motawi (Motawi Tileworks) to HR coordinators and sales directors from a range of companies, our Boston bus had all the right people in the right seats, providing a range of perspectives, learning opportunities, and great conversation.
Behind-the-scenes tours of values-driven companies.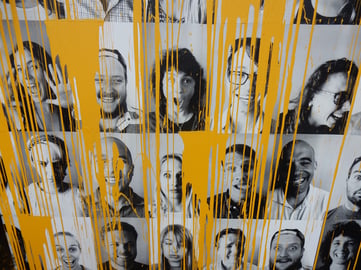 This year's Boston Passport featured two companies from Forbes' America's Best Small Companies 2016 list. Cue Ball is a team of entrepreneurs for entrepreneurs: they're a venture and growth equity fund that puts human capital first. MiniLuxe is actually a product of Cue Ball - they were Cue Ball's first portfolio company and they aim to reinvent the nail salon industry by resetting the standards for hygiene, service, and client experience. We also visited Life Is Good, a $100 million lifestyle brand dedicated to spreading the power of optimism - and they donate 10 percent of their net profit to help kids in need.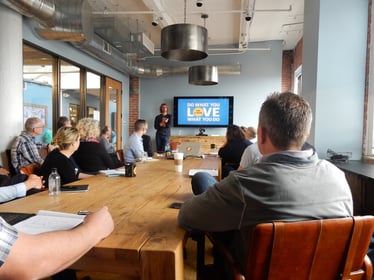 For those who didn't make it to this year's Passport, you might be envisioning your run-of-the-mill, guided tour of these noteworthy companies. Think again: a Small Giants event takes you behind the curtain, allowing you to swim in the stream of a values-driven company with full access to their company founders and their stories. At Life Is Good, we heard from co-founder
Bert Jacobs on the mission of his company and how they work to put values first.
"You have to enable your customers to author your story," Bert shared. For their team, it's all about fostering a childlike sense of wonder. "The more you keep your arms open, the more you catch."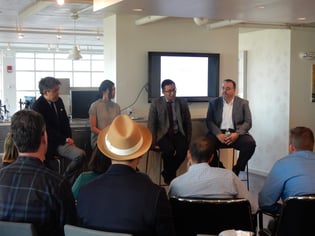 Cue Ball is all about relationships - with a people-first philosophy, their team is made up of individuals who bring more than just experience to the table. For them, excellent character has to come along with that base of competency. As a result, their business is driven by the firm's "people dots" - a network of tightly interwoven long-term friendships and professional collaborations that brings a unique composition to their investor base.
At MiniLuxe, we learned all about how the company aims to help people feel like fuller versions of themselves - they work to empower people to become a better version of themselves through their superior client services. With a focus on leadership and goodness, they aim to service their values at every opportunity, not just when they face a test or a difficult moment. With Cue Ball in their corner, they're likely to succeed in fulfilling their vision.
And some unforgettable adventures along the way.
While inspiring, all-access sessions with Boston's brightest values-driven companies is certainly time well-spent, the fun didn't stop there. The Small Giants Community is all about building meaningful connections with like-minded leaders, as well as genuinely exploring the city hosting one of our events.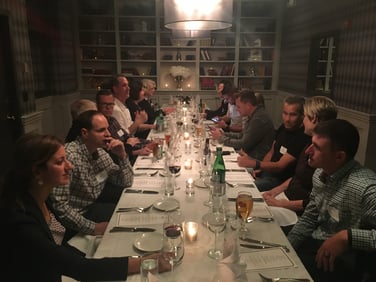 That sentiment took us to Boston's Faneuil Hall Marketplace in the heart of downtown, a historic gathering place with independent retailers, local eateries, and world-renowned street performers and musicians. By night, we visited Back Bay Harry's for dinner, where our newly-acquainted group of leaders chatted like old friends, sharing their stories and offering up advice, insights, and connections. Our final dinner together took place at Da Vinci Ristorante, an Italian restaurant revered by Boston foodies for its open concept kitchen and unforgettable cuisine, focused on freshly-made ingredients and a modern twist on Italian classics.
For our Community of leaders, we pull out all the stops - great food, inspiring businesses, and destination host cities - and most of all, unforgettable company. Prepare to make connections that will last a lifetime and learn lessons that will help grow your business with purpose.