Equal Exchange: Lessons from Three Decades of a Worker-Owned Cooperative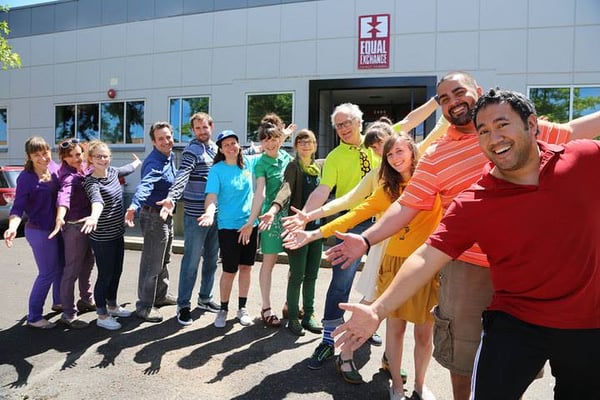 At Equal Exchange, the co-op model doesn't define them — it's a means to achieve their mission. Since its founding in 1986, Equal Exchange has existed to build long-term trade partnerships that are economically just and environmentally sound.
Equal Exchange is now one of the largest worker cooperatives in the country and ultimately, they hope to use their success to demonstrate the contribution of worker cooperatives and Fair Trade to a more equitable, democratic, and sustainable world.
Along the way, they've created an inspiring alternative to business as usual that empowers employees, customers, and suppliers by putting people and purpose before profits.
Here's how it works:
What is a Democratic Worker Co-Op?
Let's start with the basics. Equal Exchange imports and distributes fair trade coffee, tea, chocolate, and other foods from farmer cooperatives around the world. When Equal Exchange first formed a worker cooperative in 1989, their goal was for the company to be controlled by the people who did the actual work. They believe that they should expect no less from themselves than they ask of their farmer partners, who are also organized as cooperatives. Simply put, a democratic worker cooperative is an alternative for-profit structure that incorporates democratic principles into the workplace.
There are a few key principles:
the right to vote (i.e., one vote per employee, not per share
the right to serve as a leader (i.e., board director)
the right to information (i.e., open-book management)
the right to speak your mind (i.e., worker-owner meetings)
Worker cooperatives focus on workplace rights and responsibilities over maximizing profits and delivering high returns to investors. For Equal Exchange, the model has been successful — they've grown every year and they've been profitable 24 out of their 25 years as a cooperative. Today, Equal Exchange has around 140 worker-owners, a board of directors, and a number of outside investors who are aligned with their mission.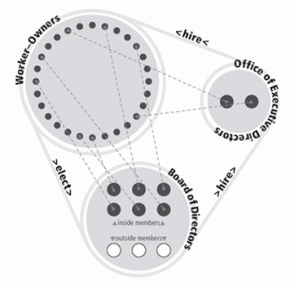 How Is a Worker Cooperative Organized?
All worker-owners own an identical share of Equal Exchange and receive an equal share of profits and losses. Likewise, worker-owners have an equal vote in electing 9 Board of Directors, 6 of whom are worker-owners themselves. The Board of Directors oversees hiring the executive team — who are also worker-owners — creating a circle of democracy that ensures everyone is accountable to one another.
The worker-owner process begins when someone is first hired. For the first year, new employees learn the ropes with the support of an assigned mentor. New employees participate in a curriculum of courses called "exchange time" that teach them about the business itself, the history of co-ops and their model, and financial literacy. At the end of an employee's first year, both their supervisor and mentor must submit their recommendation for the employee to become a worker-owner. It's put to a vote and the entire co-op elects in the new worker-owner.
Equal Exchange has a nontraditional financing model, too. Instead of being controlled by investor money, Equal Exchange controls the process themselves. But the company's investors aren't fixated on return — they're looking to do something good with their money and support the Equal Exchange's mission. In exchange, investors have full access to the executive team and receive annual reports on how the company is doing. The company doesn't relinquish any control to investors, and if the business is sold, nobody gets rich. If the company is eventually sold, the proceeds would go to other Fair Trade organizations.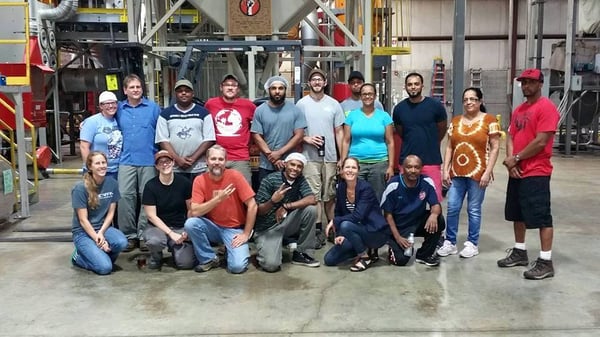 Empowered Employees, Customers, and Suppliers
Part of what Equal Exchange aims to do is create value for each part of the supply chain. The worker co-op model and the behaviors it inspires creates more empowered farmers, worker-owners, and consumers.
Let's dig into some of the specific practices that create stronger connections between stakeholders:
Worker-owner trips to source countries. One of Equal Exchange's goals is to create a closer connection between people and the farmers they rely on. In service to that, Equal Exchange commits to giving every worker-owner the opportunity to travel to a source country after two years with the company. Worker-owners travel in a small group for a week, spending time with some of the farmers the company actually partners with. It's a life-changing experience for many and provides valuable perspective on the importance of their work. Long-term employees are given the opportunity to take additional trips later in their tenure.
Building economic justice. In many areas, it's not easy for farmers to organize into a worker cooperative. Particularly in rural areas controlled by large landowners or even elites in other countries, democratic cooperatives help build economic justice. Equal Exchange forms a commercial partnership with these cooperatives and works closely with them as partners, sharing best practices and helping problem-solve when something goes wrong. When one of their suppliers runs into a problem, it's not game over. Equal Exchange also works to leverage outside resources to help farmers invest in critical issues like improving organic yields and mitigating impact of climate change.
Action Forum for consumers. In one of its more recent moves, Equal Exchange started the Action Forum to create an engaged community of citizen-consumers who are ready to learn about and take action on alternative trade. The idea came from a genuine sense of urgency as the market rapidly changes, favoring Amazon and chain stores over independent businesses. Equal Exchange wants to educate consumers and help demystify where food from overseas comes from and how it is sourced. They believe that collective action from engaged consumers can help build supply chains for small farmers and reshape the food system. You can get involved with the Action Forum through online communities, in-person meetings, and direct action.


---

Want even more purpose-driven leadership articles delivered to your inbox? Subscribe!


---