Growing with Purpose Podcast: Making Car Dealerships Fun with Aaron Montgomery
Subscribe to the Growing with Purpose Podcast and never miss an episode.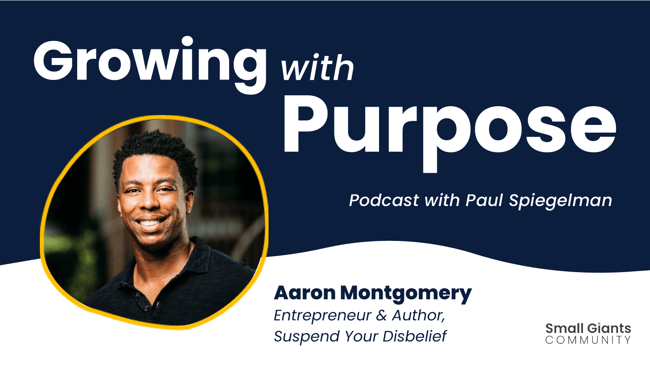 On this episode of the Growing with Purpose podcast, host Paul Spiegelman speaks with Aaron Montgomery, the CEO of Montgomery Development Group, Co-Founder of CarLotz and author of Suspend Your Disbelief: Short Stories That Are Long On Wisdom.
Aaron grew up in Detroit, raised by his mother, as well as her large family. From them, he learned the value of education and stories, and even got a lifelong, prophecy-filling nickname: Mr. President.
After going to a private high school thanks to a scholarship, and eventually Harvard Business School, Aaron recognizes that he's benefited from experiences and environments that aren't available to everybody. But he's also seized opportunities when they're available. In high school, he asked a friend's dad if he could work at the man's car dealership during his summer holidays. Through this, Aaron was able to learn the ins and outs of car sales, which eventually led to him co-founding CarLotz. He and his co-founders strove to make CarLotz a different kind of dealership, for customers and employees alike. Those changes quickly proved to be beneficial for business; but more than the numbers, Aaron is proud of the culture they created.
"The real impact to me was felt when you saw the difference."
Now, Aaron's written a book, structured in stories - an homage to his grandpa - and hopes to reach young people through it so that they can learn from his experiences. He's also working on himself, practicing patience, and focusing on the journey rather than the destination.
Listen to Aaron's story below:
Show Notes:
"A lot of those myths aren't myths."
"I like stories. Stories help me relate to the world."
"In Detroit, I wasn't a minority until I got older."
"When you look in the mirror, the only face looking back is yours."
Book that Inspired Aaron:
"Why Should White Guys Have All the Fun?" by Reginald F Lewis