Growing with Purpose Podcast: The Accidental Entrepreneur with Andy Fowler
Subscribe to the Growing with Purpose Podcast and never miss an episode.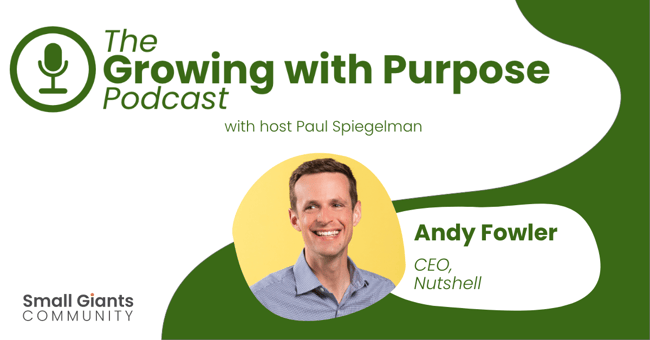 On this episode of the Growing With Purpose podcast, Paul Spiegelman talks with Andy Fowler, CEO of Nutshell, an all-in-one CRM and email marketing platform based in Ann Arbor, MI.
"My trajectory in life was never to start a business, or even to lead a business," says Andy. "I was always motivated by my own curiosity and making things, that's what always made me tick."
This curiosity for learning was instilled in Andy at an early age. He was homeschooled by his mother all the way through high school, which gave him the flexibility to really dive into topics that he was most curious about. One of these was computers, which led him to intern, and later work at a local dialup internet company. It was there that he learned the fundamentals of computers and software, and where he met three friends who ended up being his co-founders in eventually creating Nutshell.
One of these friends, Guy Suter, was CEO until other business ventures took more of his time. They then brought in a CEO from the outside, and just a couple of years ago, Andy stepped into the role. He claims that even ten years at the company didn't fully prepare him for the responsibilities, but that his passion for continued learning and for helping people through his problem-solving are what drive him on his leadership journey.
"The reason I ended up starting companies and being a part of them in early stages was because of what I like doing, and that was solving problems, and often for businesses."
Andy had the impeccable timing of becoming CEO just a couple months before the start of the pandemic, which has brought about its own challenges and questions, such as the concept of remote work after having developed a strong office culture over the past decade. But Andy said it's also allowed them the space to hunker down and develop new products, and start redeveloping their company vision. Some things that Andy will always keep at the core of his leadership and of Nutshell, is the integrity of their products, and developing people with potential. After all, the owner of the dialup internet company back in his hometown took a chance on Andy based solely on potential.
"When you find someone who is interested in what you're doing, and you treat them well, and they stick around because they're excited about the mission and what's happening, you can go far."
In this episode, listen as Andy tells Paul about his early days of getting into the world of CRM when it was just beginning, how his lifelong curiosity led to him being an accidental entrepreneur, and why everything at Nutshell starts with a well-designed product.

Listen to Andy's story below:
Show Notes:
"The founding story of How I Met My Partners."
"I stepped into the CEO role a couple of months before covid started."
"I was always motivated by my own curiosity and making things, that's what always made me tick."
"As many times as we've released a product, we've never released something too early."
Book that Inspired Andy:
The Infinite Game by Simon Sinek