Growing with Purpose Podcast: Empowerment through Financial Literacy with Angela Barbash
Subscribe to the Growing with Purpose Podcast and never miss an episode.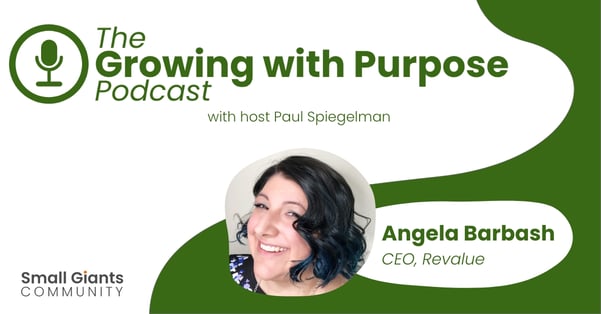 On this episode of the Growing With Purpose podcast, Paul Spiegelman talks with Angela Barbash, CEO of Revalue Investing, a values-based investment advisory firm. She is also a current participant in the Small Giants Leadership Academy as well as a recipient of our inaugural LIFT scholarship.
For Angela, all roads lead to making an impact. Growing up, she observed how her separated parents both struggled financially to navigate a society that didn't allow them access to resources or knowledge. This, along with her love for math and the stories from her activist grandmother, Maria Elena Lucas, set Angela on a clear path. She wanted to work in finance, but she wanted to do it differently. She wanted to make the industry accessible for people of all different socioeconomic backgrounds.
After years of traversing the industry to understand how it worked from the inside out, and then more time researching and developing, Angela and her team launched Revalue Investing in 2013. They are a boutique investment firm, with three types of clients: entrepreneurs, multigenerational inheritors, and individuals who have been otherwise excluded from the industry and want to gain financial literacy. No matter how much or how little wealth they are handling, each of Revalue Investing's clients chose the firm because they are a socioeconomic inclusive business.
"We're just one little mark on the map and we try to have the best impact we can."
In this episode, listen to Angela tell Paul how she and her team prioritize mental health so they can be the best advisors to their clients, what she learned (or didn't) from working within a traditional firm, and how she believes the sharing of knowledge is one of the most important ways she can make an impact.
Listen to Angela's story below:
Show Notes:
"I was really pursuing impact from the time I came out into the workforce."
Revalue's goal is "helping investors value more in their lives than just their balance sheet."
"About 20% of our clientele are folks that are traditionally excluded for economic reasons."
Excited to be a part of the Small Giants Community through the LIFT scholarship and happy that it allows more accessibility to companies like hers.
Leadership Book that Inspired Angela:
The 7 Habits of Highly Effective People by Stephen R. Covey