Growing with Purpose Podcast: "While the World Gets Louder, Humility Can Quietly Help" with Ari Weinzweig
Subscribe to the Growing with Purpose Podcast and never miss an episode.
On this episode of the Growing with Purpose podcast, host Paul Spiegelman talks with Ari Weinzweig, co-founder of the Zingerman's community of businesses.
The Small Giants movement began in 2003 when author Bo Burlingham wrote an article for Inc. magazine dubbing Zingerman's The Coolest Small Company in America. The idea to start a community for like-minded, purpose-driven business leaders took root from there, when a group of leaders gathered at Zingerman's deli to try its famous corned beef sandwiches and to see for themselves what made this small company so special.
In this conversation, hear the Zingerman's origin story from a founder's perspective and hear how Ari and his co-founder, Paul Saginaw, used visioning to transform their business model. Plus, Ari shares his reflections on the 12 natural laws of business they've uncovered in their decades of success running Zingerman's community of businesses.
Want to learn more from one of the most revered Small Giants leaders around? Register for the 2021 Small Giants Community Summit where Ari will give a keynote about what it takes to be a Small Giant today.
Tune in to Ari's story here or listen below.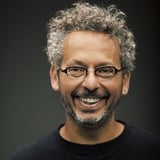 Show Notes:

[1:34] How Zingerman's Is Managing the Pandemic
[5:42] Taking Your Idea from Vision to Reality
[17:06] Via Negativa
[24:21] The Failure of the Family
[35:29] What I've Learned from Screwing Up
Find Ari's latest pamphlet:
"Humility: A Humble, Anarchist Inquiry" and check out other resources on Zingerman's Press. Sign up for Zingerman's e-news here.