Growing with Purpose Podcast: "The Harsh Wake-Up Call That Changed Everything" with Jim Hume
Subscribe to the Growing with Purpose Podcast and never miss an episode.
On this episode of the Growing with Purpose podcast, host Paul Spiegelman talks with Jim Hume, Owner and Principal of Phire Group, a research and brand strategy firm in Ann Arbor, Michigan.
Under Jim's leadership, Phire Group delivers complete research and brand strategy along with creative and comprehensive digital and traditional capabilities to uncover a brand's full potential. Jim founded Phire Group when he was just twenty-six years old, and over the years Jim has done a complete 180 on his approach to leadership, business and life.
After he was blindsided ten years ago by a multiple sclerosis diagnosis, Jim took a step back to assess his priorities, his purpose and how that played out in his business. Many changes had to be made and today, Phire Group is an award-winning purpose-driven organization that puts people and purpose first. In 2020, Phire Group was named a Forbes Small Giant.
In this conversation, hear how Phire Group takes a non-traditional approach to marketing that aims to inspire and motivate, not manipulate. Plus, Paul and Jim discuss the practical ways in which leaders can build culture, keep purpose at the center of the business, and build an organization that will exist long beyond its founder.
Want to learn from and meet inspiring purpose-driven leaders like Jim? Register for the 2021 Small Giants Community Summit where you'll connect with hundreds of purpose-driven business leaders for meaningful relationship sharing and interactive learning.
Tune in to Jim's story here or listen below.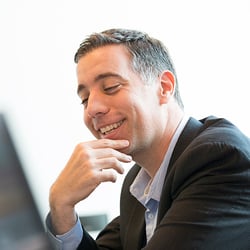 Show Notes:

[5:55] Sell Who You Are, Not What You Do
[13:52] All Momentum, No Direction
[19:10] How Things Change When You Face Your Own Mortality
[28:30] Cultivating Joy in the Every Day Work
[36:48] The One Phone Call Policy
Leadership Book that inspired Jim:
Good to Great by Jim Collins, Small Giants by Bo Burlingham