Growing with Purpose Podcast: Financials with Heart with Lauren Adams
Subscribe to the Growing with Purpose Podcast and never miss an episode.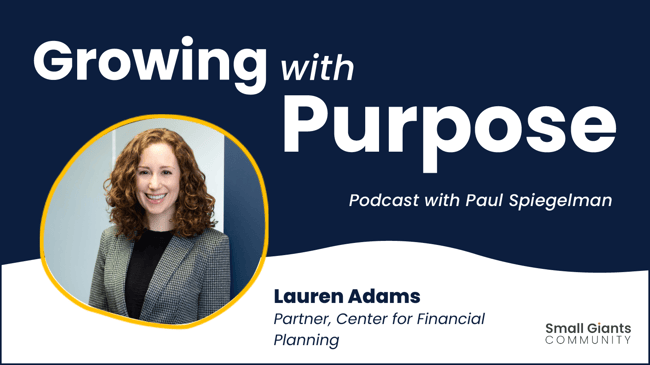 On this episode of the Growing with Purpose podcast, host Paul Spiegelman speaks with Lauren Adams, Partner and the Director of Operations at the Center for Financial Planning, a privately held wealth management firm.
Lauren has always had a strong work ethic that combines with a passion for working towards a greater good. Even as she pursued education, and then a career in financials, she wasn't interested in the large public firms and the Wall Street culture. Rather, she focused on finding a work environment that fit her mission of working towards a greater purpose. And in the two companies she's worked for since graduating - Morningstar and the Center for Financial Planning - she's found just that.
Tune in to this episode where Lauren and Paul discuss why Lauren shifted from being a stock analyst to a personal financial planner, and how the Center for Financial Planning is unique in its industry. Also hear what helped Lauren to get through the early days of the pandemic - all while she was creating new company policies, going through the Small Giants Leadership Academy, and raising a newborn.
Show Notes:
"The fact that we're an independent wealth management company these days is unique and special."

"Be more concerned about finding the right company rather than the perfect role."

"This philosophy of the Small Giants Community put words and a framework around something that I wasn't able to before, but felt so right to me."
Book that Inspired Lauren:
Small Giants: Companies That Choose to be Great Instead of Big by Bo Burlingham
Listen to Lauren's story below: