Growing with Purpose Podcast: "You don't have to be a celebrity to share your life journey" with Lauren Eckhardt
Subscribe to the Growing with Purpose Podcast and never miss an episode.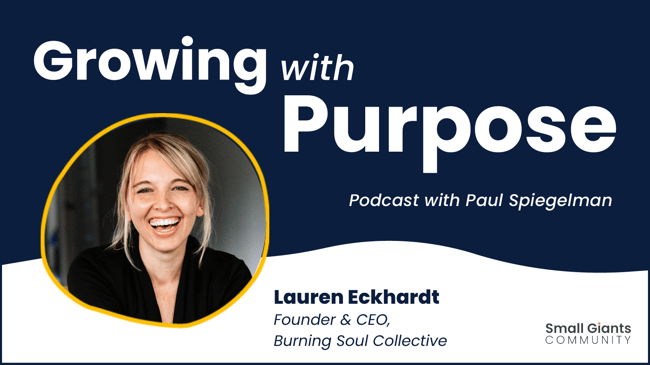 On this episode of the Growing with Purpose podcast, host Paul Spiegelman speaks with Lauren Eckhardt, founder and CEO of Burning Soul Collective.
Lauren grew up in rural Missouri with plenty of space to let her imagination roam. She took a detour from her creativity in college, and began her career in Human Resources roles. And while she enjoyed certain aspects of HR, like identifying and celebrating individual's strengths, her priorities shifted after the birth of her first child, and she knew she wanted to do something different.
After a scary bout of covid in the early days of the pandemic, Lauren was forced to look at her life path and where she wanted to take it moving forward. By this point, she had already published her own books and done some ghost writing, and people would often ask her to help them with their own stories. So, in the wake of a pandemic, Lauren decided to take her skills and passions, and turn them into a business aimed at helping people write their own life stories.
Tune in as Lauren and Paul discuss the merits of being an introvert who's good at listening, tips on how someone can begin writing their story, and Lauren's ongoing journey to discover her identity as a leader.
Listen to Lauren's story below:
Show Notes:
"I get obsessed with our life journeys."
"We're very visible when we're an entrepreneur."
"You can admire what someone has done to be successful - it doesn't mean you have to mirror that."
"Go all in. And don't be scared of being visible."
Book that Inspired Lauren:
Love Yourself Like Your Life Depends on It by Kamal Ravikant