Want a More Inclusive Organization? Start with Building Community
What's taboo to talk about at work? The rule of thumb used to be to stick to dinner-table friendly topics — which ruled out conversations around politics, race, religion and money. But times have changed, and the modern workplace can actually derive power from engaging in thoughtful and respectful dialogue around the issues that matter most to employees.
"Community-centered workplaces care about more than the bottom line – they care about employees as human beings," says Carla Young, Director of Community and Multicultural Programs at Cranbrook Schools. "By engaging in community dialogue with our teams, we begin doing things with our people instead of for them."
At the 2021 Small Giants Community Summit, attendees came together to explore how to build more diverse, equitable and inclusive (DE&I) workplaces, especially when it comes to racial justice. Young's session, "Beyond Diversity: How to Cultivate an Inclusive Mindset in Your Organization," explored how leaders can cultivate safe, respectful dialogue around identity and race in the workplace.
As Young reminded attendees, DE&I work is a practice and the work is ongoing — there's no single article or training that will solve the challenges we face today. The work begins by simply talking about it: with dialogue, we can begin to understand one another, build bridges, and move forward together. "Convening conversations about diversity, equity and inclusion is work, and it is action," says Young.
If you're ready to start the conversation with your team, we'll explore three steps to get started and what you should know about having successful conversations about difficult situations. Let's dive in.
What's the Difference between Diversity, Equity & Inclusion (And Why Does It Matter)?
Diversity, equity and inclusion are inspiring terms, but they're also fairly academic concepts that can encompass many ideas for many people. In her Small Giants Summit session, Young offered her take on DEI educator Verna Myer's popular analogy, which helps to define these terms and clarify how they work together. "Diversity is getting invited to the party, inclusion is being asked to dance, and equity is bringing a dish to pass."
It's important for Small Giants leaders to understand each of these concepts and the role it plays in a healthy company culture. Cultivating an inclusive workplace builds vulnerability and comfort, and invites the whole person into the work community. "The core task of leadership is to build a healthy community," says Young.
Building a diverse, inclusive organization isn't just the right thing to do, it's good for business — there's a strong business case for DE&I. McKinsey & Company's continued research on diversity and business performance shows a correlation between companies with more diverse leadership teams and financial outperformance — and companies in the top-quartile for ethnic/cultural diversity on executive teams were 33 percent more likely to have industry-leading profitability.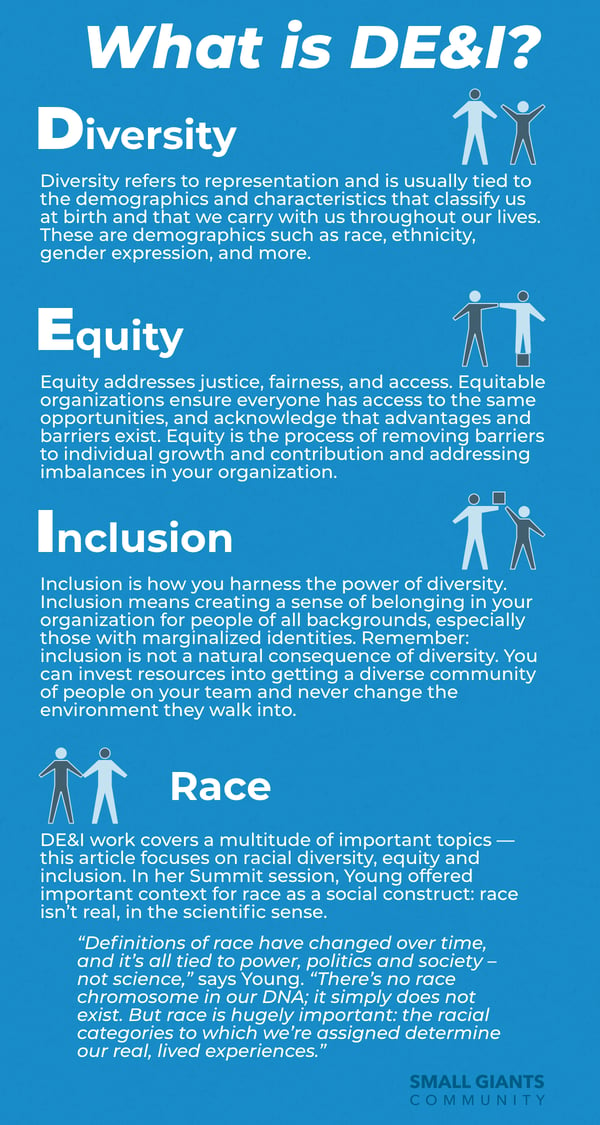 Want to dig into these topics a little deeper? Check out these resources!
How to Build Community with Your Team through Conversation
Do the Prep Work
Open dialogue is key to building healthy communities. But before diving headfirst into these conversions at work, take time as a leader for some self-reflection. What brings you to this work? Have you educated yourself on diversity and inclusion?
There are plenty of free resources and online training opportunities available, like Linkedin Learning's expert-led DE&I training courses. There are also countless books on everything from unconscious bias to cultural competence – check out these book recommendations from Small Giants Leadership Academy facilitator Carlecia Wright. If you're not ready to lead this work yourself, consult with a diversity and inclusion consultant or firm to explore the options for your organization.
It's equally important to reflect on the readiness of your workplace culture: do you have a strong foundation to have a successful conversation around race? Psychological safety – a shared belief on a team that others will not embarrass, reject, or punish you for speaking up — is a prerequisite for any meaningful DE&I work. Without it, leaders run the risk of doing more harm than good.
Starting the Conversation
Once you're ready to start the conversation, Young encourages leaders to set realistic expectations. Understand that this is an ongoing conversation, not a one-off training. Building trust takes time and consistency. "The reward of risk and vulnerability is connection," says Young. "Commit to ritualizing new practices that help you and your team stay connected."
Set ground rules.
Get on the same page with team members by working together to set agreements for the conversation. Watch the above clip for an example of the agreements Young brought to our Summit session on diversity and inclusion. Guidelines help ensure a respectful conversation and encourages participation.
Take a "circle" approach.
In her Summit talk, Young introduced the concept of "circles" – a restorative practice that gives people an opportunity to speak and listen to one another in an atmosphere of safety and equality. Circles offer an alternative to traditional meeting formats by putting everyone on an equal playing field. "Every voice has equal time, air space, and positioning in the room," says Young.
In Circle conversations, one person shares at a time and sharing moves in sequential order, often around the direction of the circle. This works to equalize hierarchy and give space to quieter voices in the room. No one can interrupt while someone else is talking, and there's no back-and-forth arguing. Circle conversations encourage more listening and less talking.
Allow people some choice.
Young advises that team members should always have a choice in how they participate in these conversations – you can't force it and everyone should have the right to say "no". Although everyone is expected to show up to the sharing circle, each person has the right to "Pass" and just continue to listen instead of sharing.
"DEI training should not be compulsory. However, working in the company's DEI values should be held as an absolute expectation," says Young. "Ritualizing conversations, including DEI topics, allows the company to support that expectation. A skilled circle keeper will help create the conditions where sharing is normalized and authentically practiced in the organization as a way of understanding and being understood."
Organize your circle around a topic or subject.
Develop a consistent cadence around your circle conversations and set a theme or topic for each conversation. Circle conversations allow people to tell their stories and share their perspectives in a controlled environment, which will build trust and empathy across your team. You can also use your circle space to address conflict on your team and current events to ritualize having hard conversations.
Young encourages leaders to take a backseat and resist the urge to have an answer for everything. "Questions are more transforming than answers," she says.
5 Tips for Having a Successful Conversation about a Difficult Situation
Difficult conversations happen — and when handled well, they lead to growth and accountability. But even with the best of intentions, our first instincts in difficult moments are often wrong. We may think someone wants advice, when they just want us to listen. We may think we should find common ground, when we should instead acknowledge difference.
Circle conversations are meant to be safe spaces for sharing and growth — and that means there's no room for guilt, blame, or shame for what others haven't learned yet or are still learning.
Active listening is an important leadership skill, especially for difficult conversations. Young offers a 5-step framework for navigating tough conversations:
Ask questions and resist the urge to lecture.

Use "I" statements to explain your feelings, not "you" statements that put the other person on the defensive.

Listen carefully. Don't get so caught up in formulating your response that you miss something important.

Keep an open mind to the possibility that you were wrong.

If you're feeling too emotionally charged, seek an objective third party to broker the discussion. Allow yourself to come back to the discussion later.
Diversity, equity and inclusion work is a journey, not a destination — what's one action you can commit to today? Our work as a Community is ongoing, and we invite you to join us for a virtual roundtable on racial diversity, equity and inclusion on May 19th at 1pm EST. Engage in dialogue with fellow purpose-driven business leaders to discuss challenges, share best practices and walk away with new ideas for building a more inclusive culture.