4 Inspiring Lessons from a Small Giants Leadership Academy Graduate
When Sabrina White first heard about the Small Giants Leadership Academy, she knew right away she was interested in enrolling. As Director of Customer Experience at Call-Em-All, she's known about the Small Giants Community since her very first day with the organization.
"Our founders, Brad Herrmann and Hai Nguyen, have been involved with the Small Giants Community for nearly a decade," says White. "I've seen how much they enjoy it, how much they learn and all of the great people they meet. I was excited to have the chance to experience it and learn from my own perspective, and hopefully get closer to where they are as leaders."
Why Leaders Choose the Academy
When White first joined Call-Em-All in early 2013, the organization was half the size it is today. With so much growth, Hermann and Nguyen knew they had to develop leaders within the organization who understood its culture and had the skills to protect it as the company grew. The health of the culture could no longer rest on their shoulders alone.
"Sabrina and Jay are two of our up-and-coming leaders," says Herrmann. "In the Leadership Academy, we saw an opportunity to further their leadership education in a manner that is consistent with our values. Our hope was that the program would emphasize why our culture is so important as well as how leaders can maintain and improve it."
As a longtime member of the Small Giants Community, Call-Em-All's emerging leaders were already familiar with the principles of purpose-driven leadership — but as White explains, she didn't always know how to implement them in the day-to-day of her role. In October 2018, White and her colleague Jay Tollerene, Director of Operations, kicked off their year in the Small Giants Leadership Academy.
"I went in wanting to learn how to be more intentional and deliberate in my leadership," says White. "The Leadership Academy has helped me hone my skills and gave me the tools to show up every day and do the right things for our culture."
In the Leadership Academy, we saw an opportunity to further their leadership education in a manner that is consistent with our values
A Flexible Learning Experience
The Small Giants Leadership Academy is a one-year certification program that teaches the building blocks of purpose-driven leadership and top cultures. The program is a hybrid of virtual learning experiences and in-person meet-ups, which offered the right balance of flexibility for White.
Here's are a few highlights of the curriculum:
Assessing your company's alignment with its values and identifying any gaps
Assessing your effectiveness as a leader through a true, 360-degree feedback review
Learning how to hire, fire, and onboard for culture fit and values alignment
Learning the practices that empower employees to think like owners
There are also monthly learning materials and homework assignments for each module, offering participants multiple perspectives into the different topics.
"The pre- and post-work asked questions of us that I wouldn't have thought of on my own, which prompted me to think about things differently," says White. "When I sat down to complete an exercise, tons of new ideas would come out of it."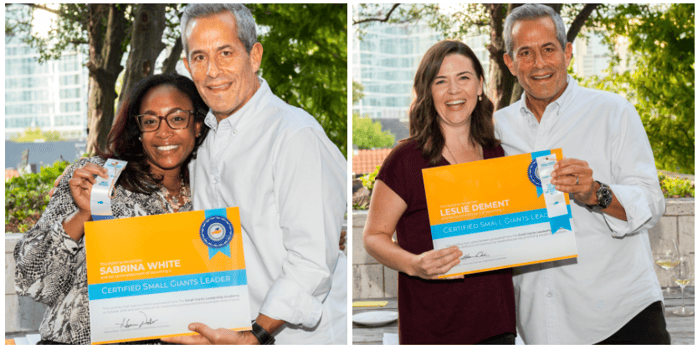 In addition to learning as a cohort, Leadership Academy participants build relationships with two different buddies during the year. Pairings are chosen intentionally based off of where leaders are in their careers, personality types, and organization demographics. White's second buddy was Leslie DeMent, Managing Director of Tailwind. The two instantly hit it off, and they remain in close touch to this day.
"I feel like I gained a friend and a mentor in Leslie," says White. "We talk on a regular basis to share challenges and offer support. Most recently, Leslie helped me through the many challenges of planning for maternity leave. She's been a huge help in offering perspective on how to prepare my team for that transition."
The Impact of the Leadership Academy
Leaders experience many 'Aha' moments during their year in the Leadership Academy, and White can recite hers off the top of her head. Along with her relationship with DeMent, White was impacted by several experiences throughout the program, virtually and in-person.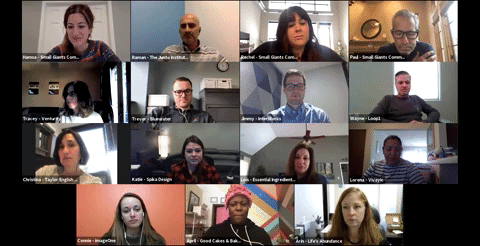 Here are four of White's top takeaways:
Do the right thing for your culture, right away. Every Leadership Academy virtual call starts with personal and professional check-ins from participants, and during one call, White decided to share something she was going through.
White was in the midst of one of the most difficult challenges any leader will face: letting someone go. It was a recent hire that just didn't work out and like many, White felt that she'd waited too long to make the decision — and there are aspects she wishes she'd handled differently.
"After I shared my situation, Paul [Spiegelman] made a comment about how it's often more of an injustice to the organization to keep someone longer than we should," says White. "He said that as leaders, we need to be intentional about who is adding to the organization and its health and culture — and letting people go in defense of that."

Although White ultimately did the right thing for their culture, Paul's insight inspired her to set up a process for doing it more successfully in the future. She has since adapted Call-Em-All's onboarding program to have milestones that set clear expectations, as well as opportunities to course-correct and give feedback. It's helped White reframe how she views letting someone go, and it's a more compassionate approach for all parties involved.
She has since adapted Call-Em-All's onboarding program to have milestones that set clear expectations, as well as opportunities to course-correct and give feedback.
When hiring, 'no' means no — and 'maybe' means no, too. Sometimes the most inspiring takeaways are concise — and Ron Alvesteffer, CEO of Service Express Inc., is full of them. Alvesteffer is the Leadership Academy's facilitator on scaling culture and performance management, and his philosophy on hiring resonated with White: "When hiring, 'no' means no, 'maybe' means no, and 'yes' means yes."
"His point was that when in doubt, don't hire — keep looking," says White. "I've hired two people since the Leadership Academy, and his words helped me stick to a strong hiring process and clarify any internal debate about which candidates to hire."
When in doubt, don't hire — keep looking.
If you want people to act like owners, treat them like owners. During the Leadership Academy's finance module, Matt Hoying, President of Choice One Engineering, spoke to the group about creating a culture of ownership. As the leader of an employee-owned company, Hoying has valuable expertise in how to set up and manage an employee ownership program, as well as teaching financial literacy to employees. Hoying challenged the group to go deeper than simply asking team members to think like owners.
"Many leaders ask employees to think and act like owners, but Matt asked us to consider what barriers are in place that prevent them from doing that," says White. "It really struck me, and I realized that a lack of information and transparency might be holding members of our team back."

White took this new mindset back to Call-Em-All and started doing more than just challenging employees to think like owners – she started treating them that way. In team meetings and one-on-ones, she was as transparent as possible and started providing multiple perspectives when discussing different aspects of the business.
"Business owners have to step back and consider problems from every angle," says White. "It became my job to give them more context and information so that when a problem arises, they're prepared to think like an owner and come up with the best possible solution."
Employee recognition matters. Experiential learning is an important part of the Leadership Academy experience: the program takes leaders to visit Small Giants companies to learn about their cultures up close and personal. As soon as White saw the oversized, colorful prize wheel at Skidmore Studios in Detroit, she knew they needed one at Call-Em-All. It also got her thinking about recognition as a whole: were they doing enough to celebrate their team members?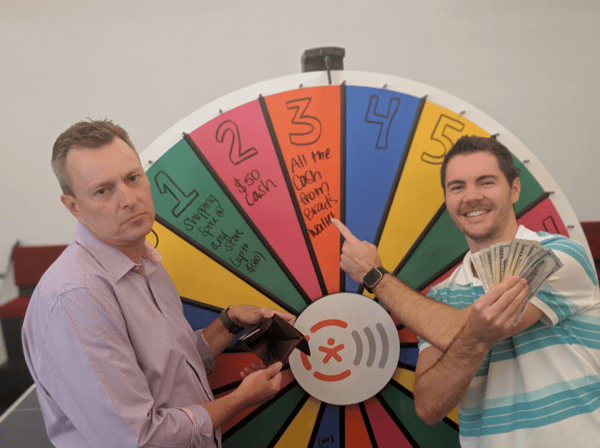 "Sabrina asked us why we didn't have a more formalized recognition program around our culture and values," says Herrmann. "We didn't have a good answer, so she set about building the program. It has been a huge hit and is frequently referenced in a positive light by our team."
After launching in Q2 of 2019, the program has grown well beyond its original inspiration. Whenever employees witness someone living out a core value or adhering to Call-Em-All's manifesto or formula, they fill out a card recognizing their colleague for their efforts.
"The prize wheel alone was a great idea, but it actually served as the catalyst that launched the recognition program we have today," says White. "We wanted to cultivate a culture of feedback and recognition, and bring those conversations out of the shadows to really highlight them."
Every quarter, they draw names to award prize wheel spins to someone who gave feedback and someone who received it. Along with quarterly shout-outs around feedback and recognition, every team member is guaranteed two spins a year: one on their birthday and one on their work anniversary.
"In our third quarter, we had an 80 percent participation rate of peer-to-peer recognition," says White. "The prize wheel was really the missing puzzle piece to launch the program. Now we use it to encourage and reward constructive feedback and criticism. Authenticity is important to our culture."
Certified Small Giants Leaders
As leaders, our only success is derived from the extent to which we're willing to invest in our next generation. Throughout the program, Herrmann watched as Sabrina grew her confidence and leadership skills, empowering her to take ownership of the culture.
"Sabrina always came out of Leadership Academy sessions with one of two reactions," he says. "Sometimes it was a better understanding of and appreciation for aspects of our culture that we're already doing well. Other times, she would march out with a series of questions and ideas for me, challenging the status quo. Armed with this new knowledge, Sabrina was often the one tasked with implementing the ideas she learned in the Leadership Academy."
As leaders, our only success is derived from the extent to which we're willing to invest in our next generation.
By the end of the year, White's Small Giants Leadership Academy experience had a measurable impact on her personal leadership and Call-Em-All as a whole. She came out of the program with meaningful relationships and new mentors, and she's excited and inspired to use what she's learned.
"The program helped me put words and intentionality behind what I believe. I'm now able to talk about it directly and with clarity," says White. "Through the Leadership Academy, I fleshed out the different philosophies, broke them down, and put pen to paper. It's inspired me to bring these ideas back to the organization and bring them to life."