Download: The Small Giants Approach to Leadership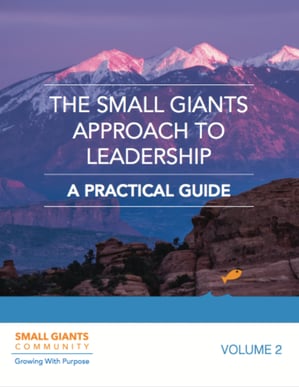 Our ebook, The Small Giants Approach to Leadership - A Practical Guide, is the second in a series of six on how to transform your organization as a Small Giant. For aspiring Small Giants, you'll learn in-depth what it means to be a Small Giants leader. For more established purpose-driven leaders, check out the new ways to deepen your practice and learn practical ways to build a culture of collaborative leadership.
Download the ebook:
Key Takeaways:
Uncover the difference between management and leadership and assess your organization's leadership style
Discover the 11 qualities of a Small Giants Leader from Small Giants Journey Master, Tom Walter, and how these qualities show up on a daily basis in Tasty Catering
Reflect on these 11 qualities and identify successes and opportunities for improvement in your organization
Learn six practical steps for creating a culture of collaborative leadership and see in- depth examples from Tasty Catering
Words of Wisdom from Tom Walter on changing his authoritative leadership approach to a collaborative one
Ready to start learning? Complete the form below to download the ebook.