Download: The Small Giants Approach to Building a Culture of Performance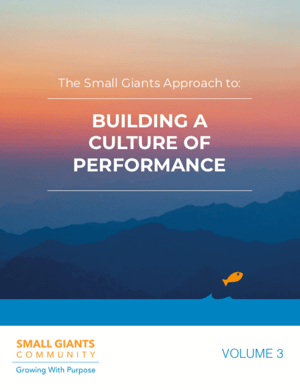 The Small Giants Approach to Building a Culture of Performance eBook is the third in a series of six on how to transform your organization using Small Giants philosophies. In this installment, we'll focus on what it really means to build a successful, high-performing Small Giants culture. Small Giants leaders understand that it's not culture versus performance, it's a culture of performance. When you take the guesswork out of measuring performance and predicting outcomes, you create a culture where employees get to achieve their goals, have fun, and get great results.
Using the award-winning culture at Service Express, Inc. (SEI) as a case study, we'll dive into the key concepts and systems you need to build a culture of performance at your organization.
Download the ebook:
Key Takeaways:
Learn a comprehensive approach to helping employees write and achieve their personal visions and see in-depth examples of SEI's Vision Talks and quarterly '5/15s' meetings
Learn how SEI uses its four core objectives to guide every company decision and explore ideas for establishing your company's own core objectives
See how Scorecards help track key performance indicators against a specific goal in order to track trends, educate departments, and provide support
Learn how to use organizational and individual metrics to help employees achieve their personal, professional, and financial goals
Hear how ROIs, an individualized approach to tracking each employee's responsibilities, indicators, and objectives, help drive organizational and individual growth
Words of Wisdom from SEI President Ron Alvesteffer on how to successfully implement these systems at your organization


Ready to start learning? Complete the form below to download the ebook.