No need for FOMO: Behind-the-scenes at a Leadership Academy Meetup
As part of the Small Giants Leadership Academy, these 45 leaders met up in Atlanta for a few days of learning, connecting, celebrating, and visiting Small Giants companies.
Deep, meaningful connections can form virtually, and magic happens when these two classes of emerging leaders come together. The Small Giants Leadership Academy includes one year of structured leadership training with a diverse cohort of purpose-driven leaders. Each month, participants meet virtually as a cohort and are led through leadership topics by a Small Giants master. But our favorite part: the two times per year the cohorts meet up in person to learn together and forge even deeper bonds.

Take a peek at what a Small Giants Leadership Academy meetup is all about:
Celebrating.
After a year of leadership training, self-reflection, and new connections, we couldn't wait to celebrate the accomplishments of the Small Giants Leadership Academy Class of 2019 over dinner and a little radical listening.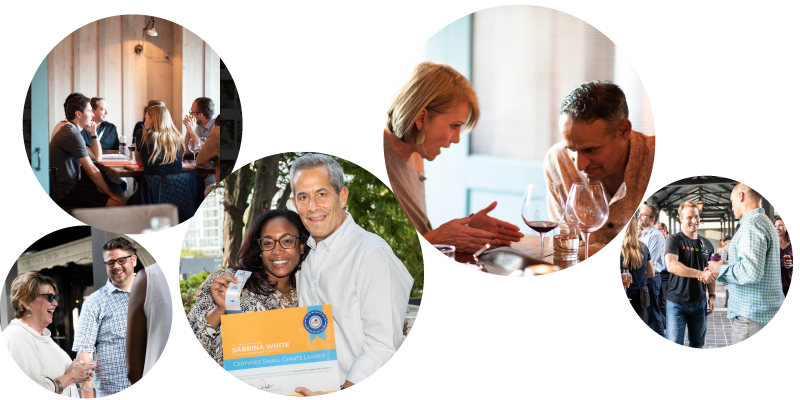 After receiving their diplomas and refueling with dinner and a few drinks, we challenged these leaders to listen radically. We learned about how being present, engaged, and empathetic while listening can change every relationship in our lives for the better. If you know a leader who joined us in Atlanta, ask them about holding silent eye contact with their partner for a full minute!
Learning.
Even after our graduating class of Small Giants leaders received their diplomas, the learning wasn't over! We sat down with Janet Kestin and Nancy Vonk of the creative leadership consultancy SWIM to learn about the concept of followership and the psychological characteristics of exceptional leaders. Here are a few of our favorite notes from the session:
It's all about how you show up.
The higher you climb as a leader, the more disproportionately important everything you do becomes. For example, as a leader, if you come into work in a bad mood, your team automatically wonders what that mood means for them. Is there something wrong in the business? Is my boss upset with me? Exceptional leaders are able to manage their emotions and be mindful of how they show up.

Ready to get vulnerable like our leaders did in Atlanta? Here's a simple way to solicit honest, constructive feedback and build trust within your team. As a group, go person-by-person and provide feedback to everyone on the following two questions (give feedback to everyone in the room on the first question, then give feedback to everyone on the second question):
1. What's one behavior I convey that strengthens the team?
For example, you might tell a team member: "Your enthusiasm for your role is contagious and contributes to a positive culture on our team!"

Once everyone has given and received feedback from everyone else, jump into the next (and a little bit scarier) question:

2. What's one behavior I could change that would strengthen the team?
For example, you might tell a team member: "You have a tendency to interrupt people in meetings — I know it comes from a place of efficiency, but it would strengthen the team for everyone to feel heard."

Set up a regular cadence for this activity so no one feels threatened or attacked — everyone knows it's simply a scheduled part of building a trusting team.


What makes an exceptional leader?
What traits do exceptional leaders have? Great leaders may have different traits depending on who you ask, but according to our group of Small Giants leaders and an extensive survey done by Google, there are several common traits the leaders of high-performing teams share. These traits include:
Good listener
Passionate
Trustworthy
Social
Expressive
Intuitive
Authentic
Articulate
Reasonable
Curious
Flexible
Loyal
Patient
Selfless
Empathetic
Plans for the future
Collaborative
Energetic
Gutsy
Collaborative
Ready to get vulnerable again? Choose one trait you'd like to improve on as a leader — it can be one from the above list or something completely different. Now, take a few minutes and ask yourself these two questions:
1. What's one thing I should stop doing in order to better align with this trait?
(For example, if the trait you'd like to improve on is encouraging risk-taking, you can stop punishing for failure. Counterintuitively, the safer people feel, the more likely they are to take risks).
2. What's one thing I should start doing to better align with this trait?
Did you try either of these vulnerable activities? How did they go? Reach out on Twitter and tell us about it!
Connecting.
Once we sent our graduating cohorts on their way, it was time to meet and connect with our Small Giants Leadership Academy class of 2020! In order to forge connections and build trust with one another, we asked everyone to prepare a presentation that showed their top 5 personal values and to walk us through each of them. We heard values like integrity, love, family, creativity, and even thriftiness! Learning about leaders as individuals and understanding what's important to them helps set the foundation for lifelong connections even after the Leadership Academy ends.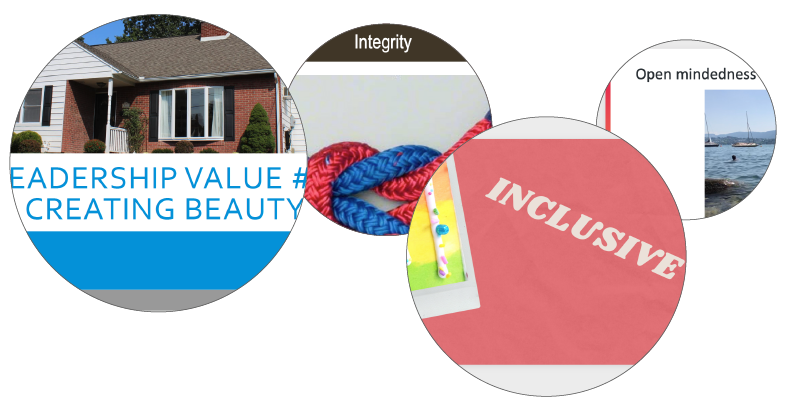 Visiting.
Leadership training and meaningful connections are just part of what it takes to grow as a purpose-driven leader. Visiting gracious Small Giants companies helps Leadership Academy participants see these lessons in action and experience the mojo Bo Burlingham wrote about in the Small Giants Book.
We're so grateful to Essential Ingredients and turnerboone for sharing their stories and challenges, introducing their employees, and showing our groups true Southern hospitality!

As Forbes Small Giants, both Essential Ingredients and turnerboone value purpose and prioritize people, but in different ways. From Essential Ingredients, we learned about the cultural and financial impact of being an ESOP. At tunerboone, we saw how a thoughtfully-designed space can create a healthy, collaborative workplace culture.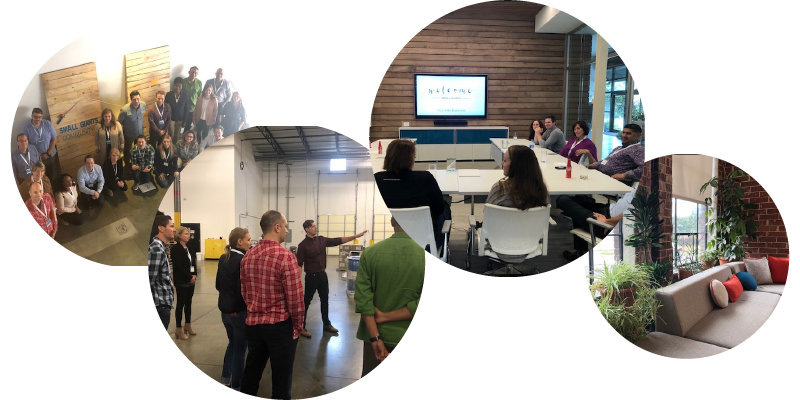 Follow along with us on the Small Giants blog as we learn with this special group of leaders that make up the 2020 class of the Small Giants Leadership Academy. We'll show you a few behind-the-scenes glimpses as they learn about purpose, vision, and values; servant leadership; emotional intelligence; hiring, firing, and onboarding; open book finances; and so much more!