A Successful Leadership Transition: I Don't Know, Have You Asked Jim?
At #SGCSummit2017, RBB CEO & Owner Bruce Hendrick shared his lessons learned from experiencing both sides of a leadership succession as part of our Long Story Short leadership talks. Read on and watch the video to hear his story.
Successful Leadership Transition: I Don't Know, Have You Asked Jim? from Small Giants Community on Vimeo.
Bruce Hendrick has been on both sides of a leadership transition. In his first experience, RBB's sole remaining founder handed over the company keys and made Bruce President & Owner. Nearly fourteen years later, Bruce is on the other side of the equation and transitioning out of his role, paving the way for a new CEO to take over. Through both experiences, Bruce has learned firsthand what works — and what doesn't — in the careful process of transitioning leadership.
Next-Generation Succession: Taking Over For a Founder
RBB's founder, who we will call 'B' for the purposes of this story, had been running the company since 1973, and he was exhausted. He had been looking for a successor and after several conversations, he approached Bruce to take over the business as president. When Bruce accepted, B took on the role of CEO and backed away not an inch.
B didn't move out of his office, he still called staff meetings, and he essentially didn't change a thing. Bruce realized that while naming him president had made B feel better, not much else had changed. Despite the bumps in the road, Bruce was eager to demonstrate his commitment to the company and within six months, he moved his entire family from bustling Akron, Ohio to Shreve, Ohio — a rural town with a population of 1,500. With his daughter a freshman in high school, the move was a show of good faith from his entire family.
Although Bruce and B maintained their incomplete changeover for the next five or six years, some really good things were starting to happen within the organization. They had good mojo, they were building trust within the company, and most importantly, Bruce and B developed a very strong relationship where B started to trust him as a person and a professional. In 2005, Bruce was named CEO and they changed B's title to Founder on his business card.
But still, he didn't move out of his office.

Bruce was feeling the effects of B's constant shadow, and he realized that B's presence influenced his decisions more than it should. At times, he would prioritize B's comfort over the health of the company. At long last, they created a buyout agreement in 2007 where they orchestrated the beginning of the end. By 2008, B retired as founder and after 32 years, he finally gave up his office. Bruce and B remain good friends to this day.
How Can Next-Generation Leaders Successfully Transition?
Through Bruce's experience with RBB's founder, he's learned several valuable lessons for leaders who are coming up within an organization and taking over for a founder:
Build the relationship. Bruce has learned this to be the most important factor in the process. Nothing else matters if you don't have a relationship with the founder or the owners above you.
Respect the founder's risk, their knowledge, and their blood, sweat, and tears. If the founder believes that you are more for you than for the business — and you don't really respect all they've done for the organization — then you're the one off base, not them.
It's your responsibility to address the biggest challenges in the organization. When you're the successor, you have to be the one to step up and be that person. Even if it's not your job, you have to be the one to do the dirty work and be that person.
Lower your pain tolerance. In hindsight, Bruce realized he carried far too much pain during the years of their changeover. Remember: leaders don't get awards for how much pain they can endure. Lower your pain tolerance, go to the 'icky place' with your company and with yourself, and deal with issues head-on.
Honor and respect the past, but don't live in it. It can be very easy to get sucked into the worldview of the previous generation. There's nothing wrong with being conscientious of their views. But the next generation can't be driven solely to fit within that vision. Leaders need to bring new value to the organization.
Bring a personal commitment. For Bruce, he demonstrated that commitment by relocating his family to a new and unfamiliar environment for the sake of the business. Put some skin in the game and show you're willing to take some risk, and that the good of the company matters as much to you as it matters to the founder.
From Bruce to Jim: Handing Over the Keys Once Again
After 14 years of leadership, Bruce took a long, hard look in the mirror and decided it was time for the company to go to an even higher level of performance — and that this time, he wasn't the person for the job. While Bruce had taken the company to a whole new place, he felt that it would take a different leader to help them reach their full potential.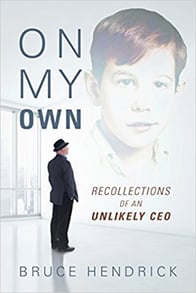 As soon as Bruce realized that day was coming, he began thinking about what he wanted hisexit to look like. He knew that one of the reasons B had held on for so long was because it was unclear what he was walking toward in life. As Bruce explains it, walking toward something gives life, but simply walking away from something is much harder. So, he decided to consciously create something to walk toward by starting a new business. He launched Building Trust in 2008, bringing the great work they'd done in building trust and strong relationships within RBB to other organizations. He also wrote his first book, On My Own: Recollections of an Unlikely CEO, sharing his defining childhood experiences and why he never expected to be in the position he's in today.
Bruce set out to hire RBB's new general manager, and he had his heart set on finding someone who was both smarter than himself and had higher expectations for the business. That led Bruce to Jim Tennant, and the succession process was slowly, and intentionally, set into motion.
On Jim's first day, Bruce went to the white board on his office wall and wrote in big letters: I don't know, have you asked Jim? Jim had the office next door, and as people came into Bruce's office to ask him the usual questions, Bruce would simply look over at his wall and repeat the phrase to them. Sure, Jim had just started that morning and he likely didn't know all of the answers quite yet. But Bruce knew Jim was smart and would figure most of it out on his own, and when he couldn't, Bruce's office was right next door. The idea was to consciously begin giving authority to Jim and to ensure that he didn't have to go through all that Bruce endured in his own growth years earlier. Organizations have so many well-worn paths to the chief executive that you have to actually physically change the path or it simply won't work. Importantly, it can't come from the new leader — it has to come from the person in charge.
While Bruce worked to consistently put Jim between himself and the employees, he also took the time to decide what he wanted to keep for himself and write it down so that it was perfectly clear. Bruce decided to stay involved with the DNA of RBB — things like their core values, their great company culture, and their brand voice. He decided to claim the title of Director of Mojo so that he could continue to think about breakthrough changes for the organization through the lens of culture. Still, Bruce agreed to not execute anything unless Jim requested it. Through all of these strategic moves, Bruce was able to build a future where he was walking toward new things as opposed to simply letting go.
How Can Founders & Owners Make a Successful Exit?
Today, RBB remains in great shape and is thriving under the leadership of Jim Tennant. Now that Bruce has experienced this side of a leadership hand-off, he has identified four key lessons for founders and owners who are executing a succession:
Envision and build a future for yourself first. Without that, letting go is going to be a lot harder. The more active you are in your own planning, the better you'll feel when the time comes to change your role. Create something to walk toward and you'll find you're much more flexible about the future.
Put in 'fingertip controls.' Bruce created a daily dashboard that arrives by 9am that tells him — and everyone in the company — their high-level financials, the profit margin performance, their inventory situation, and other fast facts that create a snapshot of company health. This creates transparency throughout the organization and helps Bruce keep tabs on long-term trends.
Coach, support, advise, and then hold your tongue. During a change in leadership, the founder or owner should actively take a step back. Let the new person take the lead. Have your say but then allow the new leader to make the decision as they see fit. The process can't be successful if you remain too involved.
Allow the new leader to fail. During their transition, Jim had to learn some lessons the hard way. Even when Bruce expressed reservations about certain decisions, he never went so far as to override Jim's strategy. As a result, Jim learned valuable lessons that he wouldn't have learned had Bruce simply said no. While RBB may have had a few short-term bruises to show for it, the health of the company is still intact. As Bruce puts it, deal with the icky things while they're still small. Don't make decisions that your new leader can make, despite the risk. And when employees approach you with the usual questions, the answer should always be, "I don't know, have you asked Jim?"
---
Want to experience more inspiring Small Giants talks? Register for the Small Giants Community Summit! Register here.

---