The 2022 Small Giants Community Summit: A Reboot to Remember

The 2022 Small Giants Community Summit was a long time coming. Because our Community is far-reaching and most of our programming is virtual, the Summit is the time of year we all look forward to, when we can share our stories and knowledge all in one place. The pandemic changed that.
In 2020, with such short notice, we had to cancel completely, and in 2021, we held a virtual conference, which was successful but not nearly the same as all being in the same room.
Finally, at the end of April, we all made it back to Detroit for a Summit to remember. We visited with old friends, and made new ones. We learned some best practices to take back to our companies, and we experienced a myriad of emotions through storytelling. We enjoyed sweeping views of the city, and spent time in some of Detroit's most beloved spaces. And based on our own sentiments and the messages that we've been receiving from our attendees, there was a consensus: we all parted ways feeling recharged, reconnected, and rebooted.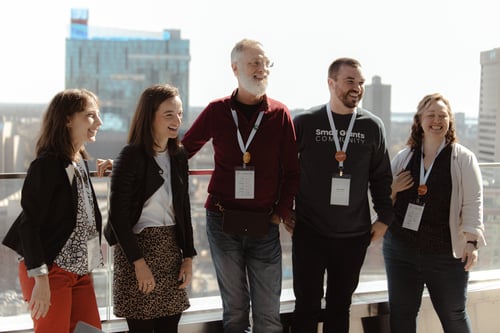 We Rebooted, and We Learned
Our theme this year was "Reboot", and we feel it was our strongest yet. We chose this theme because just about everyone has had to take a step back and reevaluate their priorities, processes, and the journey they're on. And boy, did we hear about a lot of different reboots at the Summit!
We heard from some speakers, such as Drew Patrick and Beth Spiegel, about how they made personal decisions leading to drastic change - the former, about how he started a grocery delivery service from scratch at the start of the pandemic, and the latter, how, after many big moves, her biggest risk was quitting her dream job.
We heard from others about how they've rebooted their companies. Gretchen Murphy and Bill Golder spoke to rebooting their culture after some rapid growth at Service Express to ensure that they scaled with intention. A dynamite panel composed of Heidi Baumgart, Lisa Whealon, Sabrina White, and Karen Kromrei, talked about the benefits of caring for their teams, and how they were all constantly adjusting their benefits and recognition programs to best suit their people. And Elaine Ezekiel explained how she rebooted her perspective on being an effective and caring leader, by putting her energy into generous attention.
Reboots can be big and instantaneous, or small and incremental. But it was made clear that, as Small Giants leaders, we all understand the importance of being able to pivot, adapt, and learn to better ourselves and our teams. Sometimes, reboots are born out of struggle or negative circumstances, but we've seen that they can often make us stronger, more well-rounded people for having risen to the challenge.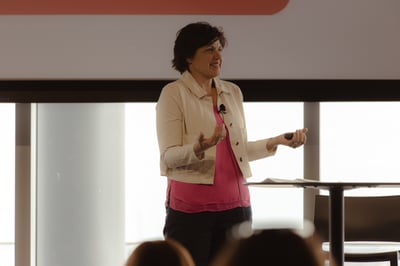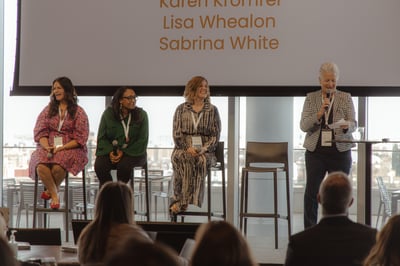 We Took a Breath
Another theme that came out of this Summit was the importance of mindfulness, both in our personal lives and at work. Maybe it's because our world has been filled with an onslaught of social and environmental crises the past few years, maybe it's all this time being undersocialized, or maybe it's our Community of empathetic people constantly striving to be their best selves.
Beth Smith took us on a parallel journey, of their company's constant reboot and their personal development as a leader, all with the consistent rhythm of allowing the audience to take a communal breath with a strong back, and an open heart. Hai Nguyen walked us (literally; his gentle pacing of the stage was almost hypnotizing) through life lessons he'd gathered over the years in his practice of meditation, intertwining humor, hurt, and acceptance along the way. And Rob Dube closed us out with a much-needed pause. Through his brief but impactful meditation session, we were all able to collect ourselves after a couple of days packed full of learning, and open our eyes feeling refreshed and centered.
Over the past few years, our world has been shifting at an alarming rate, with little indication that it will slow down anytime soon. And so, these reminders to take the time to breathe, and listen to ourselves, were well received by our Community, seen as necessary for all busy leaders in order to be our best for our teams, our families, our communities, and ourselves. As Haley Rushing reminded us in her presentation, we have to savor life in order to effectively fight for it.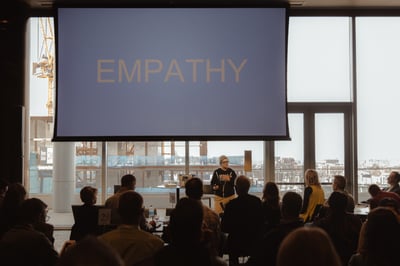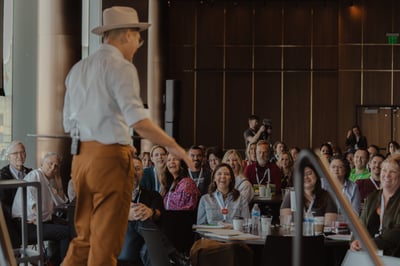 We Fostered Community
For many, the best part of the Summit may have been the people. The energy in a room full of kind, thoughtful, purposeful and like-hearted leaders is truly special. It's energizing. It's inspiring. It's motivating.
And this year, we felt so much gratitude wafting around our beautiful event space in the heart of downtown Detroit. Gratitude that was shown towards our team, the caterers and A/V crew, and towards fellow attendees. After years apart or only seeing each other through computer screens, it was clear that the 2022 Small Giants Community Summit was not taken for granted.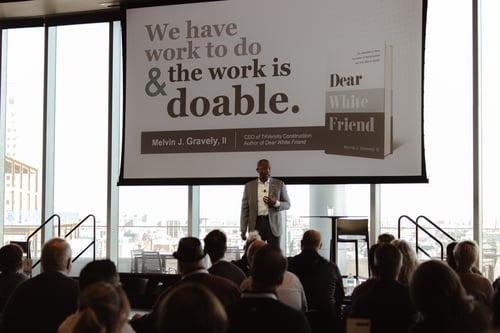 We heard of the importance of community in some of our sessions, too. Tom Walter talked about the power of building a psychologically safe community within a workplace, and how that has helped many of Tasty Catering's employees grow into strong leaders. Mel Gravely spoke to the importance of talking about race in the workplace, and how we need to be intentional about giving everyone an equal opportunity to thrive.
We're so grateful for the Small Giants Community. Thank you all for being dedicated not only to good business practices, but also to your values. Thank you for being vulnerable with us and sharing your authentic selves. And thank you for bringing your good humor and positive energy to the Summit this year.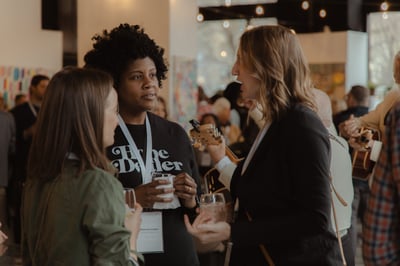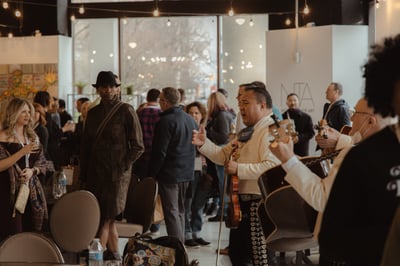 Let's keep the conversations going. And we hope to see all of you (and even more!) next year.
- The Small Giants Team