Culture Lessons Learned from Small Giants: Put into Practice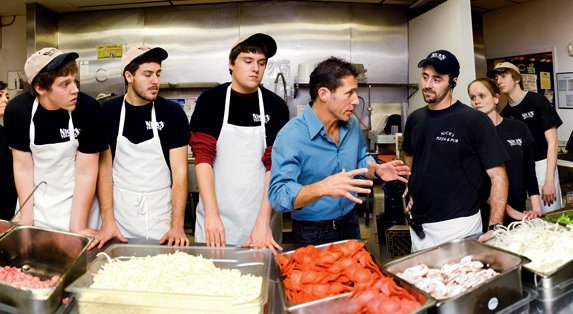 Small Giants Member Nick Sarillo teaches his team about company values.
Eight years ago, when we started Vivayic, we didn't know much about building a company. We just knew that we had a passion for learning how people learn, and empowering people through learning. At the time, we didn't think much about how we wanted to operate our business—we just knew we would operate with integrity and a commitment to excellence.
As we began to grow and hire employees, we started to look for companies and books on how to build a business that we enjoy, not a business to grow and sell. This led us to Small Giants by Bo Burlingham, which we immediately connected with—we want to be known for who we are, not what we do at Vivayic. Since reading the book, we decided this was the perfect community for us to get involved in, because this community is made of business owners just like us who base their business on values. One of the best parts of the Small Giants Community is that everyone is very open to sharing ideas, how they operate their businesses, their failures, and their successes. Here are just a few things we've learned from the community—and implemented in our business.
Show Us Your Values
Do we operate by our values? Yes.
Do all our employees operate by our values? Sure.
Can your employees list out your values? Maybe.
Are your values posted so everyone can see them and understand the importance of operating by your values? Umm, no, but great idea!
This was our first "a-ha" of the first Small Giants Summit we attended. We heard presentations by Nick Sarillo of Nick's Pizza and Tom Walters of Tasty Catering, and hearing how their values are posted and their employees not only know them, but also operate according to them. And we figured, first things first, we've got to get our Vivayic Values written down, and everyone must see them every day as a reminder. We spent some time over the next month really defining our values, then unveiled them as a desk picture at our next meeting.
Now that our values are written, and everyone knows them, it's made a huge difference in how we communicate with each other because we all have a common language and shared understanding of our values. We hire according to our values, treat each other and our clients according to our values, and design our learning solutions according to our values. We're happy to report, with absolute certainty, that we can say YES to all those questions above! It was as simple as writing them down, posting them for all our employees to see, and using our values language in our daily communications—and we are better for it!
Employee Appreciation
One of my favorite sessions at the Summit is "Networking with a Purpose," where you choose a group based on the discussion topics. One topic that really resonated with us was how to show appreciation to your employees outside of their normal salary and benefits.
It's something we had done sporadically (mostly for everyone's birthday), but now it's something we're intentional about. It's important to remember the who in "who we are, not what we do," and to make sure they know they're appreciated.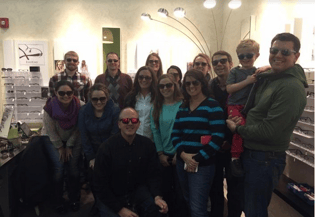 We've set aside a budget and have a TON of fun thinking of creative tokens of appreciation for our employees. We sent out "Welcome to Summer" packages with fun treats, and games for the entire family, because we want their families to also know how much we appreciate them. We send out gift cards for Valentine's Day that say "Thanks A Latte" (thank you Pinterest for that idea), and recently we took everyone to a sunglasses boutique to pick out a new pair of sunglasses because "Our Future is Bright."
Is some of this corny? Yes. Do we love showing our employees appreciation in fun ways? Yes, and they love it, too!
This is something that's a pretty simple idea, but until we heard someone else share it at Small Giants, we probably would have just continued to send out birthday cards each year.
Growing Pains
How do we grow our business yet keep our culture and the things that make Vivayic special? This is a challenge any business faces when they start to grow. The Small Giants Community is perfect for this type of a discussion because everyone has had and continues to face this challenge.
While at the Summit, we soaked in all of IPM president Rich Panico's presentation about scaling and creating processes to set employees up for success. We had procedures, but they weren't written and shared. After the Summit, we started creating our own COPs (Creative Operating Procedures) for our project manager, account managers and relationship managers. It's important to capture all the learned lessons from our first 8 years in business, so we can continue to grow and get better.
These are just a few examples of ideas we've heard from other Small Giant companies. We took them, put our own twist on them and implemented them in our own unique way to continue to create the culture we want to build at Vivayic.
Want to learn more about building a Small Giants culture?
Download our eBook
for strategies and best practices!