Brewing a legacy: Is employee ownership right for you?
Has your organization ever thought of employee ownership? For some, it's an exciting potential route for a mission-driven company to build out a lasting legacy. For many, though, it is largely an intimidating swath of possibilities that requires a lot of time, research, and focus.
If you're one of those people, don't worry - there's plenty of companies that have gone through their ESOP journey successfully, and have a wealth of knowledge to relay, as well as some invaluable resources.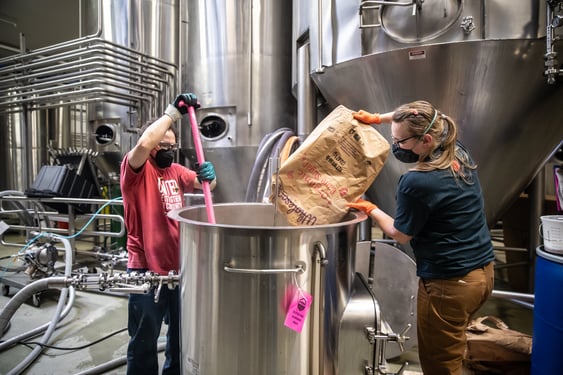 Two Odell Brewing Co. employees churn up a batch of Allkind Hard Kombucha. Photo credit: Odell Brewing Company.
"If you already act employee owned, and then you become employee owned, that's where the research says that's where the real power of employee ownership happens," says Loren Rodgers, Executive Director of the National Center for Employee Ownership (NCEO).
But first, let's take a step back. What exactly does employee ownership mean?
According to NCEO's website, employee ownership at its core can include any organization in which employees own shares in the company's stock. It's a broad term that encompasses a wide range of commitments, from simple grants of shares to large structured plans.
What's an ESOP?
The biggest buzzword in the world of employee ownership is ESOP, which stands for Employee Stock Ownership Plan. They're a type of retirement plan that holds the company's assets in a trust for employees as a means of investment. Employees who are part of the ESOP structure accrue their shares over time and are paid out when their shares are bought back, most often when they leave the company. The good thing about an ESOP is that it doesn't have to be all or nothing: it can own the company's entire stock, or whatever percentage suits the business.
As Principal Financial Group explains on their website, two of the biggest advantages of transitioning to an ESOP are liquidity and legacy. The culture that both supports and perpetuates an ESOP can make for significant growth within a company, as long as there's an understanding and a desire from the entire company to move in that direction.
Right now, more than 14 million people are participants within an ESOP plan. Could you and your company join that number?
Cheers to a lasting legacy
One company that took on the challenge of employee ownership is Odell Brewing Company based in Fort Collins, CO. In 1989, Wynne Odell, her husband Doug and his sister Corkie all founded the brewery together, when there were only about 200 breweries in the country. Now, there are up to 9,000 and the beer market has changed.
According to Eric Smith, CEO of Odell Brewing, the beer industry looks a lot different than when the brewery was founded over 30 years ago, both for brewers and consumers. Many brands that would be considered craft, such as Lagunitas and Ballast Point, have been bought out by the bigger brands (think Coors and Anheuser-Busch) over the years. Despite the temptation of selling to a much larger competitor, Odell Brewing is one of few who have remained independent.
This Colorado brewery has been able to hold fast to creating great beer for the sake of community. They have maintained their cultural integrity throughout decades of industry shifts and struggles, and they have done so in part because of their employee-owned structure.
"It kept us on a path," says Smith of being employee-owned. "It aligned us and kept us focused on what we were doing: putting people first more than anything."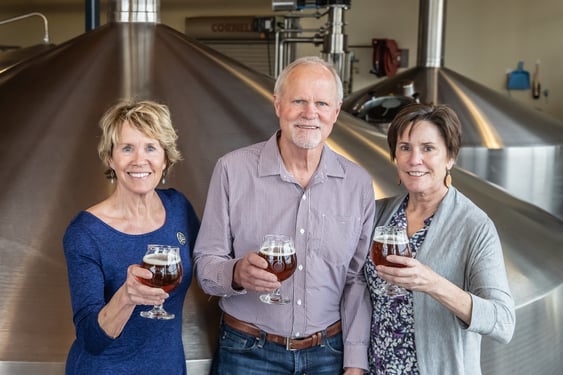 The three founders, Corkie, Doug, and Wynne Odell, began their brewery in 1989 when the beer scene looked quite different. Photo credit: Odell Brewing Company
It started in 2013, when the three original founders, the Odells, began looking towards an exit plan. As they thought about what they wanted the company to look like moving forward, Wynne Odell says that they came up with three tenets to drive them forward: they wanted to maintain the cultural legacy, they wanted to do so by putting the company in the hands of the people who helped build it, and they wanted to do so in a financially savvy way.
With a clear goal in mind, the Odells looked towards employee ownership, and looped in three of their top managers who had been with the company for years, and who would be taking the reins from the founders. These managers were Eric Smith, Brendan McGivney, and Chris Banks, who would go on to become the CEO, the COO, and the CFO, respectively.
But rather than just a standard ESOP, the three successors stepped up and wanted to buy their shares outright.
"When we looked at it, we realized that really to make it work financially that probably was a better setup," Wynne Odell says.
And so, they agreed to distribute the shares into 3 sections:
The ESOP would hold 19% of the shares
The three managers' shares would total to 51%
The three founders would split theirs evenly between the them, totalling to 30%
They agreed upon a plan in which the three managers would have nine years to complete the sale, but they had to start by putting in their own investment each up front. Odell says that, because each manager had multiple young kids and a mortgage at the time, it was a big sacrifice for them all to make, but the founders wanted to ensure that their dedication to the company was there.
"There's risk involved, but that means we're all in," says Smith.
They're still in the midst of the nine-year plan, but on the right path. And for Smith, the risk is worth it, seeing as he's already dedicated to Odell Brewing.
"This was my first job out of college," he says. "It was a small company when I started, maybe nine or ten people. This is my 28th year."
Smith, who's moved from operations to sales and all the way to his current position as CEO, is one of those people who helped build the company into what it is today, and this is one of the reasons why the founders wanted to leave a lasting legacy for their built family.
"It was a great opportunity," says Smith of being part of the employee ownership process. "They provided the resources for us to allow us to do that."
With freedom comes responsibility
As with any company, ESOPs come with their own sets of challenges. In industries such as brewing, it can be restricting to only have the company and its shares to rely on when surrounded by larger companies supported by deep-pocketed investors. True, those breweries like Lagunitas who were bought up by the likes of Heineken may not have the same type of freedom that Odell has in their independence, but the cash cushion is an understandable temptation.
There is also the constant educational aspect that comes along with employee ownership. To truly be an ESOP, a company has to help its employees feel like owners, and a large part of that is giving them financial literacy tools. Having open book management, implementing the Great Game of Business, or having some sort of consistent space for sharing finances with the company is imperative for employees to understand what they are a part of.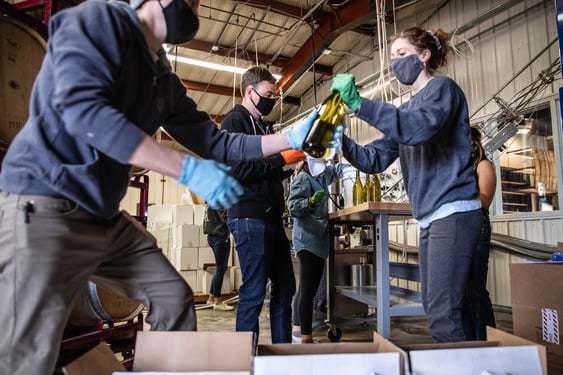 Employees bottle one of Odell Brewing's newest products: wine. Being employee owned has allowed the business to maintain a level of freedom and flexibility that may not otherwise be possible with larger investors. Photo credit: Odell Brewing Company
"We have been open-book for 25 years at least," says Odell. "As we bear all the elements of our performance every quarter, I think that the people that work with us understand what we're sharing with them."
A tip that Wynne Odell has for anyone looking to incorporate employee ownership into their company is to have an internal ESOP committee consisting of at least one member of every department. That way, everyone feels represented. And having people from every department who want to be involved is a big component of the ESOP's success.
"I think it really comes down to culture and if you have people who are engaged," says Smith.
If you don't have a company with enough support from people wanting to put in the work to become employee owned, you may not see the results.
Pride to the people
While there are some daunting risks to becoming an ESOP, including the time and money to implement the structure, as well as team support and industry competition, there are plenty of benefits to consider.
One of the key lasting effects is the sense of pride throughout the company when there is the possibility of ownership. The more people who feel directly tied to the company's success, the more invested they feel; not only financially, but personally too.
"It's not necessarily a get rich strategy," says Smith. "But [employees] see the end goal if they stick around."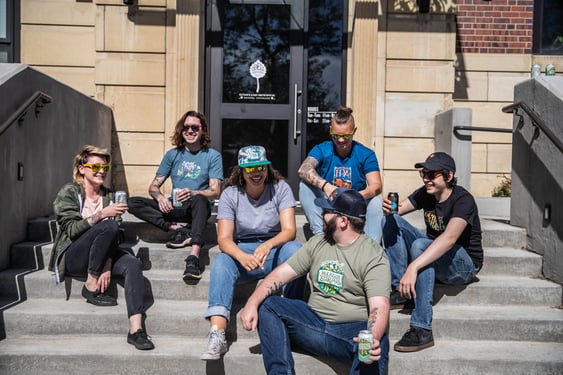 Employees at the Sloan's Lake Taproom enjoy a break with the fruits (or beverages) of their labor. Employee ownership allows people a stronger sense of pride and community within their job. Photo credit: Odell Brewing Company
Studies show that ESOPs often have positive rates of growth and stability compared to their competitors. It also gives their employees more stability, and leads to lower turnover rates.
"I think our rates of turnover are less as an ESOP company," Smith says. Particularly in the food and beverage industry, where rates of turnover can be quite steep, this is a huge benefit. "We didn't lay off anyone during COVID, so we didn't have to re-hire anyone."
Perhaps one of the greatest benefits, and one of the reasons many leaders look towards employee ownership, is to maintain the company's culture and grow it together, as a team. For the Odells, being tied to their community was a big part of that.
"Our purpose is, we build community through beer," says Smith. "We're a brewery first and foremost, but we love to give back to the communities that we're in."
A large part of Odell Brewing's culture is impact, and they commit a portion of their time and money to supporting local initiatives that improve their community. They partner with nonprofits that tackle issues such as homelessness, wildlife conservation, and cultural enrichment to not only bolster these programs, but also give the brewery employees a sense of pride and purpose.
For some leaders, cultivating a sense of pride and ownership that sustains their company's culture for years to come makes the ESOP journey a worthwhile endeavor. And the financial upsides are a bonus, too.
Is it ESOP or bust?
While ESOPs are the most talked about form of employee ownership, it's not the only option out there.
Equity Compensation Plans are types of compensation that come from the employer, and can come in the form of a variety of stock options, performance shares, and direct grants. These allow for flexibility in distributing shares of the company differently based on a range of factors that may feel more appropriate to the owner over a traditional ESOP.
There are also worker co-operatives, in which enterprises are solely owned and governed by their workers. These are more common in other parts of the world than the U.S. but still offer an option to consider.
"There's always a way to adapt something to fit your culture and fit your organization," says Matt Hoying, President of Choice One Engineering Corp.
Rather than an ESOP, Choice One chose a slightly more flexible option. Once employees (even part-time ones) have worked for the company for three years, they are offered the option to invest in company shares. They are also given financial literacy training and frequent updates on company finances so that they have an understanding of the investment.
Even Odell Brewing is not a traditional ESOP in its entirety. The ESOP is part of the structure, but there is also the shares that the three founders own as well as the shares that the three successors are still buying into.
It's important to talk to other businesses, advisors, and resource groups such as Principal and NCEO to decide what route may best suit your company.
Determining if employee ownership is right for you
The main thing that employee ownership comes down to is culture. Does your business have a culture in which employees feel not only respected, but also significant to the overall mission? Are your employees kept in the loop when it comes to finances and decision making? Do they want to stay at the company for years to come, because they feel like they've helped build it? Then employee ownership could be the next great step in your company's journey.
If you seek advice from anyone who has experience in the world of ESOPs and employee ownership, they will tell you to talk to as many people as possible.
"Definitely talk to more people than you think you need to," says Smith. He suggests talking to people who have tried the ESOP route and then walked away from it, as well as successful ESOPs with different financial backgrounds, and within your industry or a similar industry.
"Not all employee owned companies see these spectacular results, the data's pretty clear on that," says Rodgers. "It's companies that act employee-owned, where you have some sort of open book management or employee engagement, or ideally all of these things together."
The path to employee ownership can be long and tedious, and financial gain is not going to sustain you along the way on its own. Rather, it's the reward of a lasting legacy, and knowing that the company can live on to sustain its people in an impactful way, that is the most sustaining motivator.
The Odells could have sold their brewery to one of the major beer companies in the country and walked away with well-lined pockets. But they didn't, because for them, it was never about the money. It was always about the people, and it can continue to be so for years to come.
"I couldn't ask for a better legacy to leave behind," says Wynne Odell.
Ready for more?
If you're interested in learning more about ESOPs, or have specific questions you'd like answered, our upcoming virtual event is a must. Register here to learn more useful tips from industry experts!