5 Ways to Maintain the Culture as Your Company Grows
Entrepreneurs talk a lot about what makes a company culture great, but what about keeping a culture great? In the early days of a company, it's pretty easy for founding members to cultivate and protect a shared identity and set of values. But what happens when the company grows?
As more people come onboard and others exit, your company culture is no longer defined by the people who were there from the start. A sustainable, purpose-driven culture is thoughtful and intentional; pragmatic and practical. And when you talk to leaders from organizations that have successfully scaled their positive cultures, they'll tell you that it takes hard work every single day.
We sat down with three leaders — two upcoming graduates of the Small Giants Leadership Academy and a Small Giants Master — to learn the specific practices and systems that help them protect and scale their purpose-driven cultures.
Meet the companies:

Atomic Object
2018 Forbes Small Giant

Call-Em-All
2018 Forbes Small Giant

Essential Ingredients
2017 Forbes Small Giant
Hiring & Onboarding
If your hiring process is a breeze, that's likely your first red flag. Especially as your company grows beyond hiring from your team's inner circle, a rigorous screening process will help you truly understand the person you're bringing onboard.
If a person doesn't fit our culture,
it's going to shine like a thousand suns.

-Jeff Williams, Atomic Object
Here are three strategies for screening, hiring, and onboarding new team members:
1. Ask behavioral questions.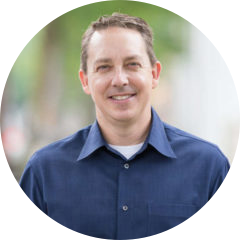 At Atomic Object, prospective candidates can expect to spend at least an hour being screened for cultural alignment. After passing through a series of initial conversations, candidates are brought in for a day of interviews with different parties. "We use behavioral questions to really understand who they are and the values they hold," says Managing Partner Jeff Williams. "It's very important that they're comfortable with who we are and how we work. We don't want anyone to suffer because their values don't align with ours."
One of Jeff's favorite behavioral questions asks candidates to share a challenging situation. In particular, they ask what 'share the pain' — one of Atomic Object's core values — means to them. Most people interpret this question as an opportunity to share a time when someone helped them through a challenge. There's no wrong answer, but the most culturally-aligned candidates tend to share a time when they helped another team member in their time of need. As Jeff puts it, behavioral questions help make a person's personal values more transparent and, "if a person doesn't fit our culture, it's going to shine like a thousand suns."
2. Onboard through stories.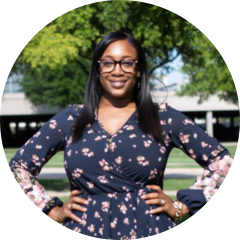 When Sabrina White, Director of Customer Experience at Call-Em-All, first started at the company, her onboarding experience was a one-page list of bullet points. Luckily, the business was small enough at that point to organically onboard her for the role and culture. But as the company grew and they hired more people, they decided to create a formalized process for every new hire.
Even though Call-Em-All is a technology company, its onboarding process is rooted in physical, real-world interactions. Every new hire gets an onboarding binder that walks them through the cultural, operational, and role-specific duties of their new position.
In particular, every new hire — from interns to leadership — receives a culture storytelling module to help them connect with important company milestones even though it was before their time with the company. "We identify the people that participated in that cultural event and ask that they spend face-to-face time talking with them and learning what it meant," says Sabrina. For example, a new hire might grab someone who was at the workshop where they wrote the company vision and talk about what they've achieved since then. "The idea is to build connections while also passing down the stories that make us who we are."
I can teach someone how to deliver our customer experience, but I can't teach someone how to be compassionate and transparent and to share excellence. That's why skillset is always secondary to values.

- Sabrina White, Call-Em-All
3. Check in after six months.
Especially for purpose-driven companies that are growing fast, you're going to bring in a lot of corporate culture expats. Growth is a good thing, but if you want to preserve your culture, you'll need an intentional, thoughtful process for onboarding new hires.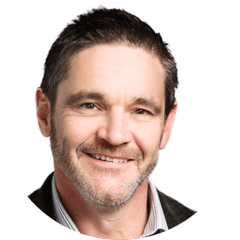 Kris Maynard, Founder & CEO of Essential Ingredients, is the first to acknowledge that the onboarding process is no longer as quick and easy as the early days of the company. "As we grow and start hiring people from other companies, there's an element of corporate culture PTSD," says Kris. "If they've had bad experiences, they're distrusting and skeptical. It can feel like taking in a stray dog, and it takes time for people to settle in and realize that it really can be this good."
After recognizing this dynamic, Essential Ingredients decided to roll out onboarding in two phases: initial onboarding for the role, operations, and culture, plus a six-month check-in that essentially revisits every aspect of the initial onboarding.
Phase two is meant to reinforce what they've learned during initial onboarding. By then, they've experienced everything that they were told about, and they're more equipped to ask questions and meaningfully interact with the culture. "It's a deeper process this time around," says Kris. "They've had the chance to swim around in the soup and spend time with their sherpa (our interpretation of mentorship) getting to know what we're really about. At that point, we usually find that the student becomes the teacher."
Reward & Recognition
You've defined your values and displayed them on the office walls, you screen all new hires for culture fit — the rest will take care of itself, right? As purpose-driven companies grow and scale, it takes even more effort to keep your purpose, values, and vision front and center.
"Culture is a programmatic process that requires thought and intention," says Kris. "Think of it like a garden — if the gardener walks away for a few days, you're going to get weeds and pests. It takes hard work."
Here are a few ideas for tending to your company's garden.
4. Award core value coins.
It's only natural that reward and recognition at a company named Atomic Object would take the form of protons and neutrons. Atomic Object is serious about its values — every core function of the company is in tune with its deeply-held beliefs. In fact, its employees shout one another out for values alignment on a daily basis at the company's daily, 10-minute stand-up meetings.
Here's how it works:
Proton coins are awards that recognize an Atom (a.k.a. team member!) for doing something that exemplifies one of its six values. Any Atom can nominate a colleague for a Proton. For example, an Atom might receive an "Own It" Proton when they've gone above and beyond to create value for a client. Or they might present a "Give a Shit" Proton when a peer organizes an event to give back to our community.
Neutron coins recognize tenure or participation in significant Atomic milestones. These are given out by managers and recognize years of service and significant company anniversaries.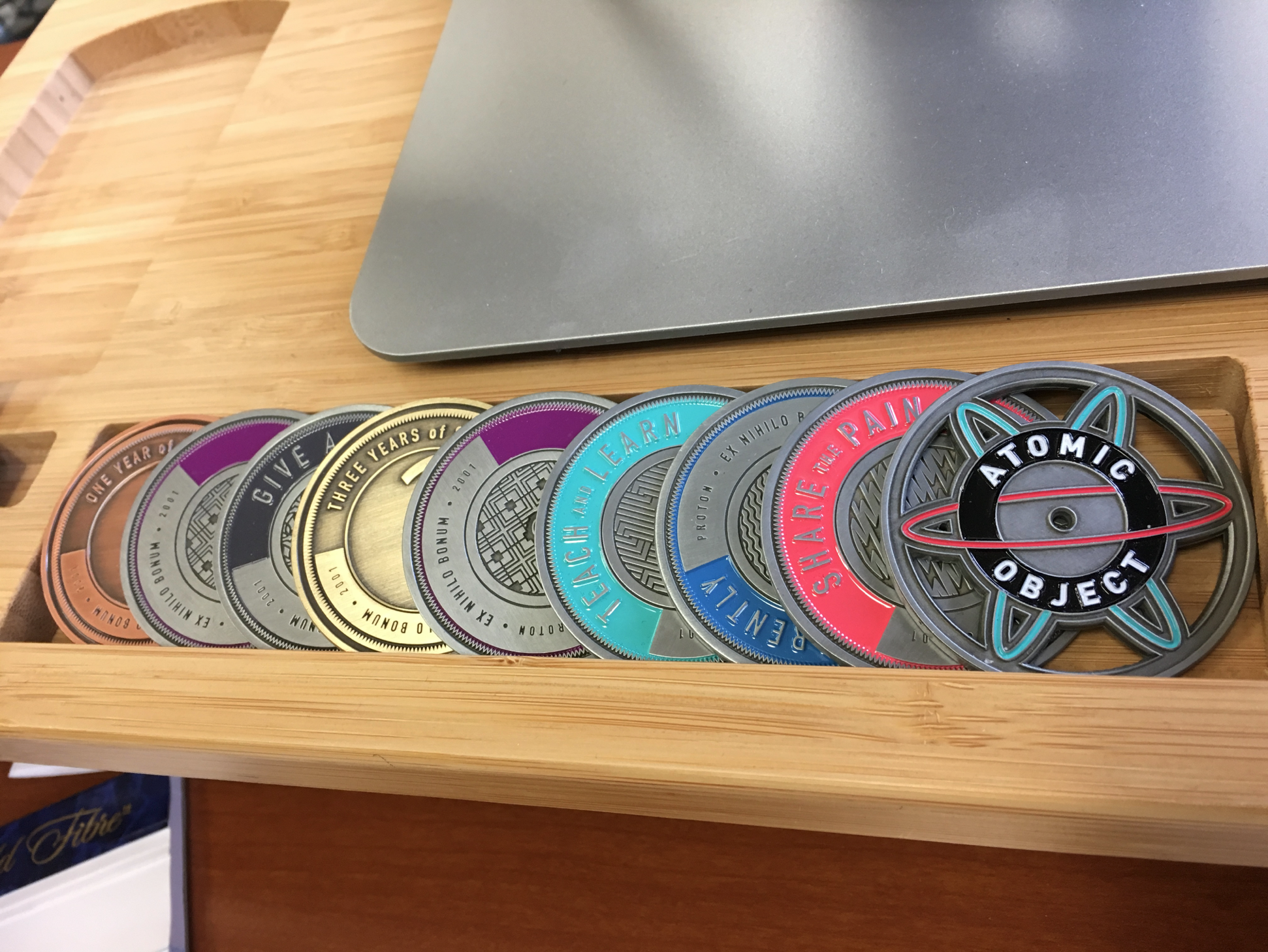 Atomic Object's leadership team also has a weekly commitment to write a personal note of gratitude to different team members who have made a meaningful contribution. It's part of their EOS Traction meeting, but it never steals attention from the employee appreciation program. "Research has proven that peer-to-peer recognition is the most powerful force in company culture," says Jeff Williams. "We get inspired by hearing the great work our peers are doing. The program creates a discovery mechanism to help new Atoms learn how we apply our values in practice."
5. Create a culture prize wheel.
Call-Em-All has three foundational elements: its values, its manifesto, and its formula for success. When the team was small, it didn't take much to keep these ideas front and center. But as they grew, it became more important to teach newcomers what it means to be part of the team. They decided to systematize their foundational beliefs by creating a formal (but fun!) reward and recognition program.
Any time someone witnesses a colleague living out a core value or adhering to its manifesto or formula, they fill out a card recognizing the colleague for their efforts. From there, they they can hand that card directly to the recipient as a form of kudos, and after the recipient reads it, they drop it in a transparent ballot box as an entry for the prize wheel. Call-Em-All has only had the program for two quarters, but it already has a 70 percent participation rate of peer-to-peer recognition.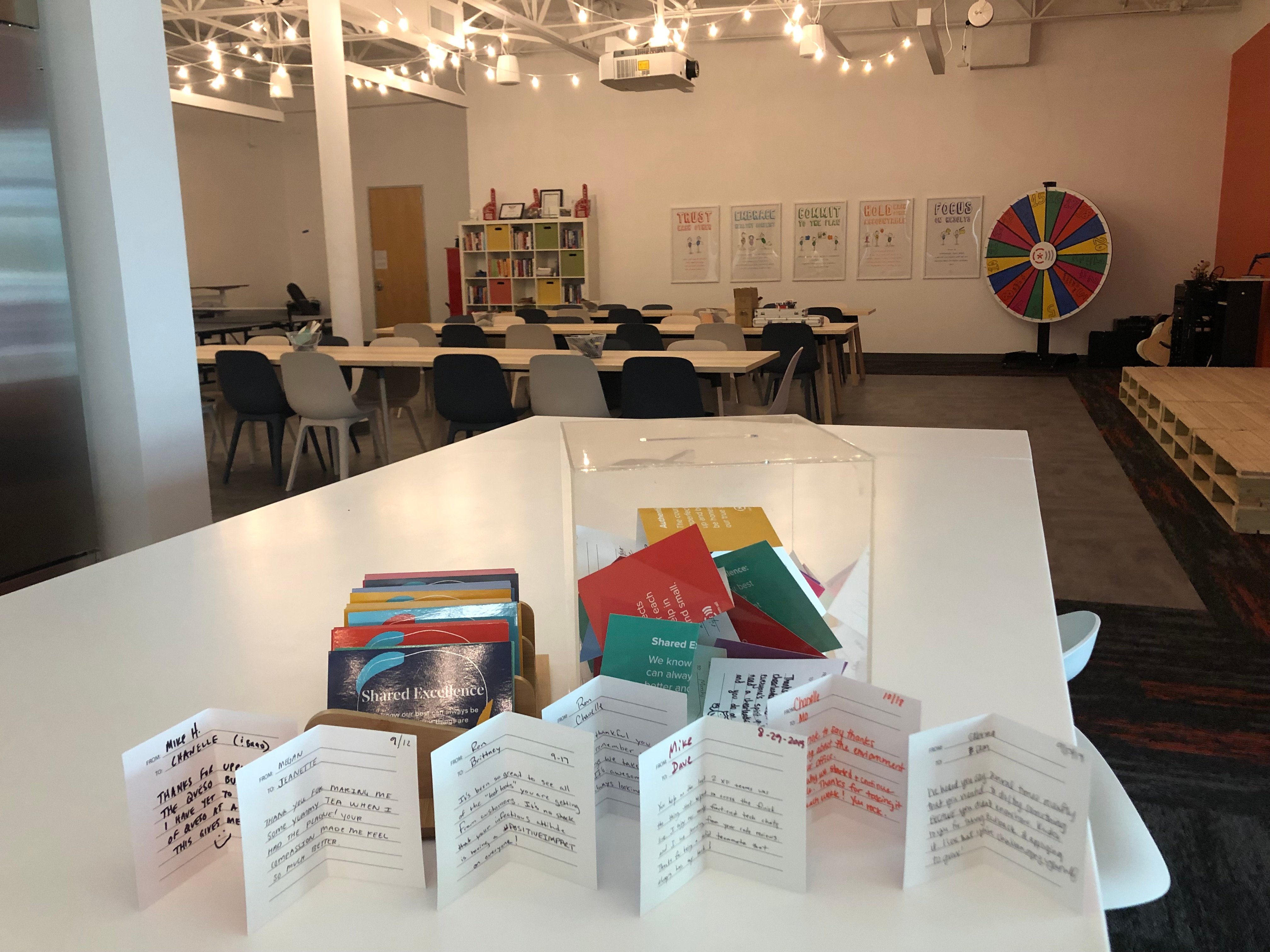 "Throughout the quarter, we can literally see the positive feedback growing," says Sabrina White. "At the end of the quarter, we do a drawing at our open-book management huddle. We read the feedback aloud and the winner gets to take a spin on our giant prize wheel."
Along with quarterly shout-outs, every team member is guaranteed two spins a year: one on their birthday and one on their work anniversary. But this isn't just any prize wheel. Some of the prizes are a little unusual — like the one where you win all of the money in Brad Herrmann's wallet (Call-Em-All's beloved CEO!). This month, the prize wheel miraculously landed on that prize two weeks in a row — and one lucky team member walked away with all of the earnings from Brad's recent garage sale (a $390 bonus!).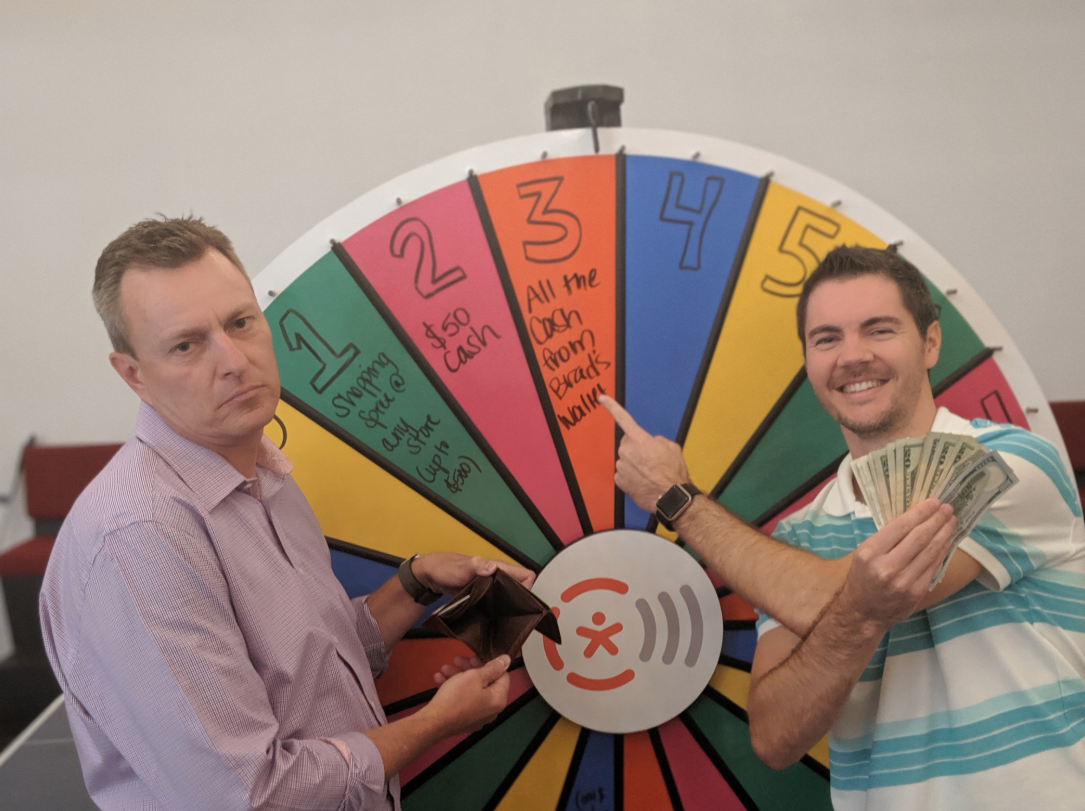 Purpose-driven companies ensure their values are visible at every stage of an employee's life cycle, from their first day to their exit interview. The best way to protect your culture is to create systems and processes that reflect your values and celebrate them every day.