4 Steps to a More Successful Onboarding Program

What goes into creating a great new hire experience? You've found the perfect candidate, they've accepted your offer, and the welcome binder is ready and waiting on their desk — the hard part is over, right?
While hiring for culture fit is a critical piece of the puzzle, underestimating onboarding puts all of your hard work at risk. There's more research than ever drawing a straight line between the strength of an onboarding program and employee turnover. With 20% of employee turnover happening in the first 90 days, onboarding is an important tool for engaging and retaining top talent.
From the first handshake to the six-month mark, onboarding is an involved, dynamic process that demands time, attention, and resources. Luckily, there are plenty of Small Giants companies out there that have mastered the art of onboarding — and they're sharing what it takes to get it right. In particular, Rescue Agency, a San Diego-based social impact marketing firm for state and local government agencies, corporations, and nonprofits, has made onboarding a top priority. We're going behind-the-scenes with them to learn how to create a strong onboarding program.
How successful is your onboarding program? Here's your guide to building the onboarding program new hires wish you had.
The First Interview
The onboarding experience begins well before a new hire's first day. At Rescue Agency, they view the interview process as the beginning of onboarding. As you get to know prospective candidates, it's also important for them to get to know you. Spend this time ensuring that they understand your culture and feel they're a good fit. As candidates progress through interviews, HR reaches out to check in with employees to talk through any concerns or questions they may have.
Once an offer is accepted, it's all about creating excitement before the first day. New team members will hear from their supervisor right away, and then from Executive Vice President Connor Lynch. "I personally call every new hire," says Lynch. "It's a simple conversation to introduce myself and my role, and to let them know how excited we are to have them. We want to show that people really care about them, because we really do."
Instead of waiting until the first day to complete paperwork, HR reaches out in advance to set them up with the appropriate documents. Pre-onboarding allows new hires to have a more meaningful first day than sitting at a desk filling out forms. HR also works with a new hire's internal team to pull together the resources they'll need to be successful. They receive information on the company and its culture, access to the tools they'll be using, and a schedule for their first day. By the time their start date rolls around, they have everything they need to have a great first day.
The First Day
How do you create a meaningful first day for new hires? If you ask Lynch, it's all about people. "A great first day is full of meaningful experiences and interactions," he says. "It doesn't come from cubicle isolation and a mountain of paperwork."
In fact, Rescue Agency has the perfect first day pretty much down to a science. Here's a sample schedule for creating a memorable first day:
The First Ten Minutes
First impressions are everything. Here are a few quick tips for getting a new hire's first day off to a great start:
Show up early. New hires often arrive early for their first day – do the same so that they're not waiting alone.
Don't wing it! Have an office tour ready to go before they arrive.
Do introductions during the tour. Encourage employees to invite them to come by their desks and say hello later on.
Deck out their desk in swag, decorations, and a welcome card. End the office tour at their desk to keep the excitement going. Rescue Agency always has a welcome card hand-signed from team members as well as a welcome letter from the executive team.
Have their technology set up and ready to go, with their email already pulled up on their screen. It's all smooth sailing from there!
The First Company Meeting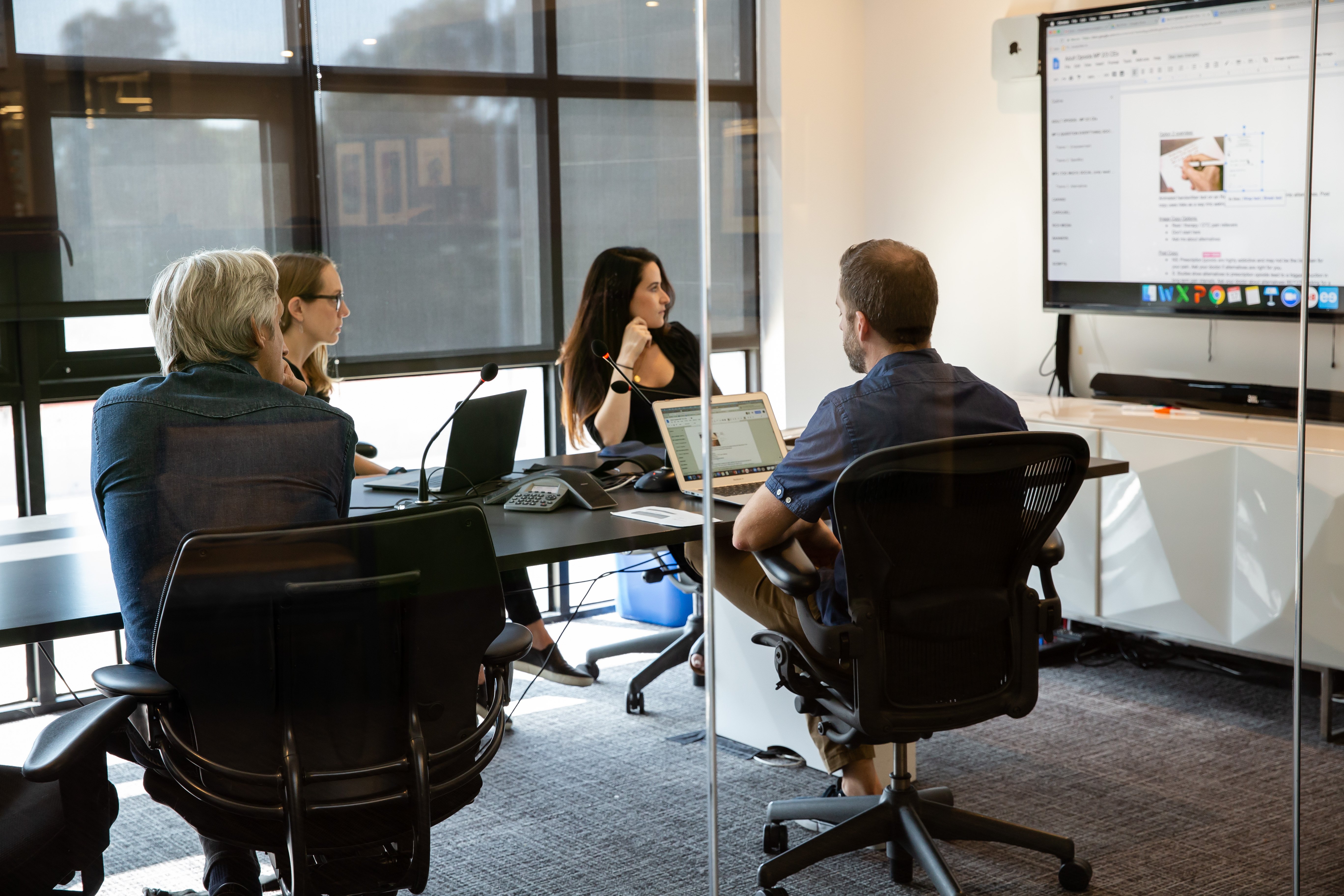 The tour's over and their tech is ready to go. From there, new hires have some time to get started on training material that introduces them to Rescue's work, culture, values, and processes. The material is a combination of reading and videos, which is way more engaging than a day full of paperwork. There are a few documents to sign, but most of it has been taken care of in pre-onboarding.
Every Monday, the company holds a Rescue Huddle, a weekly all-hands meeting. When there are new hires, supervisors get up and introduce them to the group. Instead of making nervous, new employees present about themselves, supervisors share fun facts about the employee, as well as specifics about their background and why they're so excited to have them on board.
Because some team members are remote, they also send out email introductions with a bio, a few interesting stories, and a short Q&A to help distributed team members find common hobbies and interests.
The First Lunch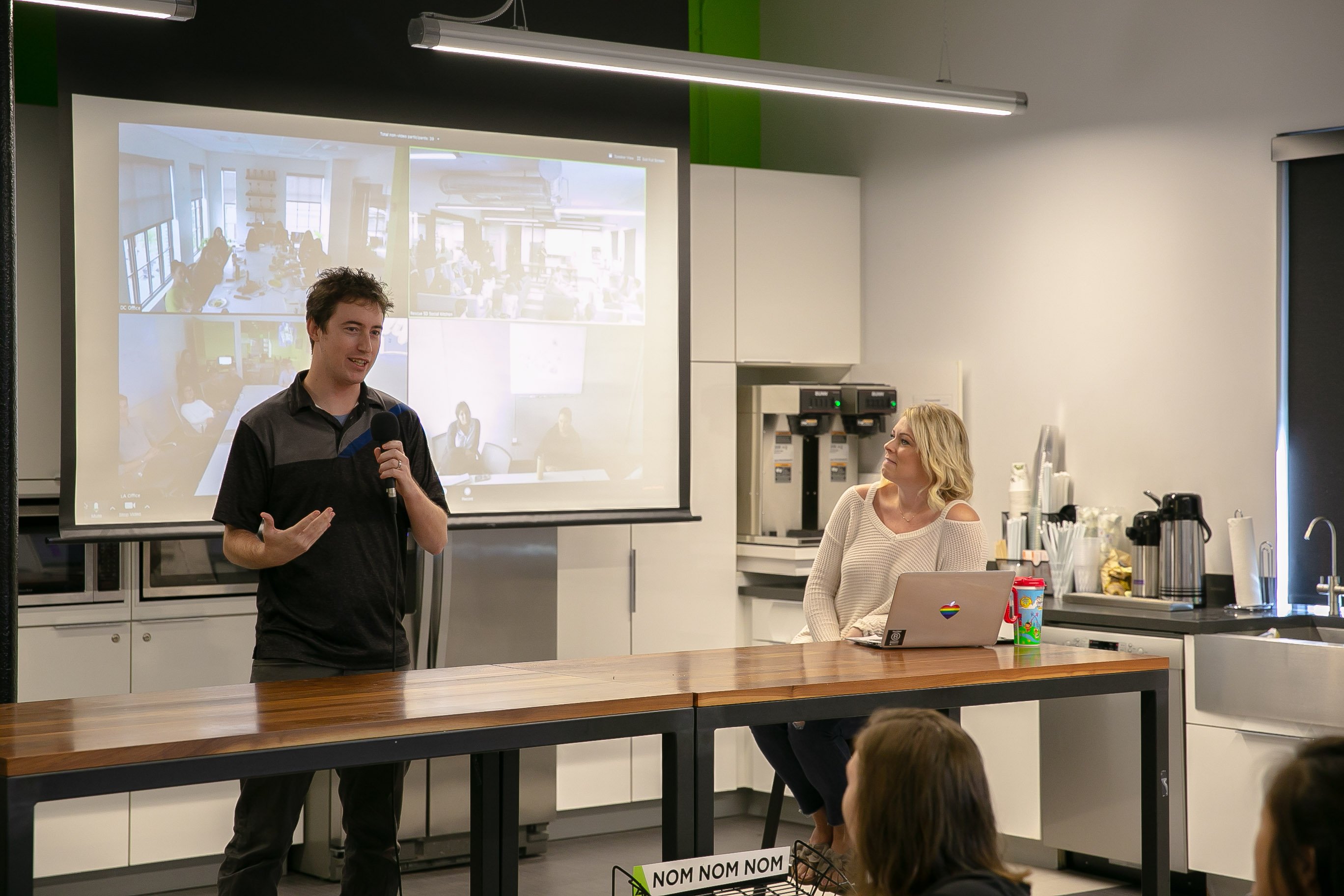 The dreaded first lunch: without structured onboarding, this can often make team members feel like the new kid in the school cafeteria. A proactive approach helps alleviate anxiety and build relationships right off the bat. Every new hire is invited out for lunch on their first day with their supervisor and direct team members. It's time for them to get to know each other, ask questions, and feel out relationships.

The same privilege is extended to remote team members. On their first day, they're invited to have lunch on the company at their favorite restaurant. When they get back, they share their experience with their new team members, sharing why they chose the restaurant and a few photos of what they ordered — it's bound to be a conversation starter.
After an afternoon of continued introductions and training, Rescue invites new hires to end their day early and leave at 4pm. "Down the line, there will be days when you can't leave at 4 p.m.," says Lynch. "For now, we want them to go enjoy the rest of the afternoon and tell their spouses, their families — even their neighbors! — about what a great first day they had."
The First Week
If the first day is all about making a new team member feel welcome, the first week is about creating the desire to succeed. Rescue Agency views it as an opportunity to get new hires to fan status of the organization. That means setting employees up with the tools, relationships, and training they need to be successful.
Here are three key areas to prioritize in the first week of onboarding:
A Clear Roadmap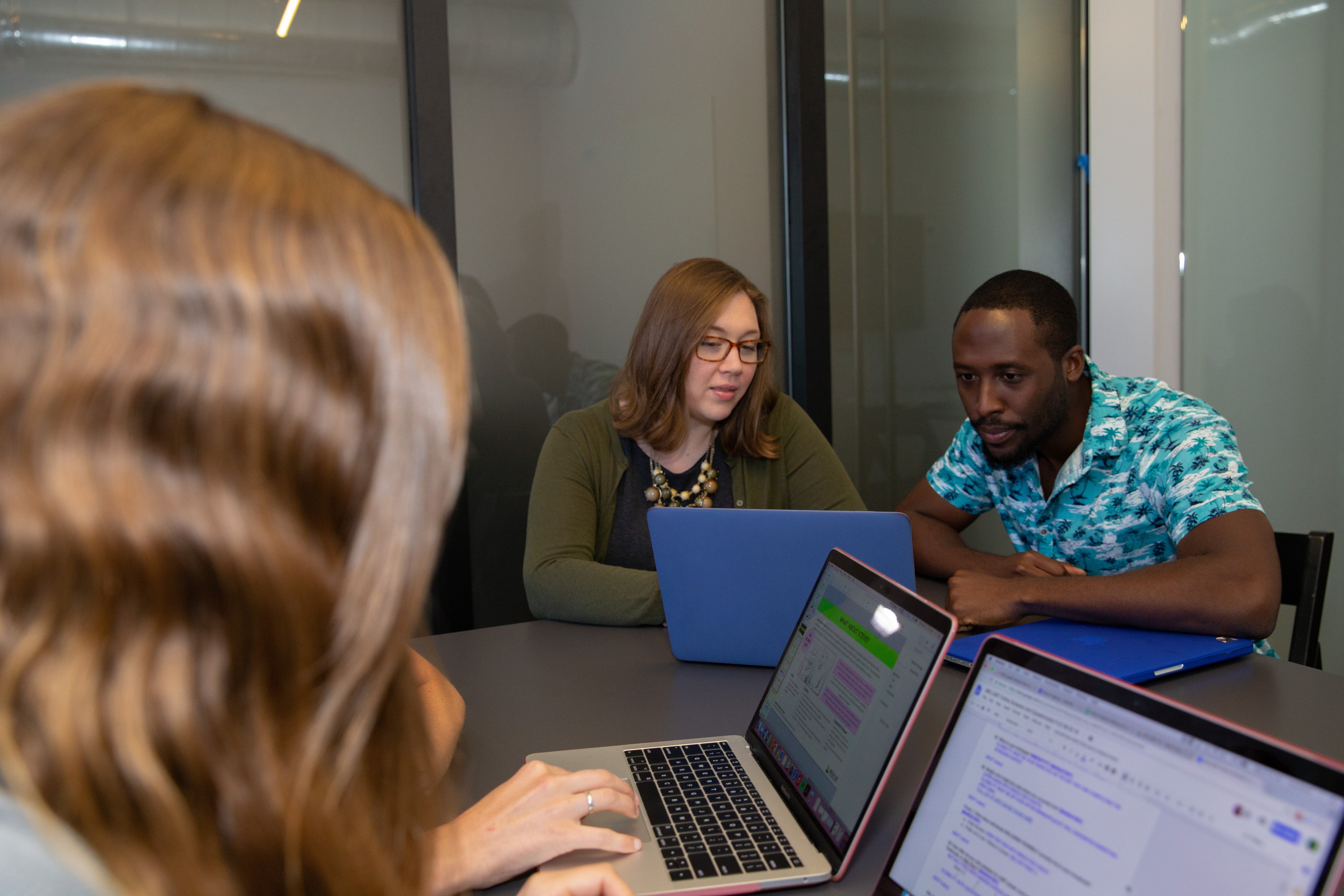 Most of all, new team members want clarity. New situations are always intimidating, but providing a clear roadmap of what's to come helps them know what to expect. Rescue Agency uses Google Suite to provide a clearly-articulated calendar of their first week, from meeting invites to social events. The first week should be a balance of learning about their role, getting to know team members, and socializing.
At Rescue, they use onboarding training as an opportunity to pair new hires up with different employees from departments outside of their own. Outside of training, supervisors arrange meetings for them with people from across the organization to share information and build relationships. The goal of these meetings is twofold: first, to expose the person to multiple perspectives, and second, to get them fired up about their work.
But a carousel of new faces can be overwhelming — to ground the experience, new hires and their supervisors meet daily for the first few weeks for a casual check-in to make sure things are going according to plan.
Getting to Know Each Other
After initial introductions are over, it's time to start getting to know new hires on a deeper level. The first step is to provide them with the tools to effectively collaborate and communicate with their team. At Rescue Agency, that means administering workplace assessments, like the DiSC Workplace profile, and generating a report that compares their workplace priorities and preferences to that of their supervisor, teammates, and peers. That way, employees can avoid some of the early pitfalls of getting to know teammates, and it helps supervisors build more effective teams.
The second step in getting to know one another is to pair new hires up with a buddy. The Human Capital Institute has found that buddy systems boost new hire proficiency by 87 percent, and it can help increase retention. Buddy programs vary from company to company, but the most effective ones rely on mentors that are enthusiastic, influential volunteers. Rescue's buddy program is called Rescue Rangers, and each Rescue Ranger is charged with integrating a new hire into the company's social ecosystem. Their mentor is always someone from a different department who holds the same or a similar position as them. This approach gets new hires interacting with someone they wouldn't normally see on a day-to-day basis.
During the first week, a new hire's Rescue Ranger might take them to coffee or out for lunch. After that, the Rescue Ranger continues to initiate social opportunities that extend beyond typical water cooler talk. They might invite them out for a bike ride, go to yoga classes, attend work social events together, or find other common interests. "We have a familial atmosphere inside and outside of the workplace," says Lynch. "We protect that by handpicking buddies who are like-minded and encouraging them to build a genuine relationship."
The First Six Months
Onboarding isn't over after the first day, the first week, or even the first six months. New hires come from a range of experiences, and onboarding needs to be a personalized, highly-interactive experience.
Here's how to keep onboarding a priority long after the ink has dried:
Two-Phase Onboarding
Traditionally, onboarding is a one-and-done event. But the first three to six months are a critical time for new hires. As they learn the ropes of their new position, they're prone to feeling overwhelmed and even out of place. But organizations that keep onboarding going beyond the first six weeks are finding higher rates of employee engagement and a boost in retention.
In an effort to provide continued support to new hires, Rescue continues onboarding activities beyond the initial onboarding for the role, operations, and culture. At the three-month mark, they check-in with team members and essentially revisit every aspect of the initial onboarding.
Rescue Agency also uses the 90-day milestone as an opportunity to check in with employees and begin to set goals for the future. By this point, new hires have had enough time to understand their roles and form meaningful goals, and it's a chance for both parties to address any concerns or lingering questions.
Feedback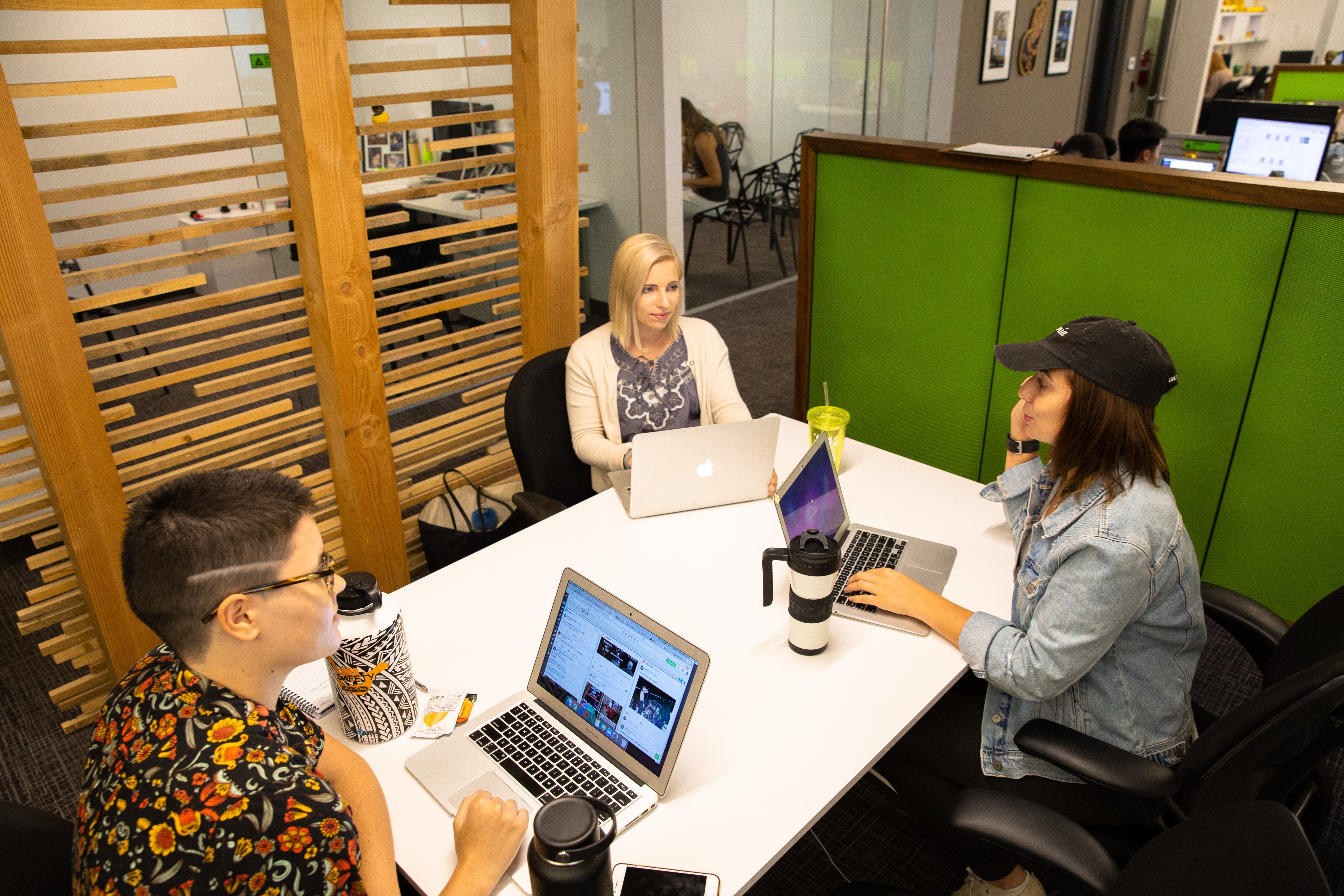 After initial onboarding is completed, it's a great time for feedback — on how you're doing. Reverse the direction of traditional feedback and invite new hires to share thoughts on what they've learned, what they're still missing, and what you could do better. At Rescue Agency, someone from HR reaches out to new hires on a weekly basis throughout onboarding to garner feedback. Especially because new hires might not feel comfortable approaching supervisors with feedback just yet, it's important to have multiple channels of communication. Plus, you're likely to pick up a few tips along the way to improve your onboarding program for future team members.
Effective onboarding starts on day one, but it's a critical factor at play for the entire employee lifecycle. Most employees come into a new organization with two simple goals: to do their best work, and to become part of the culture. If you keep the success of your people at the heart of your onboarding program, you'll be on your way to success.