The Highwire of Hiring: How to Find and Secure Top Talent for Your Business

Hiring for new talent can feel like a delicate game, particularly in the intense talent market we find ourselves in today. How do you identify areas for improvement, and how do you really get to know a candidate to determine if they would make a positive addition to your team?
We talked to several professionals who have a firm handle on successful hiring practices to walk us through the best way to get the right hire for you.
Don't rush the process
Miche Rayment, founder and CEO of The Hire Effect, and author of The Hire Effect: Hire for Culture and Skill, has spent years observing people's hiring problems and helping them reach solutions.
Rayment says that what she's witnessing right now is that, because of the labor shortage and such a tight hiring market, companies don't have the courage to follow-through with a thorough process and gather the data required to make a thoughtful decision. Many are rushing to hire whoever they can, and it's an understandable reaction to the current climate.
While the length of a hiring process is a balancing act in and of itself, don't be tempted to rush and skip steps. The more you tighten up the practice of good hiring the faster you can do it.
It all comes down to culture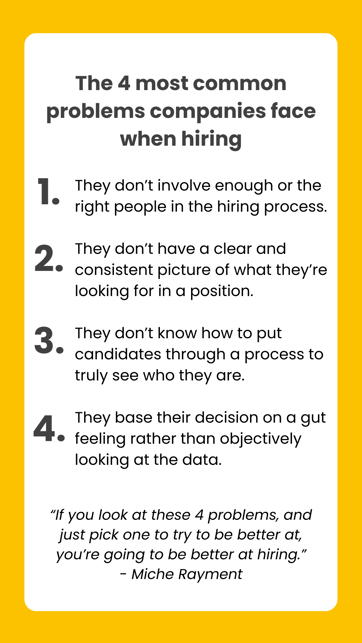 Rayment says that one of the overarching problems that persists among companies is the lack of distinction between their aspirational culture and their actual culture. Many companies don't have the self awareness to articulate the difference between the two. And if you're promising an aspirational, non-existent culture to a candidate, it will come back to bite you.
Katherine Mays, VP of Customer Experience at Nutshell, agrees with this sentiment.
"One of the things that we have focused on is making Nutshell look like an attractive place to work and to be really open and honest about what it's like to work here. Because we don't want to hire people and then have them be surprised," says Mays.
Think of it as dating: often, our initial reaction when we go on a first date with someone is to put our best foot forward, and hide our flaws. But, as humans, our imperfections present themselves eventually, and so it's best to be upfront about them.
"Everybody's going to find out the flaws, and everyone has them," says Rayment. "Why not just be real?"
Rather than trying to convince a candidate that your company is perfect, try articulating where your company's culture is, where you hope it will be in the future, and how that person may fit into that trajectory.
So, how do you determine if a potential hire can help you get closer to your aspirational culture? Put them to the test.
Understand the Assignment
The Hire Effect system uses assignments as a core part of the hiring process. Not only can they put a candidate's skills on display, but it's also a chance to see how that person problem-solves, communicates, and behaves. While most companies are great at the initial assignments (such as requesting a resume and cover letter), many falter when it comes to assignments further down the process. And these, arguably, are the ones that matter the most. Assignments in the later phases gets the interview team a lot more relevant data on the actual behaviors of the candidates they are considering.
Assignments can vary greatly depending on the industry and the position being filled. Jennifer Trakhtenberg, Senior Talent Leader at ClearVision Optical, says they prefer to have their interviewees conduct assignments in real time. For one thing, to ensure that the work is original, but also because she recognizes that these candidates are giving of their time, and wants to make sure they don't feel obligated to spend more time completing a project than is necessary. Regardless, Trakhtenberg says that she tries to keep assignments as stress-free as possible, so that they can see a person's best work.
A well-designed assignment should demonstrate the skills and adaptability required for a particular role. It should also display their judgment, their preferred work style, and their approach to new material. If you are so inclined, you can also design assignments so that they will show you how well the candidate fits your company culture.
For someone who will be stepping into a leadership role, try assigning them to present their 90-day ramp-up strategy. For someone working in coding, give them a piece of your code, knowing there are problems in it, and see if they can point those out.
For an emerging marketing professional, a graphic design project might be appropriate. However, for a marketing executive, assign them with drafting a full campaign for a new product.
If you know what you're looking for to fill a position, you'll know what the assignment should accomplish. And once you have these materials completed by potential hires, it provides you with data and observations about their behaviors. Not only that, but it gives you a glimpse at their level of productivity and ability to work within a timeframe. And so, you'll be able to make a more objective decision.
Ask the right questions
Rather than the interview portion of the process consisting of questions you already know the answer to from an interviewee's resume, make sure your questions dive deeper. Trakhtenberg says that preparing for an interview, as the interviewer, is key to be able to ask those secondary questions that probe at something the interviewee may not have expected, and therefore you get a better look at their expected behavior.
Mays says that she uses the interview portion to identify skills that she can't necessarily help develop in a new hire. For instance, while she's good at training in certain areas, training for troubleshooting is quite difficult, so she asks questions to see if a candidate has some established troubleshooting skills.
Good interview scripts are written to reveal if the candidate has what you are looking for. Traditional conditioning makes us want to ask complex non-leading questions. Those are fun and sometimes beneficial, but if they aren't written so you can hear about the cultural and skill components you need, they aren't much help.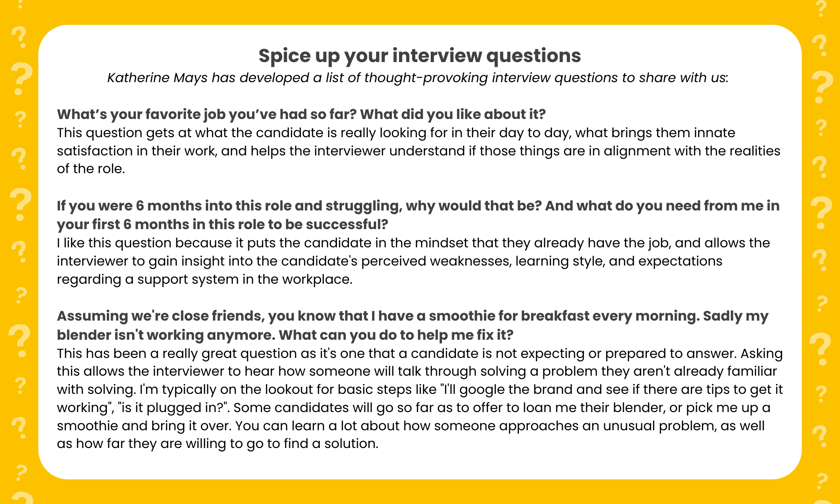 Your employees are a resource
Depending on the size of your company, try including more people in the hiring process than just an HR representative or the candidate's potential manager. Not only do you get to see how consistently a candidate responds to questions, but it's important that whoever will be working with your new hire feels like they are a part of the decision-making process.
"One of the things that has worked really well for us is, because we're a small team, we're able to include almost all of our employees in the hiring process in some way," says Mays. "I [also] like to think of the recruiting and hiring process as an extension of the employee experience. It's something I always keep in mind as a company-wide effort."
Your employees should be a positive ambassador for your brand. If employees are speaking favorably about your company and their experience there, that can organically help with the recruitment process. This can be through natural conversations, but Trakhtenberg also recommends encouraging employees to be active on social media, like LinkedIn, to portray day-to-day culture. After all, the best advocates for your company culture are the people who live it and perpetuate it every day.
If you allow your employees to have a voice during the hiring process, they can help reinforce your company's authentic culture, so that a potential new hire has a well-rounded perspective. Just like you want all of the facts when selecting a new employee, so does a candidate when selecting a new job.
If you are hiring for a set of skills that don't already exist in your company, you can enlist some help from those people who have a vested interest in your company's success but don't actually work for you. These people often have a valuable perspective you could really use before you hire the wrong person. Rayment calls this an Unconventional Hiring Team. Who better to help you hire your next sales person than your oldest and most trusted customer? Who better to help you hire your next CFO than your long time CPA?
Know where you are and where you're going
Taking a thorough look at your hiring process can be overwhelming, but as long as you honor the process, have patience, and are honest about who you are as a company, it can all become much more manageable. Not to mention that, during the hiring process, you're either building up or causing cracks in the trust that a potential employee has in your company. You want to make sure that what you're telling a candidate matches up with what they'll experience once they're a part of the team.
Remember to keep an open mind while reviewing candidates. Make sure that your culture puts a value on inclusion, and that you collect those data points to be able to go off more than a gut feeling with your selection.
And even in a time when it can feel like the talent pool is a mere puddle, be honest, brave, and authentic.