Stepping Up Part III: How Leaders Are Rising to the Occasion

In real time, we're seeing what a Small Giants culture can do: companies built on a clear vision, shared values and strong relationships are achieving extraordinary things on short timelines and under extreme pressure. In this week's Stepping Up stories, you'll meet the CEOs of two companies that have made drastic changes to their businesses in order to survive — and thrive.

A Detroit strategic creative studio is utilizing its strong partnerships to fulfill a community need and launch a grocery delivery business in less than two weeks. When manufacturing came to a grinding halt for a local flower company, they placed their bets on their community to see them through. Don't miss their inspiring stories.
In this installment: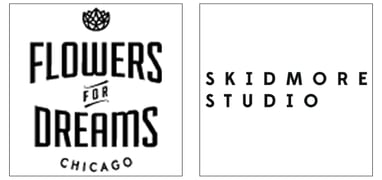 Stepping up: Skidmore Studio
GROCERY DELIVERY IS HELPING THIS CREATIVE STUDIO SURVIVE (AND THRIVE) RIGHT NOW
"The COVID-19 crisis prompted us to step back and think about how we are going to adapt to this new environment."
In between video conference calls with clients and team members, Drew Patrick, CEO of Skidmore Studio, heads to a warehouse in Detroit to help with the picking and packing process for Michigan Fields. Michigan Fields, a harvest delivery service in Southeast Michigan, didn't exist last month — it was brought to life in a matter of ten days by Drew, the team at Skidmore, and their network of clients and partners.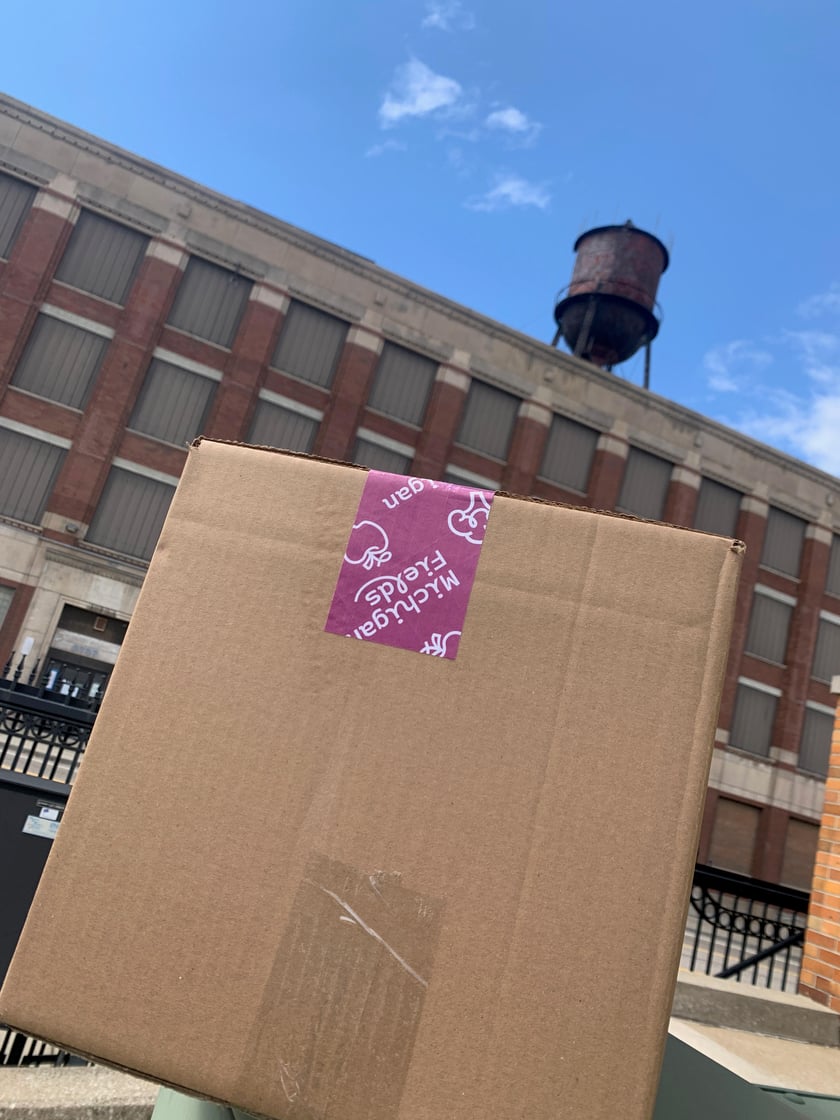 The global pandemic has altered reality in many ways, but Drew and his employees focused on two key takeaways: their business was slowing down for the foreseeable future, and grocery delivery was in high demand. That second point might seem out of left field for a brand strategy and design studio, but in fact, the team had been developing a plan for a direct-to-consumer food business over the last year.
"The COVID-19 crisis prompted us to step back and think about how we are going to adapt to this new environment," says Drew. "It's part of our company vision to create our own client and develop a brand we can wholly control and learn from — we even have a business plan for it: a food delivery company. It got us thinking: is now the time to pull the trigger on this?"
They did pull the trigger, and they did it in a big way: within ten days of greenlighting the project, the very first Michigan Fields deliveries were on their way out the door to Detroit residents.
A Clear Company Vision
If successfully launching a business from scratch in ten days sounds too good to be true, that's because it is. The business plan for Michigan Fields was in the works long before the current crisis — Drew developed it in early 2019 as part of Goldman Sachs' 10,000 Small Businesses program. He brought it back and shared it with his team, explaining how owning their own entity would give them a chance to build the ideal client. Ultimately, they decided to include owning their own brand (or two!) in their company vision.
"This was not an off-the-cuff response to the crisis," says Drew. "The road was already paved for us to put this plan into action, and it was wholly-aligned with our company vision. It's an opportunity for us to be one of the best clients we've ever had while providing sustainability to Skidmore at a critical time."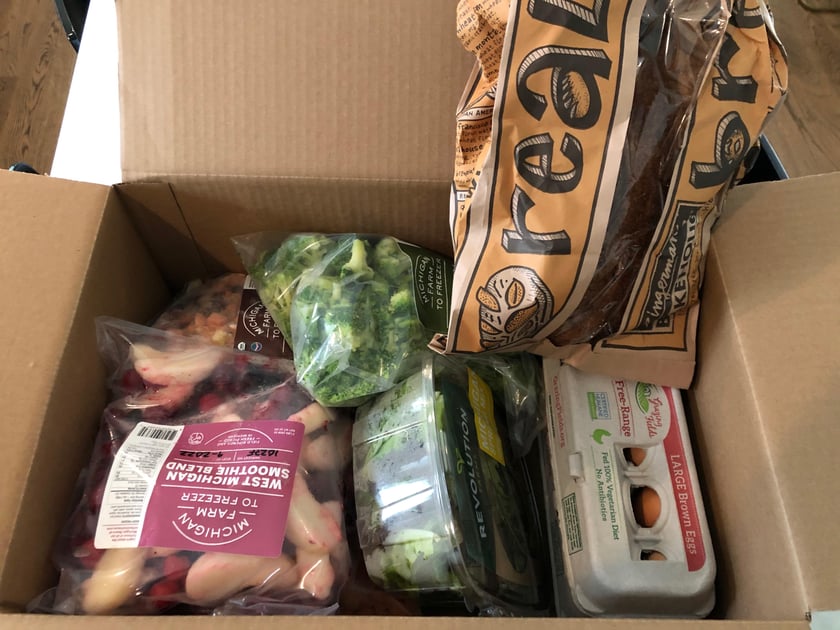 Skidmore's strong foundation — a clear, communicated vision and a thoughtful business plan — is what helped them identify opportunity amid a crisis in the first place. Their vision helped them make choices that align with their long-term goals, and the business plan allowed them to launch Michigan Fields as a long-term, viable business.
"We want to be the powerhouse creative studio in Detroit and the best place for Detroit's talent to thrive," says Drew. "Michigan Fields gives us a way to demonstrate what can happen when our creative teams have complete control over the direction of the brand. This is a long-term play."
Strong Partnerships
Drew is actively involved in the Small Giants Community, and Skidmore Studio's culture is built on the six qualities of a Small Giants company. One of those traits is relationships: Small Giants cultivate meaningful relationships with customers, suppliers, and all stakeholders. Since Skidmore specializes in food and entertainment brands, they already had great relationships with many Michigan food and agriculture businesses. When they decided to launch Michigan Fields, Drew and his team reached out to those companies to see if they'd be interested in working together.
"We picked up the phone and started making calls," says Drew. "We had people setting up wholesale accounts for a business that didn't exist the day before. We've found that there's a great embracing of entrepreneurial adventure when you have the right sentiment behind it."
Before long, Skidmore became a client of several of their own clients. Trusted Michigan brands like Zingerman's, Guernsey Farms Dairy, and Michigan Farm to Freezer signed on not only as vendors, but to provide expertise and resources as they worked to launch Michigan Fields in record time. On the Skidmore side, their team of creatives leveraged their expertise to build an e-commerce website, figure out the logistics, and build a brand for Michigan Fields.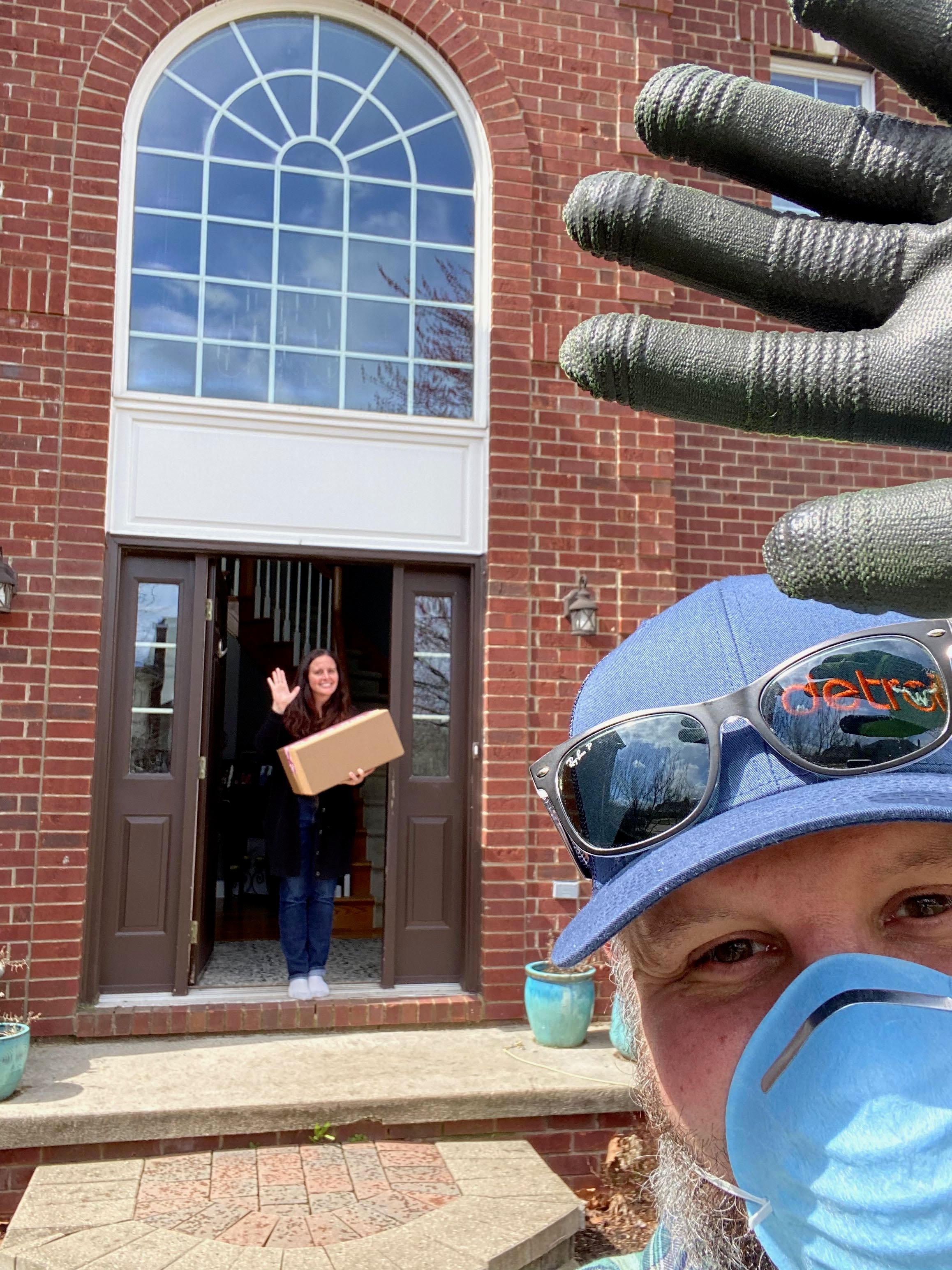 "Our top priority was to start safely delivering groceries to people's homes, as quickly as possible," says Drew. "Our partners and our team rallied around the idea of fulfilling a need for our community, and they showed up enthusiastically to get it done."
Planning for the Future
With the new business in full swing, Michigan Fields is now officially a client of Skidmore Studio, giving its team the chance to do its best creative work and stay busy, even if other client work slows down.
"Michigan Fields and Skidmore are complementary businesses," says Drew. "One plays a role in the sustainability of the other. In the short-term, it will provide an outlet for underutilized time for our team, which allows us to protect jobs. We're going beyond what we normally provide to clients and investing more time into Michigan Fields."
Grocery delivery was already projected to be a growth industry, but the pandemic has powered its hypergrowth. Drew projects that Michigan Fields could have higher revenue than Skidmore in 2020. Michigan Fields' success offers Skidmore — and its team members — a layer of protection as they endure a slowdown in new business. In the short and long term, the plan for the two businesses is simple: be nimble, allocate resources, and support one another.
"In a crisis situation, some businesses make it, some fold, and others position themselves stronger than they went into it," says Drew. "This couldn't have happened on a whim: we had the right plan, vision, and people to pull it off."


Stepping up: FLOWERS FOR DREAMS

FLOWERS FOR NURSES (AND DOCTORS AND TECHS AND JANITORS)
"Our business is predicated on being part of people's lives in their most exciting and somber moments. We wanted to find a creative way to be there for our customers and our community during this time."
Instead of making their usual deliveries to homes around Chicago, team members from Flowers For Dreams rolled carts full of locally-crafted bouquets into hospitals and healthcare centers around the city.
It was mid-March and the global pandemic had reached Chicago. Stay-at-home orders brought their floral sales to a near halt, and all weddings and events were canceled or postponed for the foreseeable future. In a moment of uncertainty, Flowers for Dreams co-founder and CEO Steven Dyme knew he only had to look to his community to figure out their next move. It's in the company's DNA: do good, feel good.
Every Solution Starts with Community

In a company where every bouquet benefits a local nonprofit or charity, it was a given that any path forward would support the community. Community impact is already part of Flowers for Dreams' business model: 25 percent of all its net flower profits go to a rotating group of nonprofits in the community — to date, they've donated nearly $600,000 to charities. It's one of the reasons customers love them, and Steven and his team felt a responsibility to continue to take a stand.
"Our business is predicated on being part of people's lives in their most exciting and somber moments," says Steven. "But with people unable to gather, those moments are on pause. We wanted to find a creative way to be there for our customers and our community during this time."
In the early weeks of the pandemic, most people weren't yet thinking about the toll it would take on healthcare professionals. Steven and his team saw an opportunity to lead that movement in their community, while at the same time generating critical revenue they needed to survive. They collaborated with five hospitals in their Chicago, Milwaukee, and Detroit markets to deliver bouquets on behalf of customers. The third week of March, they launched the program by putting out a call to customers: will you help us by sending thanks to a healthcare worker today?
"By the end of the first week, we delivered 400 bouquets to local healthcare staff — doctors and janitors, nurses and clerks," says Steven. "Our customers loved it. It gave them a way to reach out to the community while also supporting us during this crisis."
Taking Manufacturing Virtual
There's nothing remote about a flower company. Flowers for Dreams sells locally-crafted bouquets for delivery, weddings, and events. While some companies can simply send employees home to do their work, Flowers for Dreams is a manufacturing business, and they have to be touching flowers to make an income.
"We're not a remote company," says Steven. "We require real people to build flowers in the real world to make it go. One half of our business is weddings and events, the other is daily delivery. With stay-at-home orders in full effect, our revenue was reduced by 80 percent. We knew we had to be creative and resourceful to survive."
They started with the tough decisions first: a temporary reduction in workforce. They figured out the minimum number of team members they needed to get through while still being able to bring people back on the other side. It wasn't easy, but they committed to keeping in constant, transparent conversation with those laid off and set up an employee cash assistance program. In its first fund, raised from customer gift cards and creative pre-orders, the company was able to support rent and bill payments for nearly 20 low-wage workers (some 25 percent of its team), and they're distributing even more in May.
"Transparency is so important," says Steven. "We are candid and forthright with our team, and we treat them fairly as humans. Our goal and our hope is to return the team to its fighting weight."
With a small, nimble team in place, they started coming up with creative ideas for safely keeping sales going. Besides flowery delivery and wedding florals, workshops are popular with Flowers for Dreams customers. Usually, they take place on-site in their studios, but the team had the idea to try out virtual workshops. Instead of refunding people for workshops they'd already paid for, they offered a virtual option instead.
"It's blown our expectations out of the water," says Steven. "We've added floral design workshops, botanical workshops, terrarium building, macrame — all kinds of things. There's a demand for keeping teams, families, and friend groups together right now. It's become a way for people to keep close while we're far apart. And it's helping keep us alive." They've now taught well over 1,000 virtual workshop guests on Zoom and YouTube.
Getting Back to Business
Just over a month after the initial stay-at-home order, Flowers for Dreams is slowly but surely returning to what it does best: crafting and delivering beautiful flower bouquets. They received the green light for contactless delivery in Illinois and Detroit, and they've been able to bring a number of team members back on. In an effort to protect employee safety, they completely reconfigured their warehouses with color-coded teams, newly-built, dedicated break rooms, and enhanced physical distancing policies.
Just in time for one of their biggest holidays of the year — Mother's Day — Flowers for Dreams is getting back in the game.
"There's no flip of the switch for going back to normal," says Steven. "But we've stayed true to who we are and kept our employees and community at the center of our decisions. It's been hard on us, but I'm proud of our team."