How to Use Visioning to Help Employees Achieve their Dreams
At the start of every year, employees at imageOne, a Small Giants company, get vulnerable. imageOne's vision and goals program engage employees in creating a vision and plan to achieve their life's goals.
"You literally outline what you want your life to look like in 10 years," says Connie Farlow, project manager at imageOne and Small Giants Leadership Academy graduate. "The program shows me that imageOne cares about my personal life and that I achieve the vision I have for myself and all of my goals — not just goals that relate to the company. When you feel cared for in that way, you just want to give it back."
Small Giants are servant leaders who believe in caring for employees in the totality of their lives. In practice, that means putting systems and processes in place that serve employees as whole people, both professionally and personally.
Coming off the heels of a year of change, setting company goals and a vision for the future is more important than ever — but what about engaging your team members in setting personal visions and goals this year? Here's how the program at imageOne works and how you can get started with your own team.
Tools & Resources At A Glance:

Visioning: How to Set Visions and Goals with Your Team

Connie Farlow, Project Manager
imageOne
imageOne's vision and goal setting program takes place once a year and every team member completes the exercise. It's a simple worksheet that walks them through visioning for the future and identifying 5-year, 3-year, and 1-year goals related to different aspects of their vision.
The visioning process is inspired by the Zingerman's approach that is now widely taught to organizations through Zingtrain. Employees sit down to either write or update their vision, writing a descriptive and vivid story of their lives at a certain point in the future, like 5 or 10 years from now. They're prompted to ask themselves reflective questions: What does your life look like? What would you dare to do if you knew you could not fail?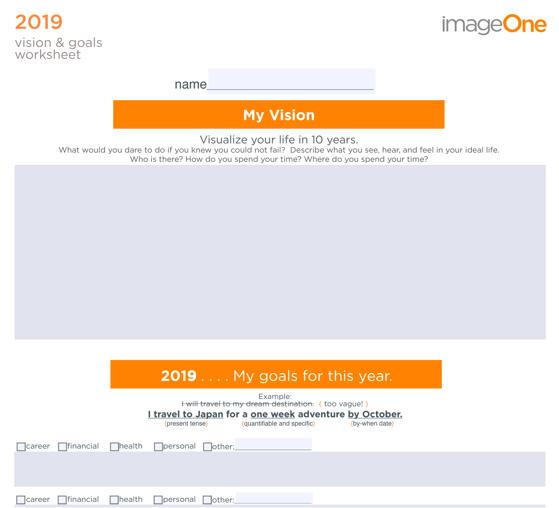 From there, team members identify short-term and long-term goals that will move them toward achieving their visions. The worksheet guides them in writing goals that are quantifiable, specific, and impact different areas of their lives.
"It can cover so many different aspects," says Farlow. "It's not just a professional document. You do have career goals in this document, but also financial, personal, and health goals — whatever is important to you right now. It covers the totality of your life, not just your life at work."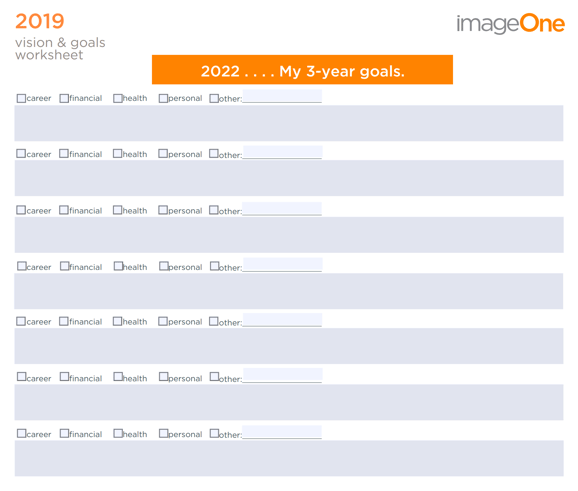 imageOne's vision and goals program is close to the heart of Rob Dube, the company's co-founder and co-CEO. As a leader, Dube is personally committed to serving his team members and helping them set and meet goals that are important to where and who they want to be. It's also an important tool for staying in touch with everyone on the team about their goals in aspects of their lives that typically don't come up as often at work, like health goals or financial aspirations.
"Putting their vision and goals in place allows team leaders to have open, honest, and productive conversations with every team member so that we can serve them in the totality of their lives," says Dube.
Tracking and Achieving Goals
After everyone completes their vision and goals worksheets, leaders check in with team members on a quarterly basis to see how they're progressing. Together, they review the goals and see which are on-track and off-track and how they can help. All visions and goals are also visible to the entire company — it's vulnerable, but it boosts accountability and encourages team members to help one another out.
"You really get to know your fellow team members and what's important to them," says Farlow. "That way we can actually support one another in achieving our goals."
For example, one team member overheard Farlow talking about her upcoming bathroom renovation and remembered reading that it was one of her goals for the year. The team member wanted to support Farlow in achieving her goal and talked to leadership about doing something special for her.
"The company delivered lunch and a Home Depot gift card to me on 'demo day,'" says Farlow. "I will never forget it — it meant so much to me to be supported by my team, and it made me want to accomplish the goal that much more. It's amazing how you can support each other when given the opportunity."
When leaders engage with employees on a human level about their life's goals and aspirations, they unlock enormous potential to help them grow and achieve extraordinary things. Whether it's taking a van full of team members skydiving (Watch the video to hear Connie's story!), earning your best commissions yet, or finishing your first half-marathon, tackling your goals as a team can transform your people and your culture.