The 2023 Small Giants Community Summit: Transitions

Sebastian Africano, a member of the Small Giants Leadership Academy class of 2023, compared the Small Giants Summit to a well-orchestrated circus, and that resonated with us. It takes us months to prep and plan, and then during the few days in Detroit, it's a whirlwind of activity. We're juggling the audience, performers, and everything happening behind the scenes. And even though we're serious about providing the best experience possible, we can also be clowns and don't take ourselves too seriously (we momentarily considered booking ourselves to tap-dance on stage)!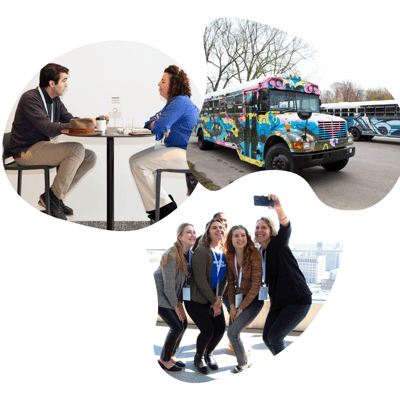 We were so happy to see so many Small Giants leaders venture into Detroit. The 2023 Small Giants Community Summit was filled with faces and organizations old and new to the Community. We love seeing the reunions between steadfast Summit attendees, as well as newcomers being introduced to the Community and fellow purpose-driven leaders. It was also particularly uplifting to see so many young emerging leaders at the Summit – both on and off the stage. In fact, this Summit had more emerging leaders than ever. While the annual event started largely with founders and CEOs in the room, this year, 57% of attendees identified as emerging leaders. With a diversity in ages, we gain more perspectives, more energy, and a legacy with which to sustain these purpose-driven businesses for years to come.
What's in a theme
This year's theme was Transitions, and it was brought to life within two days of dynamic programming. Through panels, workshops, and stories, we heard of transitions in mindset, leadership roles, organizational structures, and more. Hearing from all of these authentic leaders is an important reminder that, even though we all may share similar values amongst the Small Giants Community, there's never a one-size-fits-all approach to tackling a transition. The best we can do is share our experiences with honesty and awareness, knowing that our stories and resources can inspire and offer insightful takeaways.
As Shannon Cohen reminded us during her and Jen Trakhtenberg's inclusion workshop, shared space does not equate to shared experience, and as we strive to invite more and more people into the Community, it becomes even more important for us to hear each others' stories with open hearts and minds.
Within the theme Transitions, we noticed several other recurring messages from our speakers. Here are just a few.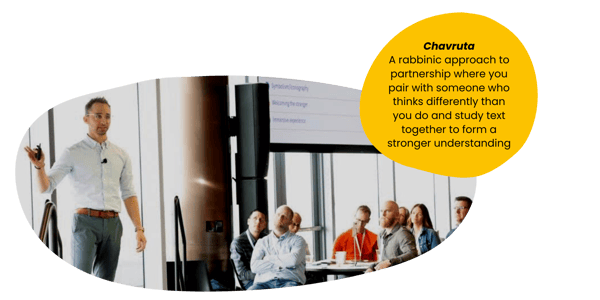 A personal journey can influence professional change. Within the Small Giants Community, we often say that there's no such thing as work-life balance; it's all just life, and we're all here to support each other through the highs and lows. Several speakers spoke to the fact that blending the personal and professional harmoniously takes work, but it can yield productive and fulfilling results. Sam Adiv took us on his journey of pivoting from rabbinical school to founding his own business, but was able to pull values and tools for community-building from his first path to his second. One of these rituals he adapted is chavruta, a practice that puts people in pairs or small groups for the benefit of stronger bonds and more dynamic learning. Sam emphasized that his intent was not to build a Jewish organization – rather, he took inspiration from his faith's rituals and developed systems and tools for his team to create a more trusting and tight-knit culture.
Ryan Tansom also conveyed how his challenging experience of taking over, and then selling, the family business led to his passion of understanding financials on a deeper level. After Ryan sold his family's business, he knew that he made many mistakes. But he didn't want to just learn from those mistakes for his own benefit; he also wanted to save other business owners from losing out financially. And so he created his Intentional Growth™ framework, which helps leaders to view and run their companies like a financial asset. By weaving storytelling with a practical system, Ryan took a daunting and murky subject and made it approachable.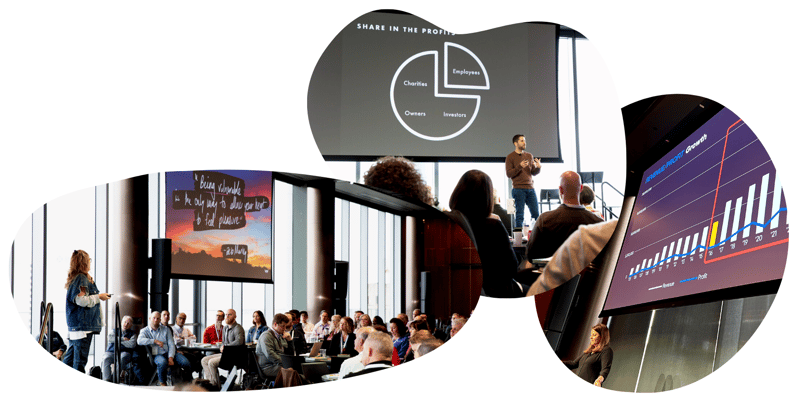 Don't go it alone. Conni Reed, Elizabeth Glasbrenner, and Steven Dyme all have very different backgrounds and businesses. From a fashion accessory brand that specializes in Mexican artisan work, to a banking software company based in Arkansas, to a Midwest florist social enterprise, the parallels may not seem obvious. And yet, they all have learnt a valuable lesson in leadership: invite the right people in, trust in them, and build something beautiful together. Each of these CEOs came to a similar realization along their respective journeys. Once they recognized their capabilities and vulnerabilities as leaders, they learned to surround themselves with the right people. And not only that, but to give those individuals room to grow. The organizational growth for each of them was undeniable; not only in profits, but also in innovation and in bringing everyone closer to the company's purpose.
Money matters. We often talk about prioritizing people amongst the Small Giants Community. And while we're all about people-first businesses, we can't ignore financials altogether. Ryan Tansom, Tracy Bech, and Ami Kassar all empowered us to get a better understanding of the financial aspect of running a business. They taught us, respectively, to run our companies like a financial asset, to respect our balance sheets, and to be aware of our risk tolerance. Thanks to these speakers, we can all tackle our finances with more confidence so that our businesses can be passed from one generation of purpose-driven leaders to the next.
After two days packed with content, we took a moment to come together and slow down. First, Nenuca Syquia reminded us to keep ourselves accountable. We passed around "a promise is a promise" postcards, in which everyone could write down what they'd like to be held accountable for to take away from the Summit. Everyone will have their postcards mailed to them at a later date to remind them of their intention. And finally, Beck Sydow led us in a meditative breathing exercise, so that we could all be reminded that each breath is its own transition, a commonality we all share. It was a wonderfully calming way to conclude our time together, before everyone made their way out of Detroit.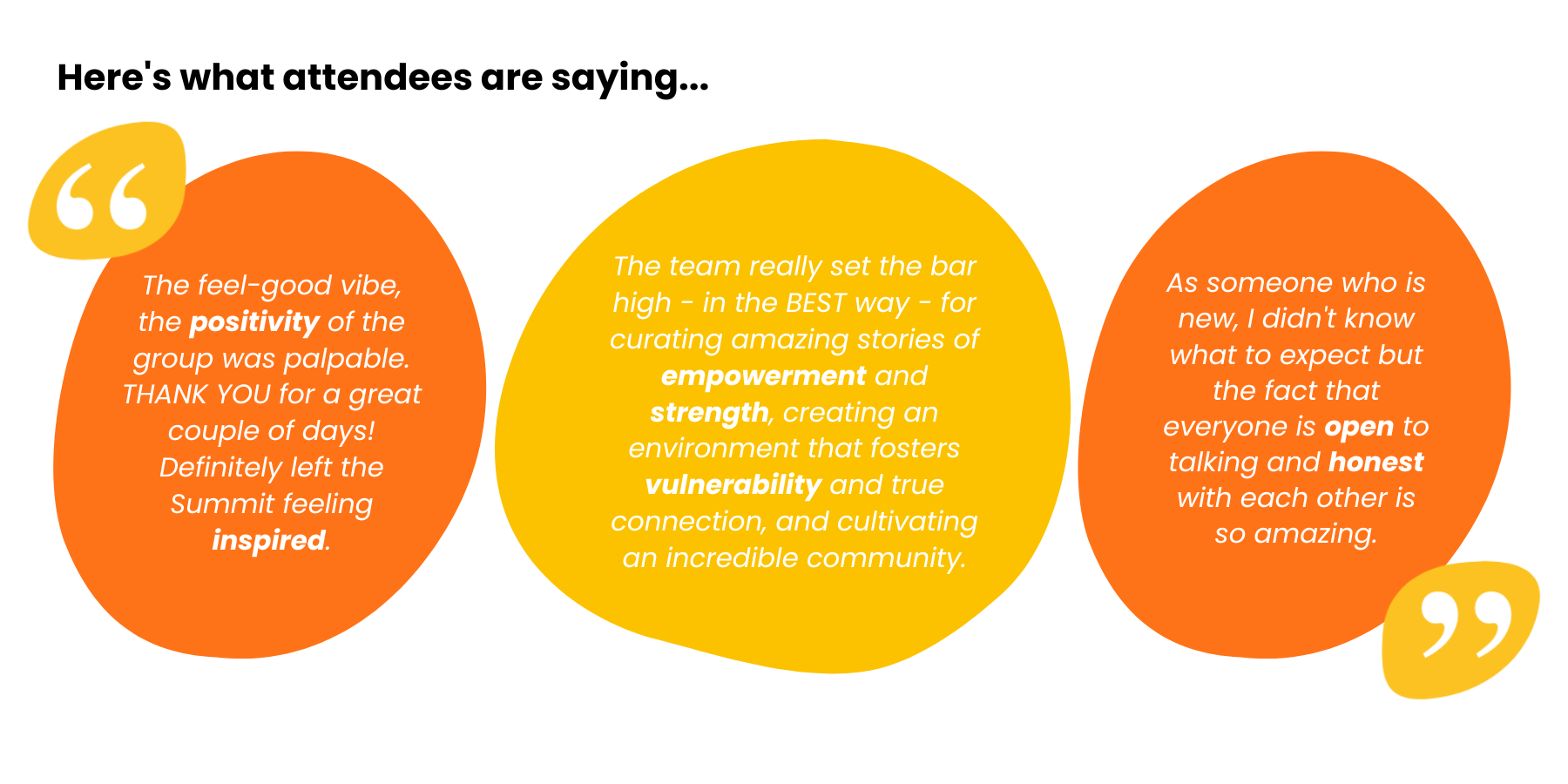 Transitioning back to reality
The 2023 Small Giants Community Summit may be over, but we're still holding on to a great deal of gratitude from the week. We're grateful to each of the speakers for stepping on stage to do something courageous, we're grateful to the coaches who brought additional value to the Summit experience via 1-1 support, and we're grateful to all of the attendees for being the most supportive and caring audience. Thank you all for sharing your practical tools and heartfelt stories with each other. As Elizabeth Glasbrenner said, transitions happen to us or because of us, and this year, we saw a lot of strong leaders making positive transitions happen.
As the Small Giants team takes off our clown shoes and puts them away until next spring, we're feeling as energized as ever to make the 2024 Small Giants Community Summit an even better experience. Until then, we invite you to learn about Sounding Board, Leadership Academy, or join our next virtual event. You can also connect with us anytime for a virtual coffee chat. We look forward to hearing about any other transitions that have come your way.
- The Small Giants Team