Bringing Your Core Values to Life in Everyday Behaviors
What does it look like to live your company's core values?
At Comfort Research, you'll feel it as soon as you walk through the door. It's the "FAB" wall recognizing employees for embodying company values. It's the peer-to-peer awards that get employees celebrating one another on a daily basis. When your core values are more than just words on a wall, you'll start to spot them in the everyday behaviors and decisions of your employees. And when you're really getting it right, you're celebrating those behaviors every chance you get.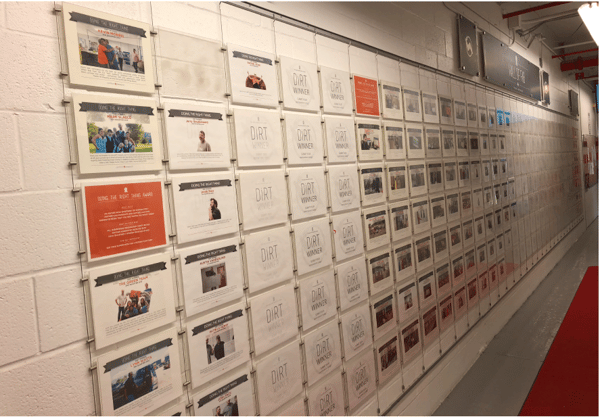 Just ask Chip George, CEO and Co-Founder of Comfort Research, a lifestyle and product design manufacturer based in Grand Rapids, Michigan. Comfort Research is built around core values, and its co-founders make it a point to recognize and celebrate employees who take them to heart. In fact, Comfort Research is a 2018 Forbes Small Giant — meaning they're part of a select group of exceptional companies that prioritize greatness over growth.
Ready to learn how to bring your core values to life? Let's get started.
"People don't buy what you do,
they buy why you do it."
-Simon Sinek
Discover It
If you've revised your list of core values a few times, you're not alone. Chip and his co-founder Matt Jung originally came up with twelve core values. They also had a 130-page strategic plan that mostly lived on an office shelf. When that didn't work, they took a page from the book Scaling Up and overhauled their dense, complicated business plan. Instead, they wrote a one-page strategic plan and whittled down their core values from twelve to three.
They wanted three simple core values that captured the key concepts that everyone in the company could apply to their work and their own daily lives.
Comfort Research's core values are:
Find a Better Way (FAB)
Expect the Best
Do the Right Thing (DiRT)

If you're writing or revising your own core values, Chip recommends keeping it simple and working to define what your core values mean and how they tie into your overall strategic plan. Chip's advice is to aim for as few as possible, be authentic, and make them memorable.
Systematize It
Once you have your core values, the next step is to systematize them into a recipe for success. At Comfort Research, their strategic plan is called the MAP, and they post it anywhere and everywhere they can find the space. It includes the company's highest goals and how they plan to achieve those goals. The most important part of the MAP is the Culture Pyramid, which is where you'll find their core values: We believe in Finding a Better Way, Expecting the Best, and Doing the Right Thing.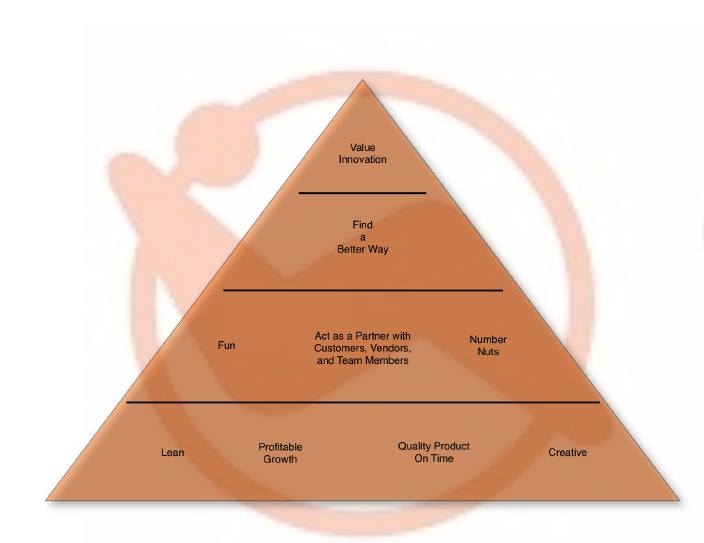 Comfort Research's MAP outlines the company's culture, purpose, direction, and measurements of success. Your core values should be simple, but your strategic plan (theirs shares some DNA with a company vision!) dives into the details and specifics of where you're going and how you'll get there. Take a look at Comfort Research's MAP: it covers company beliefs, a guide for the future, and a descriptive explanation of what success will look like at different future positions.
If you're writing your own MAP, don't just think about the things you're going to do — it's also important to consider what you're not going to do. Your MAP will serve as a guide for everyone in the company to understand priorities, shared beliefs, and what you're working toward. What goals are most important in 2018? What milestones are on the horizon? When you bring your core values into your strategic plan, it provides a comprehensive map of who you are, how you do business, and your vision for the future.
Live It
When you're truly living your core values, they come up in daily conversations across the company. One way to cultivate a deeper commitment to core values is through reward and recognition for employees who embody company values. At Comfort Research, their strategy is simple: Recognize 'em, reward 'em, repeat. They have a quarterly award program around each of their core values: the FAB award, the Awesome award, and the DIRT award.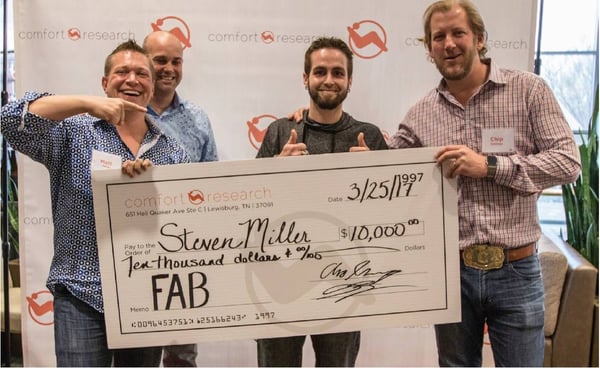 Here's how it works:
FAB award. The FAB award celebrates employees who Find a Better Way in any aspect of the business. Employees submit F.A.B. ideas for any cost saving, return on investment, culture, or process improvement ideas they have for the company. All submissions (usually around 100-200 per quarter) receive $25 comfy bucks they can exchange for company swag. Every quarter, a FAB winner receives $2,500 — and an annual FAB winner receives $10,000. The FAB award encourages everyone to always be finding a better way, no matter their position in the company.
Awesome award. The Awesome award celebrates employees who are embodying the "Expect the Best" core value by going above and beyond at work. The Awesome award is a peer-to-peer trophy that gets passed from the current winner to the next every quarter. The current winner chooses someone who they feel has been extra awesome in the workplace lately, and that winner gets the trophy plus an extra week of paid vacation.
DIRT award. The DIRT award celebrates employees who "Do the Right Thing" in the workplace or in their lives. Every quarter, employees nominate anyone they feel has gone above and beyond to help others. All submissions receive $25 comfy bucks for swag, anyone nominated receives $100, and the quarterly winner receives $1,500. The DIRT award isn't always about workplace generosity — the award has gone to an employee who saved someone's life during a heart attack, and an employee who took in foster kids for a year. Plus, recipients of the FAB and DIRT awards receive big, oversized checks and get their photo up on the FAB wall.
What's the impact of recognizing and celebrating employees? We'll give a Comfort Research employee (and recent Awesome awardee!) the last word: "Winning the Awesome Award was beyond an honor, but the bigger honor was passing it along to the next ambassador to acknowledge their greatness and their willingness to go above and beyond."