Download: The Small Giants Approach to Purpose, Values, and Vision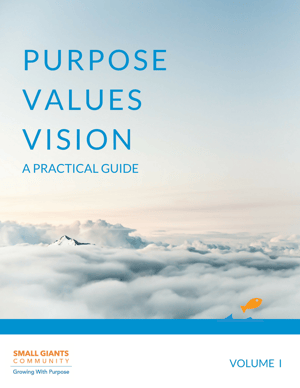 At the heart and soul of every company is its purpose, core values, and vision. When you commit to uncovering these three pillars and preserving them as your business's driving strategy, you'll begin to discover a new way of doing business.
For aspiring Small Giants who are looking for guidance on how to get started, you'll learn the basics of formulating your company vision and implementing it as a business strategy. For more established values-driven leaders, check out new ways to deepen your practice and keep your core ideologies fresh and integrated into daily business.
Download the ebook:
In this ebook you'll learn:
Learn how to uncover your purpose with your team and integrate purpose into the everyday workplace.
Learn how to create authentic core values with your team that directly support your purpose. Bonus! A step-by-step process is outlined by expert Corey Blake.
Learn the power of visioning and how to write an inspiring and strategically sound vision that serves as a north star in making business decisions.
Discover best practices in all three sections from experts in the field!


Ready to start learning? Complete the form below to download the ebook.