What You Need to Know Before You Begin Your Visioning Journey

For companies and leaders who care about sustaining the longevity of their purpose, visioning is an important process to experience. Visioning, when you break it down, is a form of storytelling, a way to light a beacon for the future of the business, as well as inspire the people who are there at present.
There are plenty of different ways to approach the visioning process (and we mean plenty), and also different reasons to embark on it in the first place. But ultimately, it should sit somewhere between inspiration and strategy.
We spoke with Steven Wilkinson, Founder of Good & Prosper, and Bill Flynn, CEO of Catalyst Growth Advisors, and learned what they think is most important for a company to consider when approaching the visioning process.
Who's in Charge of the Vision?
For any vision to have staying power, there needs to be a designated leader who will keep the process on track. Often, this is a founder or CEO, and then their efforts trickle down to the rest of the team. Regardless, this person will take charge during the process itself, and then check in on the vision periodically to ensure that the company is staying the course.
This is no small undertaking, and requires a dedicated leader. This person should be:
Someone in leadership with a high level of trust among the team
Someone who's passionate about the vision, and the legacy of the company
Someone who has a blend of visionary energy, deep knowledge of the company, and an aptitude for performance tracking (can't be too visionary or too goal-oriented)
Someone who can untangle intention from forecasting (after all, visioning is not about predicting the future)
Once this person is selected, they should also make sure that they have the time available to commit to the process.
What Questions are You Answering?
No business is perfect, and any team with a sense of purpose should strive to improve their processes, culture, and relationships. Visioning can help you to clarify what problems you're solving for, as well as how to point yourself in the direction of success.
Visioning isn't about trying to predict the future; rather, it's about crystalizing an ideal outcome. Bill Flynn suggests labeling the initial vision as a draft, to make it feel more malleable and to relieve any pressure about obtaining a perfect goal.
Before digging into the whole visioning process, consider trying out Steven Wilkinson's exercise: Write down a list of problems that your company is facing, things that keep you and your team up at night. Then, invert the language so that those problems are now affirmative solutions. You're left with a list of positive statements that can be the building blocks of where you want your vision to go.
For some more concrete examples, we have two Small Giants companies who have recently gone through the visioning process. Both efforts are being led by the founder, and engaging the company as a whole in the process, but the two have very different reasons.
At Evergreen Devco Inc., the real estate development company has seen significant growth in its nearly 50 years of existence. It has successfully maintained its strong culture, but the four Managing Partners and the rest of the employees want to ensure that the company's present values and culture guides the future values and growth. They also want to establish a strong and sustainable structure for Evergreen's leadership. So, for Evergreen, the questions of sustainable growth and transitions in leadership were top priorities to consider when they started their visioning journey.
For McCrea's Candies, a change in leadership doesn't feel like something that needs to be solved for in the near future. However, founder Kate McCrea wanted something tangible to help her level up the business and instill a sense of pride in her team. So, she embarked on writing a vision that told a story of the business's future home - both the ideal of a physical space, and the sentiment of home at McCrea's Candies. At the end, the company team members and valuable stakeholders all received a copy of a beautifully bound book with the vision inside - and, this work led them to selecting their new home, a brand new headquarters.
The Crane Effect
Now that you've established who's in charge, and what you're trying to solve for, you need to consider the timeline for your vision. How far in the future do you want to look? This isn't a matter of pure ambition; the stretch of your vision's timeline depends on the depth and breadth of your business.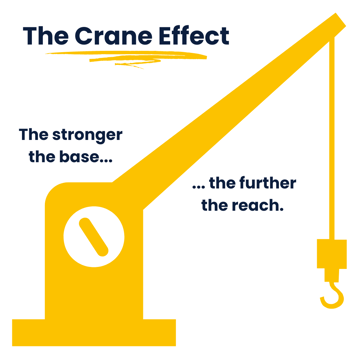 Steven Wilkinson says that every company should consider five metrics before they start visioning. These metrics are:
The age of your business
The depth of knowledge around the business model and input variables
The clarity of your business's customers/ audience
The amount of enthusiasm you have for your business
Your business's position in the marketplace
Picture a crane, or cherry picker. The five metrics above contribute to the base of your crane, and your vision is the arm of the crane. So, the stronger your base, the further your arm can outstretch.
If you have a strong base, you can set out to develop a vision for 7 or 10 years in the future. If your base is smaller, a 1-3 year vision may be the most effective for the time being.
How Will the Vision be Used?
The visioning process can take months. It's no light endeavor, so you want to make sure that it has a lasting effect. So, once the exercise of visioning is complete, what will you do with your vision?
Most visioning processes result in a large text, with many pages of detailed narrative that create an electric charge of inspiration for employees and stakeholders.
"What you are doing with visioning, and the reason that it works, is because you are creating an electrical charge between where you are now and a point in the future," says Steven Wilkinson. "The reason it needs to be specific is because the electrical charge will dissipate if it's too vague."
You could mimic McCrea's Candies, and print bound, aesthetically pleasing copies for all employees and anyone else who adds value to the company. Manifesting the vision in other physical forms (think putting the key elements of it on mugs, t-shirts, or posters) once it's formally launched is also an important element in keeping the spirit of the vision alive. Having visual reminders of the vision and its objectives will keep that electrical charge ignited and relevant.
An additional option to consider is bringing up the vision at monthly or quarterly meetings, reading excerpts from it or revisiting the outline. It's helpful to see where the company is on the timeline, and how much has been accomplished to reach an end goal. It may also be worth incorporating into 1-1's, and asking individuals to reflect on how they can make a direct impact on working towards the vision.
Looking to step up your hiring process? Perhaps you share a part of the vision with candidates during the interview stage. See their reaction: their level of enthusiasm may be a good indicator of their commitment to the company's purpose.
You don't want all of your hard work to evaporate, so consider what ways your team will best receive checking in on the narrative that you've so carefully created.
Conclusion
Embarking on a visioning journey is no small task. It requires creativity, vulnerability, trust, and persistence. If executed successfully, it can be an incredibly enlightening and inspiring experience that bonds the whole team together. So, be sure to do your homework, gather your crew, and enjoy the journey.